Manchester United's Seven Deadly Sins: #4 – Sloth
1.62K //
28 Dec 2012, 10:01 IST
Sloth: Wanting to sleep at Dante's house. 
Di Canio outsmarts Barthez, 2001
Back when 'mind games' as a footballing concept was underground and credible, Fabien Barthez could call himself the undisputed King of the Games. He had virtually won 2002's free-for-all when his famed eccentricities, history has it, saw him prevent a spot-kick and, with it, a Manchester United defeat. With Fulham's Steed Malbranque set to take a penalty, Barthez thought it funny – it was, in fairness – to scrape the soles of his boot on either post, importantly getting rid of some mud that might contrive to bite him back later on, and catch up with his thoughts, perhaps to contemplate the nature of Beppe di Marco's relationship with Lynne Slater. This colourful Barthez moment, though the Loftus Road crowd saw it differently, delayed Malbranque from taking the penalty despite the referee's approval by whistle. Duly booked, Malbranque could take his kick, but could not convert.
The BBC described this as "unsporting" and taking "gamesmanship to the limit", which, isolated, makes the event sound like a one-off. Barthez had in fact done something similar thirteen months earlier, this time with Muzzy Izzet and Leicester City. Izzet, having initially put the ball into the empty net only to have it disallowed, saw his second attempt saved by Barthez. Of course it was.
Like another of United's Frenchmen, Fabien Barthez quite enjoyed the attention he invariably got in his football career. Like Eric Cantona, this attention was the result of two things: performances and everything else, which covered all the interesting bits that made the characters. Unlike Cantona, the attention that came from 'performances' was largely unwelcome, perhaps somewhat unfairly. Goalkeepers are the lonely men of football, thrust into an unforgiving world, where only a small percentage, disproportionate to players of any other position, are ever held in high regard. Mistakes, those that can be comprehended, are magnified. Bad mistakes, those that can't, even more. And then there's instances like Barthez's with Paolo Di Canio in 2001?s FA Cup. At the time, Barthez had not yet mastered his psychological manoeuvres.
Di Canio, through on goal having gleefully collected a Frederic Kanoute pass, struck the ball past Barthez, who, mostly in hope, put his right arm up in search of a flag. What Barthez had in this instance was time and the kindness of angles, and decided to use neither: rather deception. That failed and West Ham led 1-0; and not unjustly, either. Replays showed that Denis Irwin had played Di Canio onside, and there went Barthez's defence. There was little time for United to recover, and Barthez, so desperate to atone, played the last minute as an outfield player.
On behalf of the Izzets and Malbranques of the world, and those opposition forwards unlucky enough to have been rounded and nutmegged by the crazed 'keeper, Paolo Di Canio saw past the smokescreen those before and after him couldn't see. "He tried to stop me. He tried to make my brain a little bit confused," Di Canio would say post-match. "But I have played 15 years at the top level and have a little bit of experience in these situations."
Barthez later conceded to trying to put Di Canio off: "It's all part of the game!" There was no flag signalling offside, but there was, clear to everyone including Di Canio, a big white one in the goalkeeper's right hand.
United's grey area, 1996
An invisibility cloak has its uses in the fictional world, but, as Alex Ferguson and his team realised, not in the real one. Trailing 3-0 to Southampton at half-time, Ferguson had told his players to "get that kit off, you're getting changed." They had worn a grey strip for the first half, but came back out in blue-and-white. "The players don't like the grey strip. They find it difficult to pick each other out," Ferguson explained. It was only after the kit change had they realised the bad guys were the ones in the red-and-white, and scored a consolation goal through Ryan Giggs.
"The shirt is probably a collector's item now, for all the wrong reasons," said Lee Sharpe a decade later, a 'two birds' purchase for any Manchester United fan who enjoys J.K. Rowling.
George Best is sick of it, 1972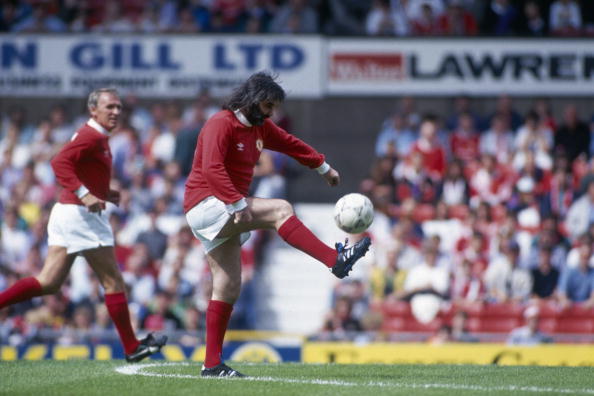 It happens even to the Best. In the 1971/72 season, with Manchester United's challenge waning, George Best declared to a journalist that he was "sick of United". The author of Sod This, I'm Off to Marbella, John Roberts, revealed that Best's motives for leaving was the team: "It's just not good enough. It's just not going anywhere," he would say off the record. "I could go right through the team and find things wrong. People knock me when I'm not doing it, but when I'm not doing it who is?"
1972 was not Best's year. The problems that had existed in the first half — the bottled-up anger, absences from training, premature retirement for good measure — had worsened into the second. In December, he had enough. United were in the wrong half of the table, and Best, presumably in search of some joy, was spotted in a London nightclub when he was supposed to be up north. He was transfer listed (5th) the next day. On the 6th, the writer Eric Todd sided with the club: "He has shown a complete dis­regard for discipline, and several times he has been suspended and fined by his club for missing training sessions." Eight days later, a u-turn, apt as it's just one of the many to concern Best in his career, and the club no longer had him up for sale. Still, the damage was done. On the 16th, United were on the end of a 5-0 thrashing to Crystal Palace. On the 19th, manager Frank O'Farrell was sacked and Best had announced another retirement by letter. "I've had as much football as I can take," he was reported to have written, citing United's position in the table — last — as the reason for his decision.
George Best would play again in a red shirt. It remained that way for another two years, perhaps to everyone's surprise.
Berbatov, 2008-2012
"I lie in bed the night before the game and visualise myself scoring goals or doing well," Wayne Rooney once said in an interview, presumably in full-kit before a non-stop 24-hour training session with himself. When Dimitar Berbatov played for Manchester United and scored goals or done well, he presumably visualised himself elsewhere, lay in bed.
Rooney and Berbatov were largely successful as a pairing, perhaps because, as they say, opposites attract. Rooney has the enviable attitude — on the pitch — of a footballer; in addition to his most obvious qualities, he is persistent in trying to win the ball, he takes the opposition on and tracks back to help out his defence, face hydrated and everything. Berbatov not so much, or so was the popular opinion. He cut a figure that didn't seem to care most of the time, earning an unfortunate, though oddly cool, reputation of being the game's most languorous player. Unlike Rooney, Berbatov seemed to expect the ball to come to him. There was no other way.
He best showed this in a 2-0 win over Manchester City in 2009 when Darren Fletcher sent a searching ball up field from the back and he just picked it out of the air, without relying on a bounce or five. He then turned away from his man and played a simple pass to Carlos Tevez, who struck it sweetly past the 'keeper; it was a goal ordered by the Gods, at least as far as the man who would provide the assist. Some magicians can create the illusion of catching a bullet with their mouths. Perhaps Berbatov has the same sort of subtle trickery; indeed, West Ham's James Collins found out as much when he was at the end of Berbatov's infamous, audacious pirouette on the goal-line. There would be no excess body movement and he was better that way, doing special things his own half-arsed way. In this instance, he once again played a simple pass, this time to Cristiano Ronaldo. Statistical records will say nothing of either Berbatov moment, and that seems just right. He is exclusive to the eyes, and sounds better when spoken about. And yet people are still split over him. He is football's Nessie.
Berbatov's agent explained that the reason he left United was that he didn't have what the competition offered. "The only thing … those players have more of than Mitko is speed." In Bulgaria, where the Dimitar Berbatov Appreciation Society has more members than its populace, 'Mitko' is what they call affectionately call their most prized export, at least when we're not talking about Stoichkov or Stilyan Petrov. What finally ended Berbatov's prolonged stay at Old Trafford it turned out, far longer than he had deserved in the end, was his perceived weakness. However, it was this perceived weakness that made the man, to maintain the vague comparison, the myth.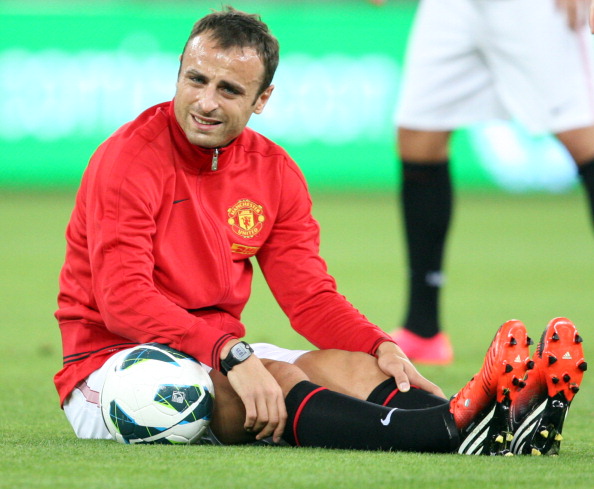 If Berbatov was a sloth, then we must ask ourselves why we don't instead have six deadly sins, and eight heavenly virtues.
Keane vs Schmeichel, 1990s
A popular character of the small screen once bluntly remarked that "'remember when …' is the lowest form of conversation," then immediately got up and left. He had a point: there's a feeling of pathetic longing when you reminisce, an inclination to hyperbole and, when in company, a further feeling of desperation to keep the dialogue going. Those are the bad things. What can't be said about the revisiting of the past is that it's not interesting. All the best things happened in the past, of course.
Manchester United demonstrate this truth well. Were you to look in the right places, you'd find some of the best 'remember when …' tales from ex-United players who have too much to share. After a while, you'll find common themes, subjects and you can start to narrow it down. Those that played in the 1990s, especially those lucky enough to have been involved in the treble-winning side, barely talk about anyone other than Alex Ferguson, Roy Keane and Eric Cantona. And then they start talking about things off the pitch.
Keane, the man some have dared compare to the very same television character named above, holds the unique honour of being even more interesting than Cantona away from football. Take this one: "It was 1997 and I was on tour with Manchester United when I heard the banging in the corridor," Andy Cole told The National in 2011. "I went to investigate and saw that Roy Keane was rolling around fighting with Peter Schmeichel, the giant goalkeeper. They weren't playing. 'Typical Roy,' I thought, and went back to bed smiling. The next day, Schmeichel was wearing sunglasses. There had only been one winner." (Then there's the story of when a drunken Keane took on a group of Liverpool players in Gluttony.)
The relationship between Schmeichel and Keane was well-documented. Dwight Yorke revealed in his autobiography Born To Score that in the dressing room at half-time with United level with Sheffield Wednesday, a game they would go on to lose 3-1, Keane "was having a go at Peter for having given away a soft goal. [They] had to be separated before coming to blows."
Those that live in fear of committing the cardinal sins will tell you that to be unable to develop spiritually, to apply yourself, leads to the downfall of man, and that these people are sloths. In his own words, Schmeichel was not Keane's "cup of tea", and though he recognised the Dane's talents, he would surely regard him as a sloth. On one evening in front of the television cameras, at the request of fellow-pundit Lee Dixon, Keane opened up about Peter Schmeichel, and told him what we had already sort of known. "When he did become cocky, that's when he made mistakes. If you speak to the goalkeeping coaches, they say Peter wasn't that technically brilliant but stopped the ball going into the back of the net. I felt there were times when he got a bit carried away and thought he was the bees-knees."
Like Fabien Barthez then? Many were certain that he was the perfect successor to Schmeichel, a view that was reinforced by his impressive début season. The Frenchman, however, could not quite maintain the level of performance into the next campaign. The Independent's Matt Lawton wrote at the time that "some pros feel that his current difficulties stem from the degree of his success last season."
"There's a big difference between cocky and confident," Keane would add, and let that be a lesson to sloths — not just those with gloves — everywhere.
Read the rest of the series here:
Manchester United's Seven Deadly Sins: #1 – Envy
Manchester United's Seven Deadly Sins: #2 – Pride