Mancini fumes over big names after Derby loss
911 //
10 Dec 2012, 15:03 IST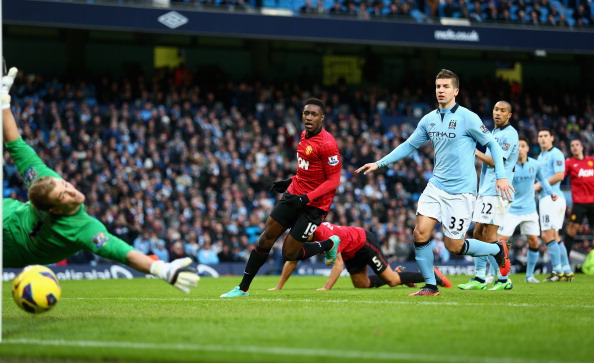 Manchester City Manager Roberto Mancini was literally raging at four of his top players inside the dressing room after the Derby loss, The Sun reported.
Mancini was fuming at goalkeeper Joe Hart saying, "It's your fault,"  as he conceded a free kick to Robin van Persie in the dying moments of the game.
Mario Balotelli, Carlos Tevez and Samir Nasri were the other players to be at the receiving end from Mancini yesterday.
Balotelli was a surprise starter to the match yesterday, but he was substituted by Carlos Tevez early in the second half. A dressing room insider said: "Mancini was going mad, he just seems to pick fights with everybody."
Tevez conceded the free kick, then walked away from the wall and Mancini said: "I don't know why. I understood before that the free-kick was dangerous, I don't know why it happened.
"The player shooting was Van Persie and he hit it very well. I called Carlos to return to the wall but I was too far away on the bench."
Nasri moved behind Edin Dzeko, then got a touch on RVP's kick, deflecting it completely away from Joe hart.
Mancini added: "We made a mistake and only put three players there. Actually we had only had 2½ players there, we didn't cover very well.
"I think the wall should have been better. I think in the last second we should pay more attention to this situation. If you need to put your face there, you need to put your face there."
After Super Mario was hauled off, City looked better as they netted in two goals to draw level with United. On Balotelli, Mancini said:
"I love Mario as a guy and a player but it is important for him to start to think about his job.
"He has everything to play well. We wanted more from him and he cannot play like he played today.
"When you have the quality that Mario has, you can't just throw it out of the window."
Man City are now six points behind the Red Devils but Mancini believed there is still a lot more to play for.
He said: "I was happy with our performance. For 20 minutes they did not touch the ball.
"They shot at goal three times and scored three goals. We are not in a good moment but this season is long, we have time to recover."