Match Preview: Barcelona vs AC Milan 2nd leg
1.66K //
10 Mar 2013, 23:58 IST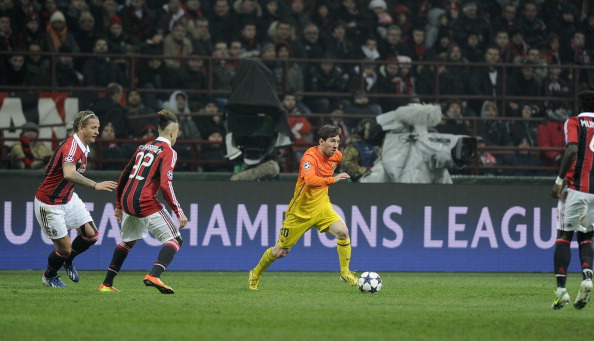 It all comes down to this, one last chance for Barcelona to prove that they are still not a weakened side. To prove that they are still the favourites to be European champions. But it is a task which needs some effort to be completed. They have to overturn a 2-0 deficit which they have after their trip to Milan. They have not scored a single away goal which makes it even more difficult for them. They have conceded in each of their last 13 matches provided you leave the win over Deportivo. It is their worst ever defensive runs since 1962. Even if they concede a single goal and win it 3-1, they would still be knocked out of Europe's elite club competition in which they have reached the final twice in the last four seasons.
Their defence is the only factor they have to look after because they have many goalscorers up front in Lionel Messi, Andres Iniesta, David Villa, Cesc Fabregas and Pedro. Their defence usually consists of Pique and Puyol in the centre and Dani Alves and Jordi Alba on the wings. But in order to give the players some well deserved rest after their double losses against Real Madrid, Barcelona's stand in manager Jordi Roura fielded a different Barcelona side that featured Puyol, Dani Alves, Adriano and Mascherano at the back with Pique and Jordi Alba left out. Andres Iniesta and Messi came from the bench and the latter scored a goal in order to become the only player in the history to score in 17 consecutive La Liga games. Their manager at the moment seems to have done some work on the defence after their awful run which should have been wow-full.
Milan on the other hand have drawn their Milan derby against a high flying Inter side and have won their last two games without conceding in any of them and are looking high on confidence to finally beat the Blaugranas, after their incessant meetings with the Catalonian side in the past few years. They will be without their star signing Mario Balotelli who joined them in the January transfer window from Manchester City. Milan actually are one of the best sides in Italy right now and want to prove that by knocking out the favourites in the awaited round of 16 tie.
Finally it's likely that AC Milan are going to sit back but once Barcelona score, it will all change because Milan will push forward to get the away goal and Barcelona will have to hold and not concede the away goal. It may not be one of the longer nights in this season's competition but it may not be a low scoring match either. Eventually, in my opinion Milan have the upper hand in the tie and can raise their hands in celebration at the end of the match but you can't be sure. Barcelona can haul the tie in their favour too. Barcelona are not one of the most in-form teams currently so Milan should be able to make one of the greatest upsets in the Champions League this season.