Match Preview: Der Klassiker: Bayern Munich vs Borussia Dortmund
1.05K //
01 Dec 2012, 11:55 IST
Stadium: Allianz Arena
Referee: Peter Gagelmann
Kick-off: 11:00 PM (IST), Saturday, 1st of December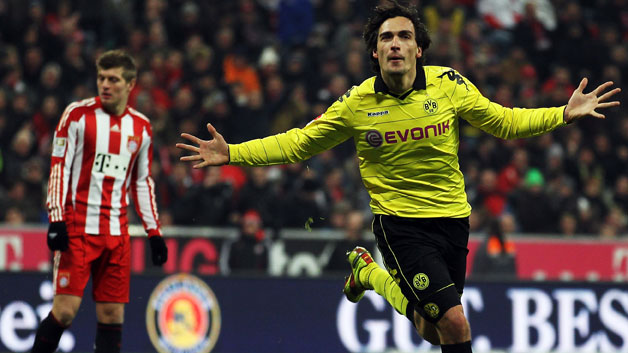 With a series of disappointing results for Schalke, Dortmund have finally managed to make it past them and into third place in the league. Yet, with the frustrating draw against Düsseldorf in midweek, the reigning German champions saw the gap between them and Munich stretched to 11 points, which, given Munich's current record in the league, already seems insurmountable.
Bayern Munich, on the other hand, have been in cruise control mode in the Bundesliga thus far, with 40 goals scored, a mere five conceded, and a 10-point lead over second-placed Leverkusen after just 14 games. These dominant numbers, along with Dortmund's inability to stop conceding goals puts the current league leaders as slight favourites to topple Die Borussen.
Bayern Munich: W D D W W
The capital club have had a slight hiccup or two lately, with a couple of 1-1 draws blotting their near perfect record in all competitions this season. However, with 10 clean sheets in their 14 games, and more than one goal conceded on just one occasion in the league, Jupp Heynckes will not be overly worried over his team's chances. What will concern him, however, is that Ribery had an off game in one of the draws, and was not in the squad for the other, meaning that even a mighty side like Bayern have struggled in the creative department in the absence of their star winger. With a total of 13 goals scored in their last 3 games, however, that too might just be a false alarm, meriting no loss of sleep from the veteran manager.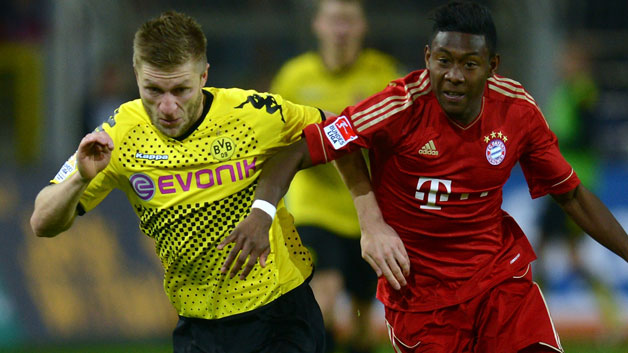 Borussia Dortmund: W W W W D
Dortmund's season, on the other hand, has been interspersed with hiccups, especially in their domestic competitions, with them doing much better in Europe, than in the league. A slow start saw them miles off the pace in the title race, and they continue to languish, quite undeservedly, in third spot. A look at Dortmund's recent games highlights that scoring goals has been a major problem area for Jurgen Klopp's men, in spite of them having the second best attacking numbers in the league. The percentage of chances converted have fallen much beneath last season's standards, and the departure of Kagawa may have had something to do with it, in spite of replacement, Marco Reus, performing brilliantly. They will need to make the most of any chance that falls their way against the table toppers though, whose defence prowess has already been highlighted.
Injuries, Concerns & Suspensions
Bayern Munich: Luiz Gustavo, Emre Can, Arjen Robben.
Borussia Dortmund: Patrick Owomoyela, Sebastian Kehl.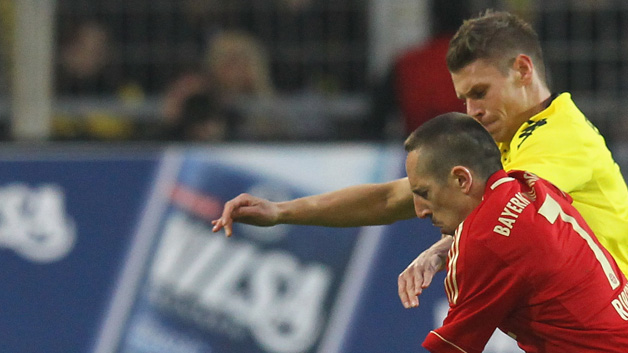 Frank Ribery vs Lukasz Piszczek
On paper, given the reputation that both players bring into this match, there is only one winner. The French wide man has been exceedingly good on the pitch for Munich, with 4 goals and 6 assists in the league to show for his efforts. More importantly, in the absence of Robben, he has been Bayern's primary outlet, especially during counter attack, where his pace has left many watching a clean pair of heels escape from them. While Piszczek himself is no sloth, often overlapping with Kuba to join the attack, whether he can balance attack and defence, and manage to not get caught out for a full 90 minutes will be interesting to watch.
Marco Reus vs Philipp Lahm
In his first season for the back-to-back Bundesliga winners, Reus has been extremely impressive, accumulating a tally of five goals, which is as many as Munich have conceded all season, and five assists in the league already. It has been his tendency to run at opposition defences, and attempt to score from range that have created spaces for the likes of Lewandowski to exploit. Now up against the equally impressive veteran, Lahm, Reus will try his best to outfox the older generation of German football to try and prove that he, the new generation, and Dortmund have well and truly arrived.
What to expect[/box_dark
A tough nut to crack for the visitors. Bayern have been virtually unstoppable this season, with the only team to beat them in the league being Leverkusen, again, notably with the absence of Ribery. Dortmund have been excellent going forward, but have failed time and again to prevent themselves being hit on the counter attack, and shall be made to pay heavily if that continues in this fixture. With 4 wins in their last 4 games against Bayern, however, Dortmund do have light at the end of the tunnel. Whether it's just that of the onrushing Munich train remains to be seen.