Match Review: Bayern Munich 0-2 Arsenal
1.05K //
14 Mar 2013, 14:03 IST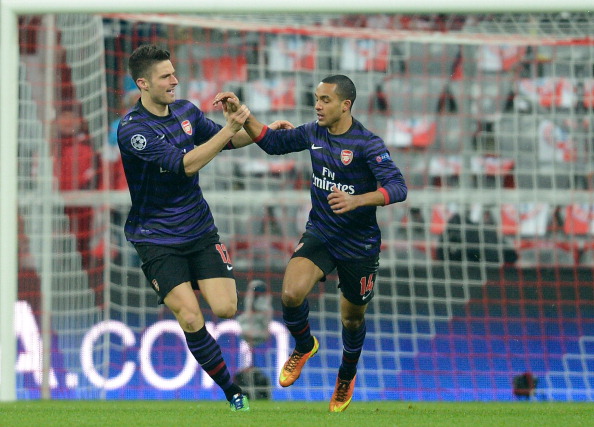 Arsenal went out to face Bayern Munich at The Allianz Arena knowing it would take nothing short of their best to come back from a 2 goal deficit and 3 away goals, after the first leg had ended in a 3-1 win for Bayern. Their aim was to get an early goal and put pressure on the opponent and needed a clean sheet. They managed an early goal and an important late goal, but failed to get the vital 3rd one.
Lukasz Fabianski started the game in goal in place of Szczesny. Kieran Gibbs made a return to occupy left-back and Carl Jenkinson slotted in at right back. Per Mertesacker and Laurent Koscienly started at the heart of the defense, with Arteta playing a defensive midfielder's role alongside Aaron Ramsey. Cazorla and Walcott were in the wings with Rosicky slotting in behind striker Giroud. Bayern started in a similar way, with Mandzukic upfront and Muller, Robben and Kroos behind him. Luiz Gustavo took his place for the suspended Schweinstiger, alongside Javi Martinez. Lahm and Alaba manned the flanks with Van butyen and Dante in the centre.
Wenger would have wanted an early goal and Arsenal pulled off one in the 3rd minute as Giroud finished from close range after a good move involoving Ramsey, Rosicky and Walcott who gave in a low cross. It was game on from the start. But what Wenger would have wanted, it didn't work his way. Arsenal started attacking but couldn't find the killer pass for the 2nd goal that would have put the Bavarians under  pressure. Instead, a few wayward passes and losing possession easily didn't help their cause. Walcott never found his feet and kept losing the ball. Bayern started dominating possession like the 1st leg, but this time there were no slip ups in the defending, with Koscielny doing an excellent job and Lukasz Fabianski making no mistakes.
The 2nd half was not so different, and it started the same way. There were some good attacks from Arsenal but Walcott kept disappointing with his touches and never really troubled Alaba. But in the 55th minute, Walcott was put through, but a wrong offside call killed it. Fabianski made an excellent save when Robben was through on goal, after an excellent pass from Thomas Muller.
Wenger decided to go all out on the attack as he brought on Oxlade-chamberlain and Gervinho for the ineffective Walcott and Ramsey. Arsenal were finding it tough to break through as some corner kicks and free kicks were not given. As the game went on to its closing stages, Bayern started defending deep and Arsenal were fully attacking. Good work on the right wing by Oxlade-Chamberlain earned them a corner in the 85th minute. Cazorla took the corner and Arsenal got their second goal through a Koscielny header into the near post. Arsenal were desperately in search for a third goal, but good defending from Bayern saw them progress to the quarter-final, leaving Arsenal short of one goal for advancing, for the 2nd time in as many years.
However, Arsenal could be proud of their performance, given the fact that they are only the third team to win at the Allianz Arena this year. Even though two of their crucial players were missing, their commitment and determination helped them to a 2-0 win. This win could propel Arsenal to a successful fight for the 3rd place in the Premier League.