Michael Owen: Saying goodbye to football's most irrelevant relevant player
1.04K //
21 Mar 2013, 21:01 IST
As eyes turned to England and their forthcoming World Cup qualifiers, up stepped Michael Owen, the national team's forgotten man, to provide some colour to the mundane vacuum of news that usually come with international week. He had decided to retire at the end of the season, in news that struck the headlines, but only those that ran along the side of the main narrative as a distraction, rather than the main, eye-catching story it could have been.
The Owen that is retiring is no longer the force who became the last player from UK shores to win the Ballon d'Or, or even the one that sits as England's fourth highest goalscorer on 40 strikes. Instead, he is almost a complete irrelevance, a 33-year old Stoke City reserve who has made just one start this season, in the FA Cup at Crystal Palace.
You have to trawl back 15 years ago for the most salient memory of Owen's career, his World Cup goal against Argentina in Saint Etienne that encapsulated football's ability to deliver majestic wonder and hinted at what a bright career laid in wait for the 18-year old. That career has yielded just one FA Cup, 3 League Cups, 1 UEFA Cup and a Premier League winner's medal that almost feels stolen, after making just 11 league appearances and 1 start in Manchester United's successful campaign of 2010/2011.
That game at Sunderland in the October of 2010, in which he was taken off at half-time, was his last league start. England's shining light of France '98, Liverpool's precociously talented academy graduate who hit 158 goals in 297 games for the Merseyside club between 1996 and 2004, has failed to pass with the achievement and celebration his early days deserved. Instead, he has been shuffled out of the back-door in a shadow of ignominy.
Sven Goran Eriksson described Owen as a "cold-killer" after his hat-trick demolished Germany in Munich in 2001, and he was indeed a machine, sweeping all before him with his 28 league goals heading into the World Cup of 2002 in Japan and Korea. In the quarter-finals against Brazil, he sprung away from Lucio and put England ahead with an example of the ruthless finishing that typified his art.
Yet, England bowed out on penalties, just like they did in the European Championships of two years later, when he put them ahead early vs Portugal.
His was a devastating craft; pace and balance, arched predator-like on the shoulder of the defender to pounce away and make many a goalkeeper look helpless as he mercilessly stuck the ball past him. Yet, he was so often embroiled by misfortune, the poster-boy perhaps, of the underwhelming era of England's "golden generation". Injuries gradually ebbed away at his talent, to the point that he was a pale shadow of the popular young striker that shared the hopes of a nation with David Beckham at the turn of the millennium.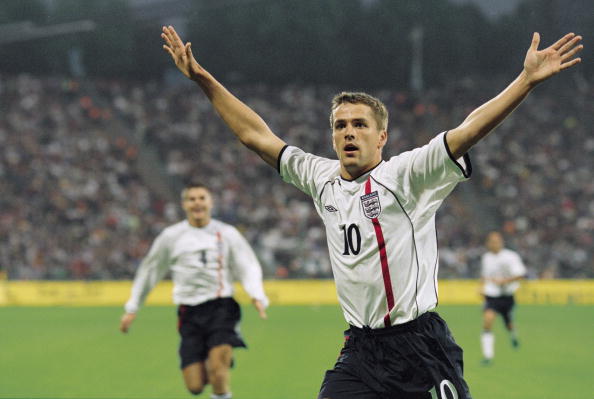 In 2006, England again went out via the medium of penalties to Portugal in Germany, but Owen had departed before it, tearing his anterior cruciate ligament in his knee in a group game against Sweden. He was previously dogged by troublesome hamstrings and ankle injuries, plus the metatarsal injury he suffered in the season leading up to the World Cup, but that twist of his knee proved pivotal, from that moment on he was never the same.
Newcastle received a total of £10 million in compensation from the FA for the injury that ruled him out until the following April, but hernia and thigh injuries followed. He made just 13 appearances in his first two years at Newcastle, as his time in the north-east fizzled out with the expiration of his contract in their relegation year of 2009.
To illustrate his demise, his agents were forced to flog the player through a glossy brochure, as his availability was met with a distinct lack of interest. Manchester United gambled and got 3 years out of him, but despite scoring a last minute winner in the Manchester derby, his time at Old Trafford was largely spent as a forgettable resident of the bench.
Fabio Capello had phased him out of England duty stalled on 89 caps and 40 goals, his last appearance coming in 2008, as the country found it easy to move away from the striker who promised so much, so young. Stoke gave him one last shot at the chance to go out on a high, but that has also passed the 33-year old by. He has been restricted to just seven games at the Britannia, as the stark realisation that his future no longer lies in the game, but with his family and his passion for horse-racing, has hit home.
The hat-trick against Germany, his status as Europe's best player in 2001 and the goal against Argentina will live on, the South American website Ole hailed a "natural goal-scorer who worked wonders" in a eulogy that was unfortunately correct. Owen both scored goals and worked wonders, but he didn't do it for anywhere near long enough. The trouble is, when you don't do it for long enough, memories fade, people move on and you're left to go quietly and regretfully.
Goodbye Michael Owen, it should have been so different.