Midfielders: the most important players on the team
1.68K //
14 Dec 2012, 09:59 IST
This is a fact that every footballer and any observer of the game knows: goals are set up by the midfield, more often that not. Sadly they don't get the credit they deserve. So I am going to highlight the importance the midfield has and how they can change the game.  Barcelona are a perfect example.
When I say Barcelona, a normal fan thinks of Leo Messi and I don't blame them. The little Argentinian is a phenomenal centre-forward and has an uncanny knack of scoring, while his dribbling is unsurpassed! But how on earth can one man score so much? Penalties aside, he still has a whole lot of goals. I'm also pretty certain he's never ran from post to post and kicked the ball in, and if he did the fans would go crazy!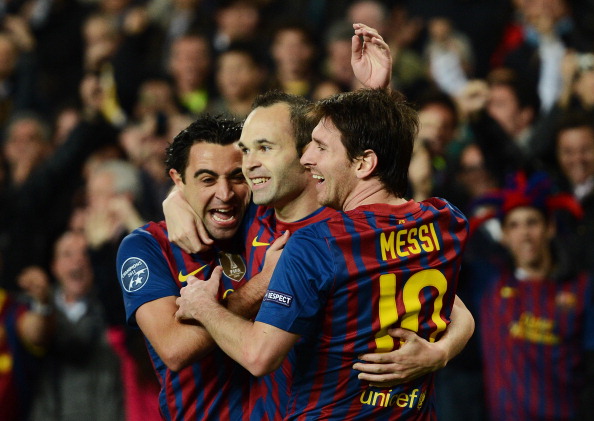 Most of his goals come from the best midfield the world has ever seen. Barcelona boast fantastic midfielders like Iniesta, Xavi, Fabregas and Busquests. These guys set it up for the likes of Messi, David Villa, Sanchez and Pedro. So do the math, because without the midfield, the strikers would score as many. They midfielders draw out the defenders, create the space behind and pass with such accuracy that a military sniper could take lessons from. They are the architects of the game without whom Barcelona would be a different club entirely. Sometimes, Messi simply has to be in the right place to tap it in.
Ideally, that is what a centre forward does. Not Messi though: he likes to stay deep, creates ample space for himself and his teammates. In true Barcelona style, he can play midfield as well. He dribbles and passes in such a manner that we are left 'Messimerised', and then he somehow creates space and scores from the tightest of angles. He's truly one of a kind.
But the true hero of Barcelona is not Messi. In fact, I think Ronaldinho was tonnes better than Messi and always will be. However, the credit for being FC Barcelona goes to that awesome midfield. These midfielders work hard, passing the ball in their typical Tika-Taka way, and more often than not, it results in goals. They prepare the field for the lethal strike, they do all the hard work and make the everything tick. Midfielders not only assist, but score goals too, some of them that are so crucial – like Andres Iniesta scoring that header against the Netherlands. The role of a playmaker is truly the most important position on the field, the place where the game actually takes shape.
Steven Gerrard, Paul Scholes, Yaya Toure are fantastic midfielders as well. But the most attacking and energetic midfield today belongs to the Germans: Mario Gotze, Toni Kross, Ozil, Schweinstager, names that strike terror is the hearts of opponents. Their attacking midfield is a treat to watch and is one of the man reasons I watch the Bundesliga. And when it comes to sheer class, our very own Chuck Norris lookalike Andrea Pirlo rules; he is beyond doubt the best, and totally the cheekiest midfielder I have seen!
Basically, what I'm saying is that forwards are heavily reliant on their midfield; it doesn't matter if you are Messi, Ronaldo, Van Persie or Falcao. Even Ronaldo is heavily reliant on Mesut Ozil, Angel di Maria, Kaka, Higuain etc.  Just the same way Messi is helped out by his midfield.
A lot of credit for the success that the Messis and Ronaldos have enjoyed goes to their respective midfields. It doesn't matter if the player today is better than Pele or Maradona, he'll be nothing without his team behind him. For, football is not an individual sport, it requires a team.