Mission Munich: Difficult, but not impossible
1.24K //
13 Mar 2013, 16:59 IST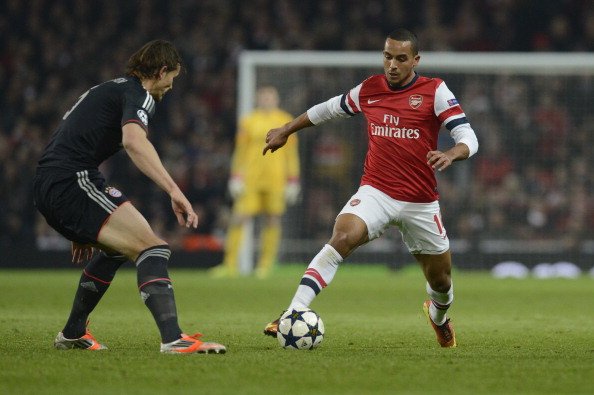 A few days ago, if you had asked an Arsenal fan what he expected from the second leg clash in Germany, he'd have probably replied with a meagre "It's difficult but we'll try". However after last night, his views may have changed. Having seen Barcelona make a historic comeback, becoming the only team to overcome a 2 goal deficit in the home fixture, the word "Possible" seems to be doing the rounds.
But, it would be pretty foolish to compare the two games. First of all, we know that beating Barcelona in the first leg is like putting your hand into a lion's mouth, because the reverse fixture will be one you would want to forget. Their tiki-taka style of football makes the opposition flap like a fish out of the tank trying to get a hold of the ball, while also struggling to make a game of it.
However, that's not an issue with Arsenal, as we saw how ruthless they can be (last season the 3-0 Milan win in which they just fell short). People may laugh at you for believing they may be able to fix it, but you never know.
Another big difference is that Barcelona have a better team than Milan and their fixture was played at home. We, on the other hand, have to overcome a 2 goal deficit and score at least 3 away goals against a team in red hot form at the Allianz Arena.
Maybe the news that Schweinsteiger and Ribery being out came as music to the ears until the news of Wilshere, Sagna, Podolski and most importantly, Szczesny being out for the clash followed up to ruin the mood.
We would now be playing with Fabianski, who would have his first start since forever. Spectators have always been harsh on the young Pol and today would just add fuel to the fire if the ghost of Valdes possesses him, unless he redeems himself with a remarkable performance.
Bayern would be relishing the tie and even though a few of their players are coming out with statements like "You can never say who'll go through" and "The tie is not over.", they very much believe it's over. Is it possible that their staff, which was "pleased" when they had drawn Arsenal, would suddenly have doubts about going through, after crushing Arsenal at the Emirates? Sorry Munich, we fans are not so naive.
Highlighting the big news, Wilshere being out is never a good sign. Last time we saw how well Bayern contained him, but this time without their ever-so-talented Schweini, Wilshere could have had a huge impact. But all is not lost yet, as this could make way for our little Mozart who's played brilliantly whenever given the opportunity this season.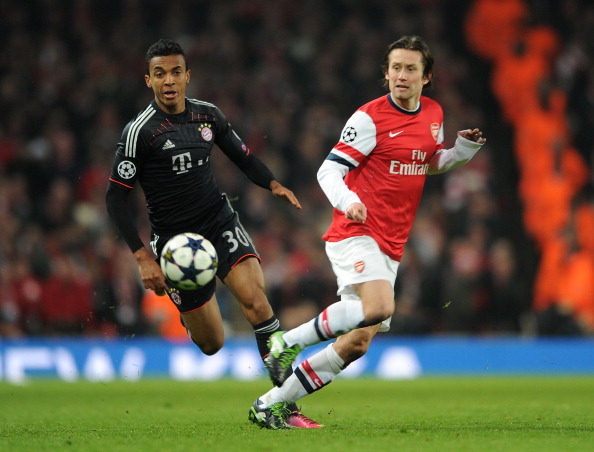 The main issue seems to be the left wing. With Podolski out, Cazorla looks favourite to start there, but he has not been as productive or lethal there as he's been in the centre. But at the same time, Wenger can't unleash the young Ox against the German giants, though it could work wonders as they may not read him that well, having studied the preferred eleven of the Arsenal squad more intensely.
The bright light at the end of the tunnel seems to be the return of Gibbs, who would hopefully start and prevent a struggling Vermaelen from taking that position. Right-back would be taken up by the young Jenkinson or perhaps Ramsey, to give a more attacking approach.
Tonight the goalkeeping and defending departments have to be flawless, because with every goal conceded, the morale will drop further. Also, the midfield needs to be on the move, needs to get every single loose ball in midfield and needs to put extreme pressure, just as Barcelona did yesterday, and ultimately the strikers need to convert almost every chance they get. In short, it has to be a perfect ten performance from Arsenal. One slip-up and our faint hopes of a trophy this season can be bid adieu.
The stage is perfectly set right now. The only English club in the competition, written off by everyone after the defeat, top players out – it all implies very little expectations. It's just what we need to show the world that "At Arsenal, the game is never over."
More than quality tonight, what we need is fighting spirit, and so much of it that the opposition seems to run out of options and I'm sure that is in each and every one of our players. Having had a 10-day break between games, there will be tactic-talks galore and there will be a plan, less of a rescue one and more of a destructive one.
If there's one thing we've learnt as Arsenal fans, it's that one should always believe. We should take inspiration from the Invincibles' 5-1 thrashing of Inter at the San Siro after a 3-0 first leg loss, back in 2003. Even though the squad now is completely different, that class will always be there that makes us capable of doing wonders, however remote the chances may be.
We, as fans, need to back the team and support them like there's no tomorrow, irrespective of the result, and for all you know, we may witness a miracle.