Mohamed Salah proving his worth at Fiorentina after being ignored at Chelsea
3.43K //
04 Mar 2015, 09:37 IST
Chasing a Champions League spot, Inter Milan backed Roberto Mancini in January with the loan signings of Lukas Podolski, Davide Santon and Xherdan Shaqiri as well as the permanent signing of Marcelo Brozovic for £2.5 million from Dinamo Zagreb as Inter looked to close the gap on a flagging Lazio in third. Fiorentina meanwhile, sitting in sixth as the January window closed, were weakened by the loss of Juan Cuadrado who moved to Chelsea for €33 million.
Mohamed Salah would come in on loan as a makeweight but it was expected that La Viola, now bereft of Cuadrado's energy and dynamism on the flank, would fade away in the race for third while Inter's strengthening would see them mount a significant challenge. However, that script hasn't quite been followed. Fiorentina are now unbeaten in their last 8 matches and now just 3 points off third-placed Napoli after beating Inter in the San Siro at the weekend with a goal from Salah.
It just had to be him. The Egyptian scoring has become a regular sight in Italy since he made the move as Jose Mourinho's bargaining chip in the move for Cuadrado. The goal against Inter was the winger's fourth goal in the six games since moving to Florence and his winner followed a trend of netting vital goals; openers in the win over Sassuolo and the draw with an in-form Torino, plus the decisive second in the 2-0 Europa League victory over Tottenham Hotspur.
Salah now a vital part of Fiorentina's first team
It was no wonder why manager Vincenzo Montella leapt at the chance to introduce Salah, whom he started on the bench following his mid-week excursions, for the injured Kouma Babacar once the Senegalese striker limped off with injury in the 13th minute.
"I wanted to make the most of Salah's extraordinary form that is why I chose him ahead of Alberto Gilardino" he said.

"I know that when a player is going through that kind of form, it's the duty of a coach to encourage it."
Encouragement is a commodity Salah didn't really receive from Jose Mourinho who would hand him just 18 appearances in the 12 months following his £11 million move from Basel in January 2013. The 22-year-old would be limited to only 4 starts for Chelsea this season, in the two meetings with Sporting Lisbon in the Champions League and one against Shrewsbury in the League Cup which first exposed the signs of Mourinho's growing frustration with the Egyptian.
His fourth, in the embarrassing FA Cup capitulation to Bradford City, was the final straw and together with Andre Schurrle, he was packed off as a new stringent Chelsea made room for the £26 million to be spent on landing Cuadrado.
Cuadrado's relentless energy and work-rate made him appealing to Mourinho as those traits made the Colombian defensively diligent as well as an effective attacking option. Both Schurrle and Salah failed to offer enough in the defensive side of their games and so Mourinho's patience tired.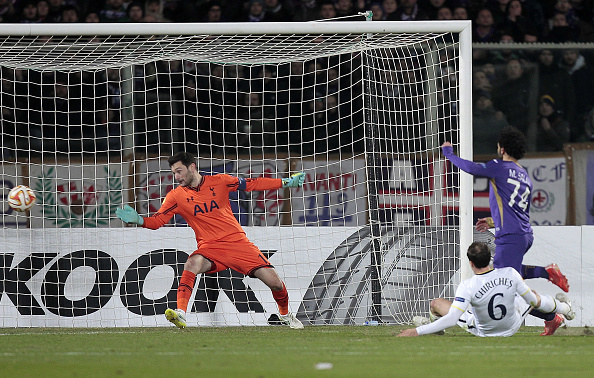 Fiorentina have adapted to Salah after Cuadrado's departure
The difference in dynamic between Salah and Cuadrado has seen a small shift from Montella's 3-5-1-1 to a 4-3-3 which has given the Egyptian more scope to focus on attack. The January recruitment of Alessandro Diamanti and Alberto Gilardino to accompany the likes of Mario Gomez, Josip Ilicic and Babacar in a talented front-line has also helped Salah to settle in seamlessly.
After the victory over Spurs, Montella was perhaps being mischievous when he reflected on January's swap deal. "Who did better out of the Cuadrado exchange?" he asked, "Fiorentina earned a lot of money and, on the pitch, they are similar players." Salah's scant defensive contributions suggest they are not that similar, but his new manager is left under no illusion where the Egyptian is most dangerous. "Salah is a player that, even if he takes some breaks, is devastating over 40 or 50 yards," said Montella.
The 22-year-old has been operating mainly from a preferred position on the left-side for La Viola, while in the San Siro he showed the confidence and fitness to produce an impressive display as an emergency centre-forward. Montella, who knows a thing or two about playing as a forward, said: "I think he can play any position in attack.
"He attacks the space well and is very good at getting straight into the tempo of a game when coming off the bench." For a team that has struggled with injuries to Giuseppe Rossi and Gomez, in Salah they may have stumbled upon an unexpected solution.
It has been reported that the manager has instructed his directors to keep Salah at the club, with €1 million the price to keep him at the club on loan for next season while a further €18 million is the agreed buy-out clause due in the summer of 2016.
If the Egyptian continues the resurgent form he has started with in Florence, it will turn out to be a bargain.
Written by Adam Gray