My EPL team of the weekend
2.18K //
10 Dec 2012, 12:39 IST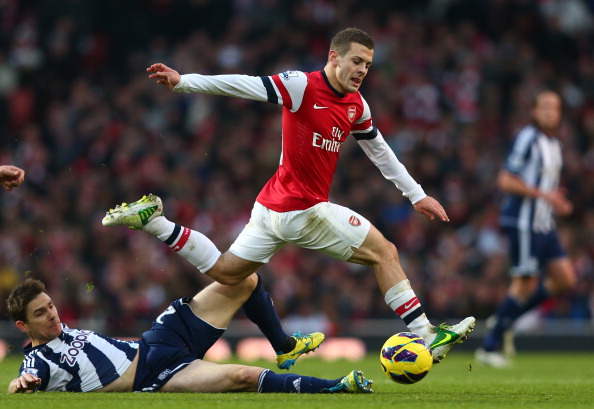 Since I have seen others do this, I thought it would be a good idea to pitch in my own two cents. Maybe not every week, but a post like this has been on the back burner for a while. Anyway, here we go.
GK - David De Gea: The Spaniard made 7 crucial saves in United's 3-2 win over Manchester City on Sunday. In his second season, De Gea has come into his own, with more assured performances of late. His reflexes were up with the best of them today, and he kept United in the match at times where City were dominant.
FB – Glen Johnson: A top corner screamer and a good defensive display? Say no more, this is once in a blue moon for Glen.
CB – Per Mertesacker: Never the show stopper but always the rock, Per Mertesacker proved why he deserves to be the first defender on the team sheet yet again, with a calm and efficient display. Seeing more and more of the ball each week, his passing was tidy and accurate (93%) and won all of his aerial challenges. A clean sheet on top of a quiet day at the back typifies the BFG.
CB - Sébastien Bassong: Norwich have only conceded more than 1 goal once in the past 10 matches, and some of that credit falls to Bassong. The Cameroonian has seen a spike in his goal output for the Canaries as well, tallying 3 in his last 4 matches. Keep up the good work Sébastien.
FB – Pablo Zabaleta: While City were ultimately robbed of a point late in the match from an RVP free kick, the Citizens were the better side for most of the match. One of the reasons they played so well was because of the efforts by a largely unsung hero, Pablo Zabaleta. He worked hard at both ends of the pitch, and his hard work temporarily paid off, as he coolly slotted a well placed half volley past David De Gea. City's luck ran out a short time later, but their performance, and Zabaleta's, shouldn't go overlooked.
CM – James McCarthy: Drawing first blood and the providing the equaliser isn't what most expected out of young James McCarthy. He was the driving force for Wigan in midfield, making 9 tackles, scoring two goals, and achieving the second highest passing accuracy among his teammates, the 22 year old had an absolute stormer against QPR.
CAM – Jack Wilshere: The fact that a 5'6″ terrier won 100% of his aerial duels tells you that Jack is back. Effortlessly gliding past players and combining with Santi Cazorla and Mikel Arteta, Jack ran the show from the middle of the park. He dribbled past players 5 times successfully and managed an 81% pass accuracy stat. Not too shabby for a 20 year old who's short on fitness.
CM – Mikel Arteta: A player who's struggled with form up until Saturday, Arteta redeemed himself with beautiful link up play, solid defensive contribution, and two well taken penalties. He lived up to his title as a defensive midfielder, with 6 tackles and 2 interceptions against the Baggies.
CF - Michu: The million pound man has pulled off the double double - 2 goals in back to back matches – and is showing no signs of slowing down. It's crazy to think that no one else even took a second look at him in the summer transfer window.
ST – Wayne Roney: 2 shots, 2 goals. Wayne Rooney found himself in the right places in the right time, and was a constant threat elsewhere on the pitch, as he quickened the pace of United's play through the middle of the park.
ST – Fernando Torres: While we may never again see the Torres of old in his full form, El Niño did Benitez proud, scoring a volley Chuck Norris would be proud of, and a well taken penalty, which is a rare sight despite the fact he's a striker. Well done for Fernando, who now has 11 goals this season.
That just about rounds out my list. 5 points goes to whoever can guess my 3 honorable mentions! (No, not really)