Nani the scapegoat as Chelsea get their revenge
2.14K //
01 Nov 2012, 15:45 IST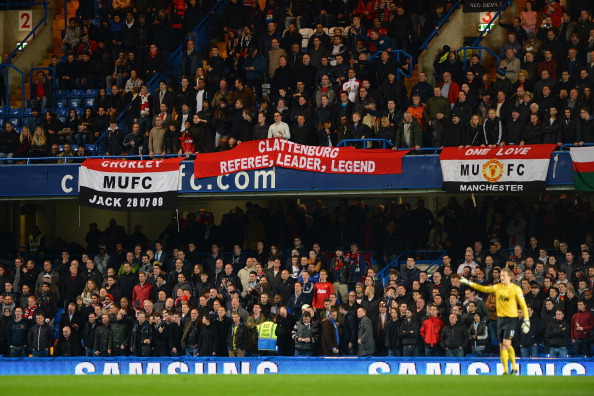 On a Halloween night when the United away fans owned Stamford Bridge for the greater part of the game with some epic banners and  with Lee Mason under tremendous pressure to perform, Chelsea had the last laugh and a much needed 'revenge' against Manchester United following the controversy at Stamford Bridge earlier on Sunday. Losing to Shakhtar at Champions League and losing to United back to back was too much for the Champions of the Europe. It was the Capital One Cup (read: The Mickey Mouse Cup), and Chelsea emerged victorious from the brink of elimination to beat United in a 9 goal thriller.
The starting line up for United and Chelsea were in contrast as Sir Alex made as many as 10 changes from the team that won on Sunday and decided to field reserve centre-backs Michael Keane (19 years) and Scott Wootton (20 years) against the Premier League leaders with the likes of Moses, Sturridge and Mata. Later Oscar, Ramires and Hazard were introduced by Chelsea while United introduced Powell, Tunnicliffe and Macheda. Contrast, one would argue. As I said, 3 back to back defeats would have been too much for the morale for the Blues. But yes, Chelsea showed character and rightfully hold the bragging rights now.
Now analytically, United had a good game with "young" Ryan Giggs playing the entire 120 minutes and scoring twice, Anderson being part of all three goals before being substituted for tiring – Abravomich's facepalm on Little Pea's goal was somewhat funny! Chicharito has scored 5 times in 6 appearances against Chelsea now. (and rumors at the starting of the season were that Chelsea inquired about Hernandez – Ahem!).
Chelsea, on the other hand, were without the likes of Lampard, Terry, Ivanovic, Cole and Torres. (Needless to say, some United fans would have been happier if he played instead – for the obvious reasons, of course!). Moses was brilliant but defense looked disjointed; conceding 4 goals is not how Champions should be made of. Cech has to be blamed for passing the ball to Romeu with Anderson in pursuit. Oh wait, where were David Luiz and Gary Cahill? To be frank, inclusion of the valiant trio of Hazard, Ramires and Oscar won the match for Chelsea.
In the post match conference Sir Alex was really pissed at Nani.
"We gave the ball away for the third goal," he said. "We were in complete control of the match at that point, playing really good football and all we needed to do was see the game out and keep possession.

"Nani decided to try and beat a player, lost the ball and we ended up conceding a penalty kick."
Nani is the scapegoat then. Anyway, here are the for and against by our writer Sushant Kaw:
For: "Apart from the goal, Nani was frustrating mostly. There were glimpses of an improvement in him accepting more defensive duties, but what he did at the end (as SAF mentioned) showed that even at the age of 25, he has not yet reached a level of maturity. You see the game out rather than what he tried to do. Also it is clear he is on borrowed time at MUFC. Relations between him and club are at an all time low. From what I have read, MUFC are not giving the 130k per week contract he believes he deserves. Also he had a recent bust up according to rumors and apparently he refuses to apologize for that. So, his time is all but over and only a miracle can save it. Maybe a Hat trick against City?"
Against: "Although, Nani is not the only person to be blamed. Inexperience cost us in the end with our CB's both of whom were quite lucky to be on the pitch. They did manage to do well till the fatigue set in. A good learning curve for them, especially Keane who seems to be certain to make the cut at Manchester United."
What do you guys think? January exit for Nani perhaps? Please feel free to leave your valuable comments below.