Newcastle captain heading for the exit door?
860 //
13 Mar 2013, 16:06 IST
After landing awkwardly and injuring his back in Newcastle's 4-2 victory over Southampton on Sunday 24th of February, Fabricio Coloccini has been recuperating in his native Argentina.
The general consensus is that the current Newcastle club captain has played his last game for the club and may not don the famous black and white jersey again. The pictures of him at the San Lorenzo (a club that tried to sign him in January) reserve match, posted on the club's official twitter account, will do nothing to dim the speculation.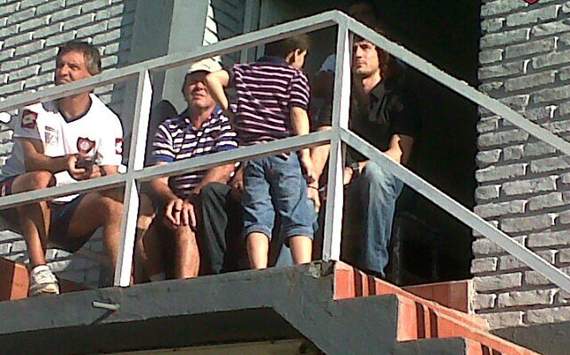 Even though Coloccini is contracted to Newcastle till the summer of 2016, having signed a new contract with the Magpies late last season, he did put in a transfer request asking the club to terminate his contract and allow him a return to his boyhood club San Lorenzo, citing family issues. The Magpies may have considered the offer if there were any fees involved, but what San Lorenzo wanted was a free transfer as they could not afford any transfer fees. I thought that was a little ambitious of the Buenos Aires based club, given the financial prudence Newcastle United now exercises.
This is what Matias Lammens, San Lorenzo's club president said in January:
"It would be impossible for us to buy the player because of our financial situation.

"We know he has private problems and wants to come to Argentina so we would desire an agreement and can offer him a good contract."
The move for Coloccini was eventually denied, whether rightly or wrongly, and in the aftermath of which, Coloccini wrote a letter to the San Lorenzo fans, in which he claimed that he did indeed, make every effort to get the move and thanked everyone for their patience and support. Personally, that was a little rude to all the Newcastle fans and club's hierarchy, who had been paying his hefty wages through thick and thin.
There is another school of thought that Coloccini might just be recovering from his injury and might just be getting away from the pressure filled life of the Barclays Premier League.
That however seems unlikely, and it looks as though the move could happen in the summer. All that is left are the mere formalities, especially if you look at all the events that have been reported back from Argentina. Add to that, the fact that the club seems to have moved on and signed replacements. There is also the possibility of them looking for more replacements in the summer.
Let's hope that is not the case, but if it is so, then let us not forget what he did for us and lets give him the send off he deserves.