Arsenal are second in the Premier League with one game left. Mikel Arteta's team next face Wolverhampton Wanderers at the Emirates on Sunday (May 28) in the league.
Meanwhile, the structure of the deal offered to West Ham United will be key to the Gunners' pursuit of Declan Rice. Elsewhere, the north London side are interested in Sacha Boey.
On that note, here's a look at the key Arsenal transfer stories as on May 26, 2023:
---
Deal structure key to Declan Rice move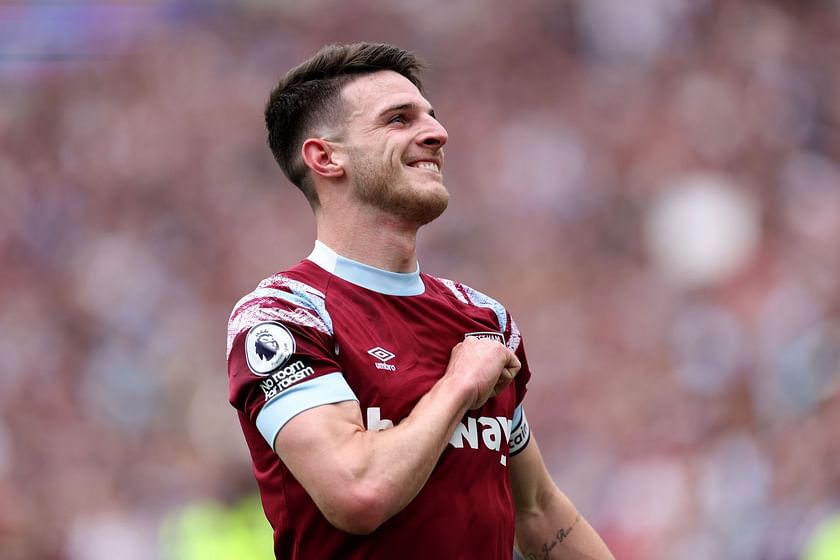 Journalist Ben Jacobs reckons Arsenal need a lucrative structure to their offer for Declan Rice to secure his services. The Englishman is heavily linked with a move away from West Ham United this summer, and the Gunners want him at the Emirates.
Speaking to Give Me Sport, Jacobs said that Rice is likely to cost upwards of £80 million this summer.
"Originally, suitors were looking more in a ballpark of £75 million to £80 million for Rice. But, given his fantastic second half of the season, and with West Ham safe, it may well be higher than that now," wrote Jacobs.
He continued:
"It isn't just a number, it's the package. I think it's really key to illustrate that much like when Wesley Fofana moved from Leicester to Chelsea, it wasn't only about hitting the number, it was about hitting the structure."
Jacobs also said that the Hammers will want a chunk of their asking price to be paid up front.
"What West Ham are going to want is a lot of money up front. You might find that if they are offered a big chunk of guaranteed fee; they take a lower overall package as opposed to somebody going to go over £100 million and hit the so-called valuation, but who's to say that there are decent payment terms on that or that there's a healthy guaranteed fee?" wrote Jacobs.
He added:
"Don't just look at the number on Rice; look at the structure because that's going to be key to getting a deal done. Arsenal's thinking is basically that they are obviously going to have to pay a big outlay.
"They want to do that because they want the player, but they still feel like Rice is attainable for under £100 million. But it's not just the fee, it's the structure of the deal and that's important."
Chelsea and Manchester United have also been linked with the 24-year-old recently.
---
Arsenal want Sacha Boey
Arsenal are interested in Sacha Boey, according to Takvim via Caught Offside. The Gunners remain keen to upgrade their options at right-back this summer.
Takehiro Tomiyasu's attacking output is not up to the mark, while Ben White is only a makeshift option for the position. Arteta is scouting the market for a new face and has set his sights on Boey.
The 22-year-old has been quite impressive for Galatasaray this season, registering one goal and four assists in 31 appearances across competitions. Boey is reportedly valued at €25 million, which shouldn't be a problem for the North London side.
---
Gunners advised against Elye Wahi move
Transfer insider Jonathan Johnson has advised Arsenal against a move for Elye Wahi.
The Frenchman has caught the eye with Montpellier this season, amassing 17 goals and six assists in 31 games across competitions. The Gunners are planning to move for the 21-year-old at the end of the season.
However, in his column for Caught Offside, Johnson said that it doesn't make sense for the North London side to offload Folarin Balogun and sign Wahi.
"With regards to those links to Arsenal, it's becoming increasingly clear that they're ready to offload Folarin Balogun this summer, so I don't see the logic in them filling in his position in the squad with someone like Wahi, who needs to keep on playing somewhere where he'll be first choice," wrote Johnson.
He continued:
"There's no doubting his talent and goalscoring ability. He's a real predator who knows how to put the ball in the back of the net, and that's going to be extremely valuable for a number of clubs. But whether he stays at Montpellier or goes elsewhere, he needs to start, and if he goes to Arsenal, that would not be guaranteed."
Arteta has shown a tendency to sign talented young players during his tenure at the Emirates and Wahi fits the bill.
Paul Merson predicts the result of FA Cup final between Man City and Man Utd! Click here