Liverpool left-back Andrew Robertson wasn't pleased with the nickname he was given by Jurgen Klopp during their first interaction. After joining the Reds from Hull City in 2017 for a fee of £10 million, the defender had to undergo Klopp's grueling lactate test.
The routine involved players running at maximum pace from one set of poles to the next. Despite Klopp's absence, the manager was informed of Robertson's unfortunate incident during the test. Recalling the incident, the Scotland international said (via Daily Star):
"We had to do the lactate test that the Germans love, it's basically running to your maximum. I remember running alongside Danny Ings and I was just sick everywhere! Actually physically sick."
"My medical took two days so I didn't really eat, so I put it down to that and I was tired. Ingsy was talking to me on the way round and I could just feel it, I knew something wasn't right. I tried to hold it in my mouth and I just had to let it go. It was terrible. Day one!"
He added:
"Luckily the gaffer wasn't there and I thought I'd got away with it and he returned three days later and introduced himself, blah blah blah, and then he called me Mr. Sick Boy or something like that. I was gutted!"
After the amusing first conversation between the pair, Robertson has gone on to become an integral part of Liverpool's set-up. He has made 269 appearances for the Merseyside outfit across all competitions and won the Premier League and the UEFA Champions League, among other trophies.
---
"My ideal situation just now is to retire at Liverpool" - When Andrew Robertson pledged his future to the Reds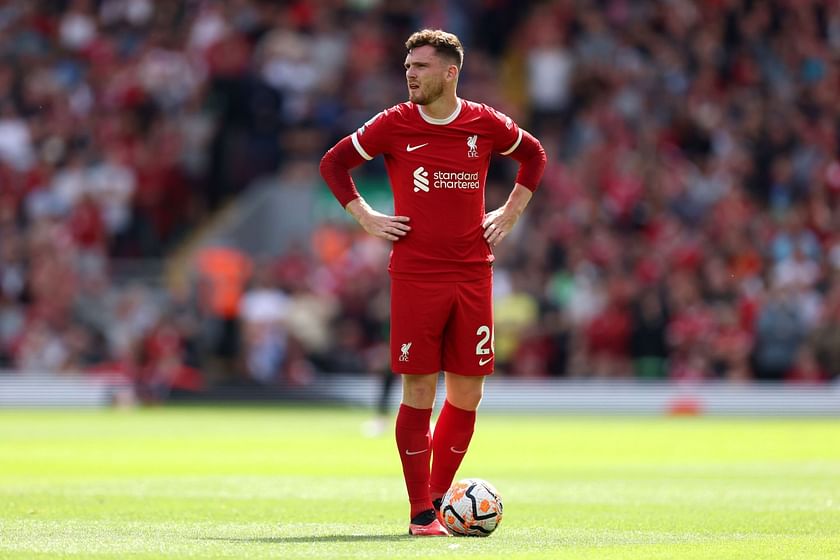 Liverpool's Andrew Robertson is an important part of Jurgen Klopp's team. The full-back, who joined from Hull City in 2017, has established himself as a sure-shot starter.
When asked about his future in 2020, the Scotland skipper said that he wishes to finish his career with the Reds. Speaking in an interview with BT Sport at the time, he said (via liverpoolfc.com):
"My ideal situation just now is to retire at Liverpool. It's going to be quite hard but I would love to be able to finish my career here. If I can keep my standards as high up to a James Milner type of age, I would be quite happy with that and call it a day then."
Robertson continues to appear in Klopp's starting line-up at the age of 29, three years after making the statement. The defender needs to play for five more years to reach his desired retirement point.