Manchester City striker Erling Haaland has received praise from teammate Bernardo Silva for his selflessness and his play off the ball. Silva feels that Haaland's ability without the ball has freed up the team's creative talent.
The Citizens have been able to win the Premier League for the past two seasons without a proper striker. Sergio Aguero was injured for most of the 2020-21 season and no replacement was signed for him in 2021-22 after he left for free to Barcelona.
With Haaland's signing, manager Pep Guardiola has made City's attack much more potent. This is evidenced by the Norwegian's incredible haul of 21 league goals in 15 appearances.
Speaking about playing as a false nine, where touches are hard to come by, Silva explained what makes Haaland such a potent weapon for his side:
"The thing about Erling is that he doesn't care about touching the ball," he said. "He is one of those players that, for example, if you play me as a false nine or Phil Foden, after a game playing in that position, it is not easy because you don't touch the ball many times and you get frustrated because you need to touch the ball to feel a part of the game.
"The good thing about Erling is that he is there and if he doesn't touch the ball for 30 minutes, but he touches it once and he scores, he is happy and delighted. To have that kind of player who is so focused on just the end of the product is great because he knows what he is there for and he does it perfectly.
Erling Haaland promises more for Manchester City fans after breaking yet another record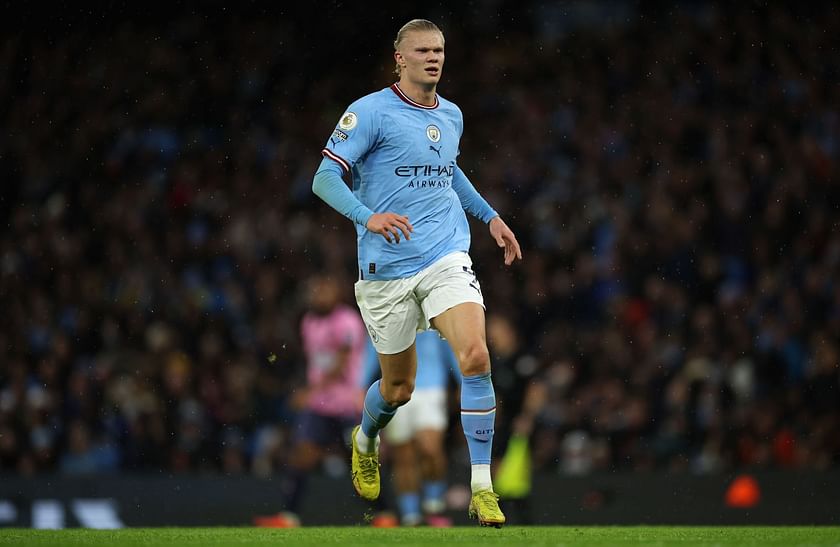 Erling Haaland took to Twitter to thank fans for their support and vowed to deliver more for Manchester City in 2023. The Norwegian, who has broken multiple records for the Citizens this season, posted a video montage on Twitter.
He has already broken the record for the quickest player to reach 20 Premier League goals - in 14 matches - and the player with the most consecutive hat-tricks at home - three.
With his 21st goal of the season against Everton, he broke another record, becoming the player with the most goals before the new year in a season.
This is an incredible achievement considering the one-month break for the World Cup. However, it was not all smiles for the Citizens as Demarai Gray pulled one back for Everton and City dropped to seven points below Arsenal for the lead in the Premier League.
Edited by Akshay Saraswat