Football presenter and Arsenal fan Laura Woods recently revealed the weirdest Instagram DM she received.
Exclusively speaking to SPORTbible, Laura Woods, the presenter of Champions League matches on TNT Sport, revealed an instance where an admirer resorted to rather peculiar behavior. Reflecting on the incident, the 36-year-old recounted:
"There was this era where this guy used to send around this picture - and I've seen it in other places, it wasn't just in my DMs - but it was a picture of someone's nan in a cage, like a life-size cage."
"And he would say, 'Laura, my nan's hungry, she wants to get out of the cage. But I'll only let her out if you go for a drink with me.' I'd read it and not reply, obviously. And then he would come back a week later and go, 'She's still in there. Laura, please let her out.'"
Woods was then asked whether the attempt by the stranger worked if his favour. She replied (via SPORTbible):
"She is still in the cage. But that's one of many [strange DMs]. There are a lot."
Now the lead anchor at TNT Sport, Woods revealed that she was excited but nervous about her new role. Having already worked at Sky Sports and talkSPORT, the football presenter looks forward to working her new job.
---
Laura Woods names Granit Xhaka as favourite Arsenal player in recent times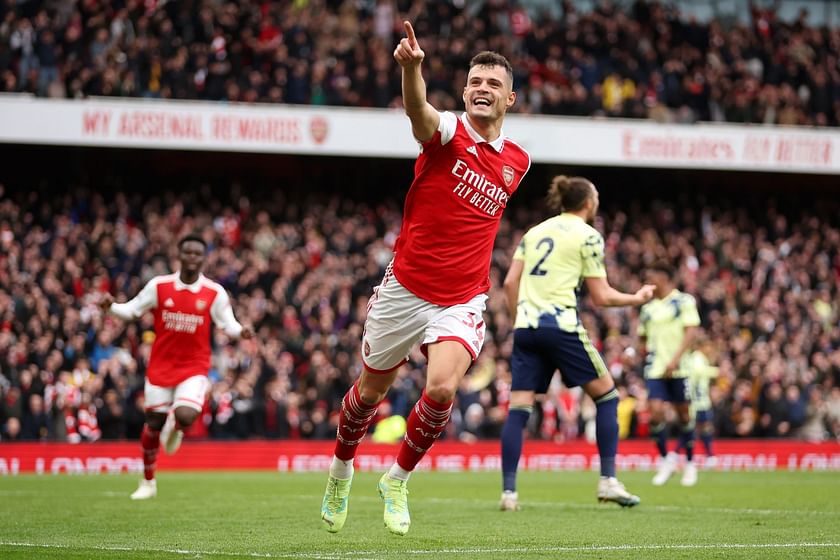 Arsenal fan and football presenter Laura Woods named Granit Xhaka as her favourite Gunners player in recent times. The Switzerland international completed a move away from the Emirates to Bayer Leverkusen this summer.
The Bundesliga outfit paid Mikel Arteta's club a reported fee of €15 million to acquire Xhaka's services (via transfermarkt). Speaking before the 30-year-old's exit, Woods said (via The Sun):
"If they're [Arsenal] in the Champions League next season and they need a little bit more depth in that team and you've got someone like Granit Xhaka who is the unofficial captain in so many ways, and I think is a bit of glue with a lot of those youngsters and the new players that are coming in, I really wouldn't want to lose him."
She added:
"I think he's got so much more of his Arsenal career still to live out. I adore him, he's been my favourite player since the whole revival of Granit Xkaka. I just love him, so I'd be gutted to see him leave."
The former Gunners skipper made 297 appearances for the Premier League outfit, scoring 23 goals and providing 29 assists across all competitions.