Manchester United take on Manchester City in the FA Cup final this weekend, and we should be in for an intriguing encounter between two of the Premier League's fiercest rivals.
Last night's Europa League final was unbelievable, wasn't it? It did go on for a while, with everybody moaning all the time. Every time the referee blew the whistle, everyone in the coaching staff and both benches jumped up. We don't realise how lucky we are in the Premier League.
Anything can happen in football - just look at the Bundesliga last week. Bayern Munich never looked like scoring a goal, but Jamal Musiala scored a worldie late in the game to win them the title. Football's a funny game - teams can play to the best of their ability and still not win on the day.
The FA Cup final represents the only chance Manchester United have got of stopping their local rivals from winning the treble. I do think they have a chance - believe it or not. Manchester United have got the ammunition they need to hurt Manchester City, and Pep Guardiola's side will need to deal with a few injuries as well.
Man United will have to hope that their opponents have a bad day, and there's a lot that has to go their way. Erik ten Hag's men will need to score the first goal. United won't be too far off from the way Roma played yesterday, but they do have more pace in their ranks. Manchester United are dangerous on the counter, and they will push further up the pitch.
---
Manchester United's Jadon Sancho could play a vital role against Manchester City in the FA Cup final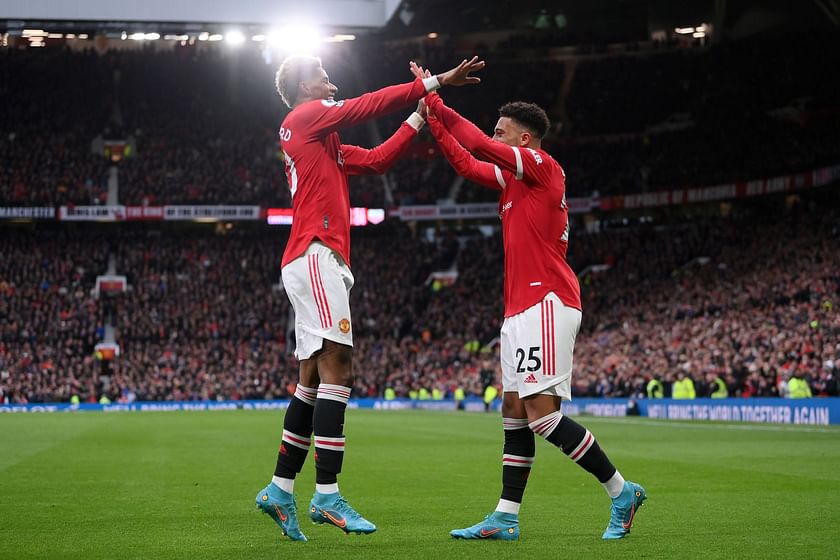 I'd definitely play Marcus Rashford on one side, and I would consider playing Alejandro Garnacho on the other wing. Jadon Sancho could adopt a bit of a free role as a number ten because it would give Manchester City something to think about. It would stop John Stones from coming into midfield because if he did, Rashford and Garnacho would have space to run into behind him.
If you get Jadon Sancho dropping back through the middle, Manchester City might not be able to dominate the midfield. I think it's his best position. Manchester United do have an alternative in Anthony Martial, but which version of him are you going to get? When Martial plays well, he's very good, but how many times has he done that? You cannot afford to carry anybody in this game.
I would also consider playing Marcus Rashford on the right. If he does play on the left against Kyle Walker, you've got Man United's biggest threat marked by City's fastest defender. Manchester United have got to change it up because if they don't, there's only one winner.
---
Manchester City's Riyad Mahrez could get the nod up front for the FA Cup final against Manchester United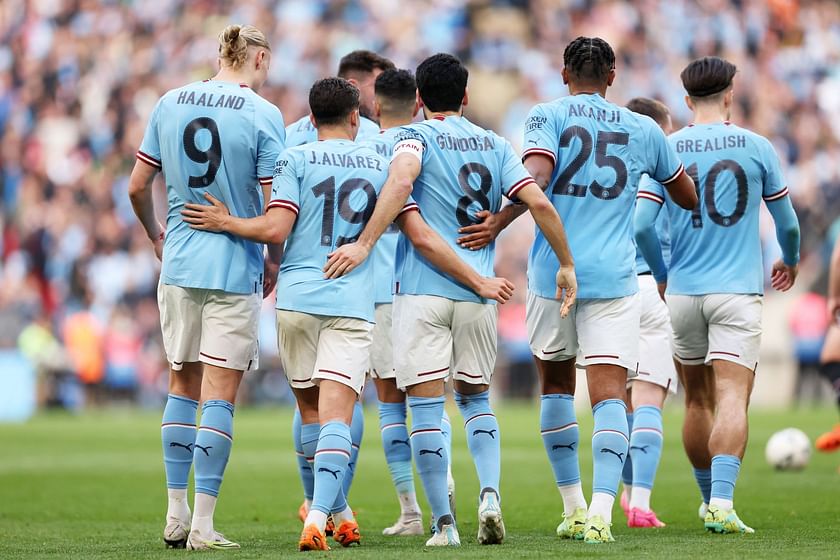 Manchester City are a great team with an immense squad, and that's why they're in contention to win the treble. All the players that won't play for them this weekend could walk into Manchester United's starting lineup. Julian Alvarez, for instance, would certainly be starting this game if he was a Manchester United player.
Erling Haaland will definitely play with Jack Grealish alongside him, but Grealish will need to be up for a battle against Aaron Wan-Bissaka. Both players are among the best in the business at 1v1 duels, and this should be a good, hard battle.
I wouldn't be surprised if Riyad Mahrez plays in the FA Cup final and Bernardo Silva is picked for the European final. Man United will have to sit back because of Erling Haaland's pace, and I'm not sure if they'll be able to push up the pitch enough to trouble their opponents.
The other teams in the Premier League will need to come up with ways to surprise Man City instead of worrying about what Pep Guardiola is going to do. Man United will make it a hard game, but even when they win their matches, they give away too many chances. If Ten Hag's side can get to half-time without conceding a goal, they can get ahead in the second half and make it a heads-or-tails match.
Manchester United fans will need to go to the game this weekend hoping for something special. If both teams play well on the day, there's going to be only one winner. Manchester City have been the better team this season and should be able to win this game.
Prediction: Manchester City 3-0 Manchester United