On Manchester United's win over Aston VIlla
984 //
11 Nov 2012, 12:38 IST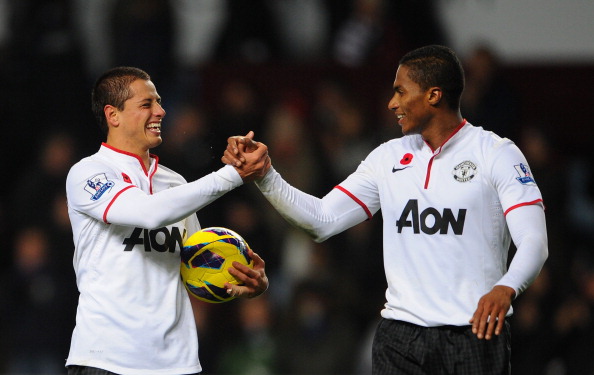 Another game. Another lead squandered. Another equalizer. Another lead regained. Another three points. Seems to be a recurring theme with Manchester United this term. The opponents, this time, were a spirited Aston Villa side. The victors, an ecstatic Manchester United. Some thoughts:
De Gea learns to punch
For large parts of the game, David De Gea was a spectator and could hardly be faulted for either goal that Villa scored. The harshest of critics could say that he could've reacted better for the first goal but those critics will be harsh on him no matter what he does. The interesting part of the game, however, was in the dying moments, when Villa mounted an assault on the United goal. He came out quite bravely and punched three on the trot, getting a reasonable distance out each time, and more importantly, good direction on the punches. One swallow does not, of course, make a summer but it is a sign of a good summer, in the very least.
Smalling – a welcome return
Chris Smalling made his competitive debut this season in midweek against Braga and was widely expected to start on the bench this game. However, a failure on the part of Jonny Evans meant that Smalling had center-back duties for the second time in four days. Sir Alex did say that it would not be fair to ask Smalling to play two games in such a short period of time in his comeback week but needs must; hence he did. And admirably. He was excellent in the air and, for most parts, held off an excellent Benteke. His pairing with Rio seemed to be quite natural and he looked most comfortable with the ball at his feet. People had expressed concerns on two ball playing center-backs operating together but Smalling's performance showed that they fear was unfounded. It can only be good news that United are slowly but surely getting their defence in shape. About time too.
The midfield still need tweaking
The midfield four of Young, Valencia, Scholes and Carrick started off the game quite well, but as the half wore on, got more and more ineffective. Young was wildly drifting in and out of the left wing while Valencia looked a one-trick pony, whose trick was up. Scholes and Carrick controlled the flow of the game but were found wanting when it came to linking up the play with the forward line. Attacks seemed to go until the end of the box and then peter out. There seemed to be a lack of imagination. Robin van Persie struggled to get into the game and Rooney seemed to be slightly confused about his position, or the lack of it, as well.
The second half was much better with Hernandez replacing Young and Rooney drifting in from the left. Scholes took up increasingly advanced positions and was  pulling strings until he was replaced by Cleverley. Anderson then came on for Rooney but did not really have too much of an impact. In fairness, perhaps, he did not have time for a meaningful impact. In all, the performance of the midfield was quite adequate, at best, and average, at worst. In a word, the midfield was functional; nothing more, nothing less.
Hernandez – the new Ole?
When Sir Alex brought on Chicharito for Young and moved Rooney to the left, this chronicler was not too sure of the move, thinking that Rooney's effectiveness would be severely curtailed. However, these  doubts (after being redoubled by Villa's second) soon vanished when the move paid handsome dividends after Chicharito scored two in the space of six minutes to get United back on level terms. He went on to grab the winner as well. It had to be him, didn't it?
Hernandez looks to be a transformed player. He seems to have improved his game when his back is turned to the goal. He has always been brilliant in making runs and getting into goal-scoring positions. This term, he seems to have developed a more rounded game, dropping deep to receive the ball and even holding it up at times. Of course, he is in the process of evolution and has a long way to go to become a complete striker but as long as he does not lose that instinct of knowing where the net is, he should be fine. He is a confidence player and on form, he should be good for quite a few goals yet, this term.