Pride of Indian football, Bengaluru FC will be facing Altyn Asyr Fk (Turkmenistan) in their AFC cup 2018,inter-zonal Semifinal on 22nd August. In 2016, Bengaluru FC became the first club from India to reach the AFC Cup final, where they lost to AL-Quad AL-Jadwiga (Iraq) by a narrow margin of 1-0. With just only 5 years of its inception, the club has done things which other elite clubs like- Mohan Began, East Bengal couldn't do in their rich history. The club has won at least one trophy every year. During 2013-14 season they won I-league and became the first team to win it in their debut season, in 2014-15 Federation Cup, in 2015-16 I-league, in 2016-17 Federation Cup and in 2017-18 Indian Super cup. In such a short time the club has filled its trophy cabinet. The only thing left for them is the AFC Cup.
Here, we are going to discuss Bengaluru FC's rival in the Inter-Zonal semi-final.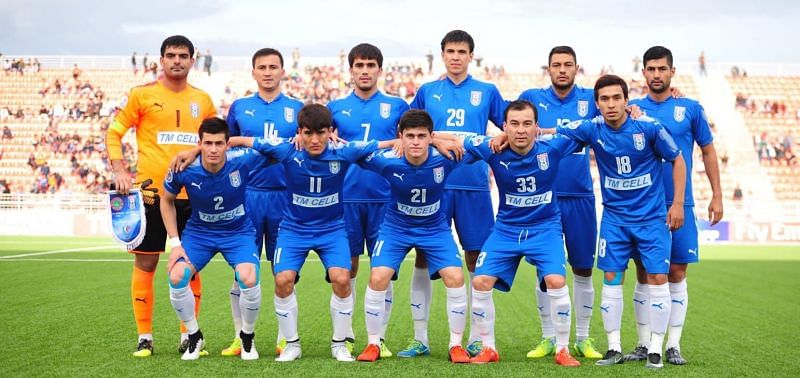 Football Club Altyn Asyr Fk
The club plays in the Yokary Liga (Turkmenistan top flight). The club was founded in 2008 and it is based in the capital city of Turkmenistan i.e. Ashgabat. Since its inception in 2008, the club has achieved great heights in the domestic tournaments.
Performance in the domestic league
The club has shown huge progress in such a short span of time in the domestic tournaments. In 2008, for the first time, they participated in the league and Cup of Turkmenistan. The club has never faced relegation. It took them just 2 years to win their first major tournament, they won Turkmenistan cup in 2009. Their first league title was in the year 2014 and after that, they won it consecutively four times in year 2014,2015,2016,2017. They also became the second team to win it consecutively four times. In the current season, they are at the 2nd place with 12 more matches to play. The Ashgabat based club has won Turkmenistan cup in 2015 and 2016.
Along with these domestic decorations, the club has also won Turkmenistan super Cup in 2015, 2016 and Turkmenistan President's Cup in 2010, 2011.
These stats clearly show their dominance in the domestic tournaments. However, the club form Turkmenistan has not able to prove their worth at the continental level.
Performance in the continental tournament
The club started playing the AFC Cup in 2015. In their debut season, they got knocked out in the preliminary round by Shahbab Al-Dhaririya (UEA). In 2016, they finished bottom of the group and their first Asian win was in 2016 only when they defeated Lebanese side Al Ahed. In 2017, they remain unbeaten in their home, but couldn't qualify for the knock out round. In the current season, they remain unbeaten in the group stages thereby qualifying for the knock out stage where they are Scheduled to play Bengaluru FC (India).
This clearly shows the club has a lot prove in the continental tournament.
Players to watch
1. Altymyrat Annadurdyyev
The 25 years Turkmenistan international plays as a striker for the club. He wears number 7 jersey and likes to dribble past the defenders. Currently, he is joint-fifth top-scorer in the league with 6 goals in his account. His ability to finish and create space for himself can create problems for Bengaluru's defence.
2. Murat Yakshiyev
He was a winger but later turned into a strike. His partnership with Altymyrat Annadurdyyev can cause trouble to Bengaluru FC. He has scored 5 goals and provided 3 assist this season. His majestic performance against Istiklol will be always remembered. He scored 4 goals in that match. Istiklol is that same team which Bengaluru FC couldn't breach in the AFC Cup 2017.
Thus, the club from Turkmenistan has big potential, and with their lack of performances in the AFC Cup, the club will be eager to prove their worth by beating 2016 Runners-up, Bengaluru FC.
Though it is clearly seen that the club from India has the upper hand, and they are well-prepared for the match, courtesy to their pre-season tour in Spain where they faced giants like Villarreal B and Barcelona B.