Pandev's voting slip revealed by FIFA, shows he snubbed Mourinho
2.24K //
22 Mar 2013, 21:33 IST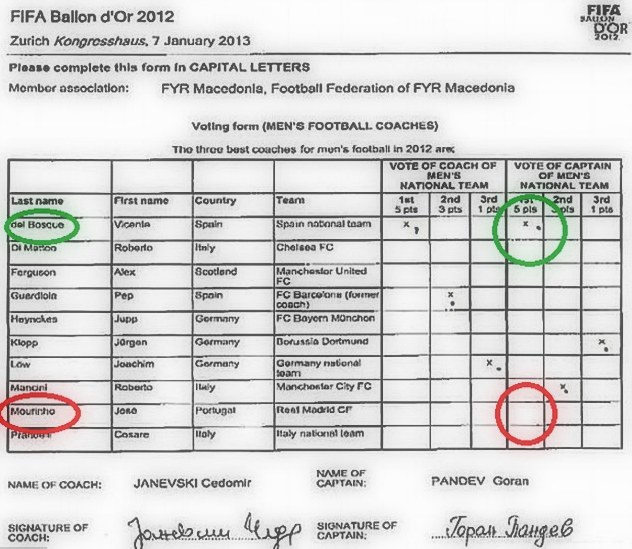 Macedonia captain Goran Pandev stated earlier in the week that he had voted for Real Madrid manager Jose Mourinho as Coach of the Year, but had later had his vote changed by FIFA. This was following accusations by 'The Special One' that the award ceremony was fixed.
The former Inter Milan striker said: "I voted for Mourinho as best coach of the year and I am convinced that strange things happened when the votes were counted.
"According to the FIFA list I voted for Vicente del Bosque, but I voted for Mourinho. I even called him and said I'd vote for him. Unfortunately, odd things happen at FIFA."
Spanish coach Vicente Del Bosque won the award with 34.51 per cent of the 505 votes cast, with Mourinho coming in second (20.49 per cent) and Guardiola third (12.91 per cent).
However, FIFA rubbished the rumours about any voting irregularities, and claimed: "The list of votes published on FIFA.com is accurate.
"We have the signed voting form from the FYRO Macedonia FA, signed by the national team coach, the captain, and with the stamp of the national association and signed by the secretary general of the FA, and the votes we have published match the signed voting form."
The form shows Pandev's vote for Vicente del Bosque as best coach, with Mourinho not figuring in the striker's top three.
Mourinho had said: "Am I sorry for not having gone to the gala? No. It was the right decision.
"One, two or three people called me saying they had voted for me but the vote showed up as cast for somebody else. So, I decided not to go."