Paul Scholes: The Ginger Prince
2.17K //
01 Jul 2011, 21:31 IST
On 16th November, 1974 a little ginger haired boy was born to a couple in Salford. This kid excelled at sports from a very early age, playing football for Langley Furrows while also being very talented at cricket. At the tender age of 14, when most kids his age would be queuing up outside stadiums waiting to get a seat to watch their favorite team play, he began training with what was then one of the better clubs in England, Manchester United after being spotted by a United scout during a school game.  From then on, the lad would go on to make history.  He is none other than Paul Scholes!
Scholes was penned to be a part of the side that won the Youth FA Cup in 1992, but was made to wait until the following year along with Phillip Neville to join a squad that consisted of young stalwarts like Ryan Giggs, Gary Neville and David Beckham who helped Manchester United reach the finals that year. The same year he turned professional, signing a long term contract with United and was handed the 24 shirt which he used till 1995 when he changed to 22. The Ginger Kid made his first team debut in a League Cup match against Port Vale where he scored twice in a 2-1 United victory. He made seventeen appearances that season scoring 5 goals and displaying his intelligence and eye for goal. This was just the beginning and this kid was penciled to achieve big things with his ability on the football pitch.
In the 1995-96 season, Mark Hughes, then a star player at United moved to Chelsea which gave Paul Scholes even more first-team opportunities. He stood in for the suspended Eric Cantona as Andrew Cole's strike partner for the first two months of the campaign and scored fourteen goals in all competitions as Manchester United became the first English team to win the Double twice. He picked up another Premier League winners medal in 1996–97 (changing his shirt number once again, this time to number 18, which he held ever since), but was restricted to three goals in sixteen league games.
The ginger headed kid had finally begun stamping his mark on the league and made his international debut in 1997 and played in the 1998 World Cup where he showcased his talent on the world stage against Tunisia in the first group match. I still remember watching that game where, after picking up a pass, Scholes shifted the ball to his right and unleashed an absolute screamer that flew into the top corner of the net from maybe 30-35 yards out. The only players I knew at the time were Beckham, Zidane and Ronaldo(original one). I just had to add this ginger headed lad's name to that list
After that there was no looking back and after a hat-trick against Poland in a friendly, Scholes scored 2 goals against the Scots and helped England qualify for Euro 2000. Whilst performing so admirably for country, he never forgot his duties for Manchester United and he formed a terrific midfield combination with Irishman and club captain Roy Keane. Alongside the Irishman and with Beckham and Giggs on the wings, United were unstoppable and dominated the English League winning several trophies and outclassing top class teams easily.
In 2001 maybe, I witnessed something that I'd never seen happen on a football field. My dad had explained a bit about corners and free-kicks so I knew a fair bit at the time. I'd seen teams send high balls into the box from corners and after a goal mouth melee somehow dump the ball into the net, or if they got very lucky like Zizou in '98, head the darn ball in. But this is what I saw that day,
I happened to see an English Premier League match (a rarity at the time in India). I saw the same guy who'd hit the 30 yarder in the World Cup wearing the number 18 jersey and thought to myself if he could do something similar today. I saw the team he was playing for- Manchester United and I saw Beckham as well. I knew Nicky Butt and Gary Neville after seeing them play for England, so for me it was pretty much an England team. Then came the defining moment; Manchester United won a corner. David Beckham took it. I'd seen the routine corner kicks, but what followed was something extraordinary – instead of sending the ball for somebody to head, Beckham sent the ball to outside the box where the lad was perfectly positioned to strike that thunderbolt – top corner, GOOAAALLLLL!! —-And that would remain etched in memory for years to come.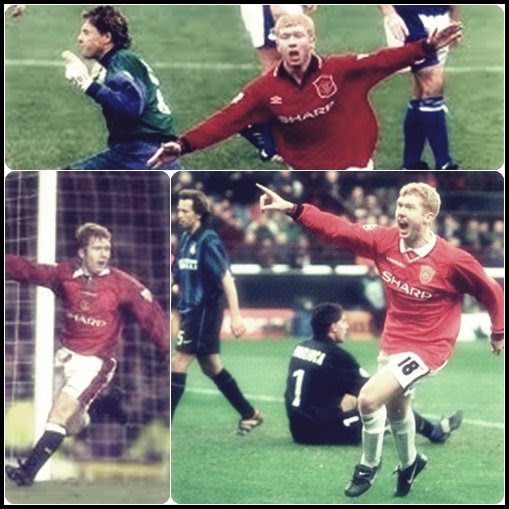 Now that Scholes had been playing for 9 years, a number of young Englishmen tried to follow in his footsteps, none more than Frank Lampard and Steven Gerrard. To accommodate these two in central midfield, the ginger kid was shifted to left midfield where he wasn't comfortable and decided to quit the international scene to concentrate on his club career with Manchester United, after scoring 14 times in 66 appearances for his country. He continued to boss the midfield in League matches for Manchester United in spite of the departures of Beckham and Keane and along with Giggs and Gary Neville became one of United's most respected players.
In 2006, now at 30 years old, Scholes was bothered by a serious eye problem which blurred his vision and kept him out of the second half of the 2005-06 season. This is what he had to say about the issue:
"I can remember it clearly. We were playing at Birmingham and in the last 10 minutes I could see a ball coming towards me. Then it suddenly felt like there were three or four balls coming towards me. I thought I just had a migraine. But I went to see a specialist when it still hadn't gone and they found the problem after that.
"It was worrying, not just as a footballer but also a person with a family. They thought it was quite serious at first and were asking me for my family's medical history, talking about whether there was a history of bleeding or heart disease, stuff like that. Then they diagnosed what the problem was and there was a small chance, I believe, it could have ended my career. But I never thought like that. I always thought I would be back and playing. There's still a little bit of blurring but I am totally used to it now."
There were many who wondered if he would ever recover his vision but his confidence in himself never dwindled and he was back on the pitch next season and it seemed he had never been away.
A major part of his game now was as a deep-ish lying midfielder who could control the game at will playing a short passing game and since United never really relied on battering ram football, he wasn't required to launch any long balls into the box(not that he couldn't). There's a story where Gary Neville was taking a leak while training and our ginger lad, standing 50 yards away plays a prank on Neville and sends a ball flying across, 50 yards and bang on  Gary's head(what Gary did to him after that remains a mystery). As his age increased, so did the experience and calmness. The rushing into the box to score expertly timed goals reduced to a great extent and those long range screamers also seemed to have vanished, till 2008 of course. Just ask Barcelona.
The  last 2 years Scholes, now 35 years old and reaching the twilight of his career began playing in what the manager Sir Alex Ferguson described as a quarterback role, orchestrating midfield play and finding teammates with unerring accuracy, even if stationed 70 yards away from him.
Cut to May 29th, 2011. He played his final game for United against Barcelona in the Champions League final at Wembley as a substitute. He signed off with an incredible 676 matches under his belt, leaving only three legends ahead of him on the all-time list – namely Bill Foulkes (688), Sir Bobby Charlton (758) and Ryan Giggs (876 at end of 2010/11).  Paul Scholes announced his retirement three days after the Wembley final in a typically low-key manner – no interview, no fuss, just a statement confirming his decision to stop playing and start coaching with United. The dressing room's loss will surely be the dug-out's gain.
On Wembley that day in May, a legend brought the curtains down on his career and this is my lame attempt at paying tribute to the greatest midfielder of his generation. Xavi, Gerrard, Lampard, Iniesta and the others can only look at him at awe and hope to emulate his feats someday, still the desire, loyalty and genius is something that can never be replicated by anybody. E.V.E.R. Not for nothing were there players queuing up to swap shirts with him after the Wembley game.
Typical Scholes. Went on a family holiday after the announcement, so out of the country for all the fuss. Probably wouldn't have read a word of the tributes. What a man!!!
These are some of the tributes that have come Paul's way during his stellar career for United and England:
Pele: "If he was playing with me, I would have scored so many more."
Zinedine Zidane: "Scholes is undoubtedly the best midfielder of his generation. He's almost untouchable in what he does. I never tire of watching him play. You rarely come across the complete footballer, but Scholes is as close to it as you can get. One of my regrets is that the opportunity to play alongside him never presented itself during my career".
Xavi: "In the last 15 to 20 years the best central midfielder that I have seen — the most complete — is Scholes. I have spoken with Xabi Alonso about this many times. Scholes is a spectacular player who has everything. He can play the final pass, he can score, he is strong, he never gets knocked off the ball and he doesn't give possession away. If he had been Spanish then maybe he would have been valued more."
Xabi Alonso: "Fans in Spain rate him very highly and I admire him a huge amount. To me Paul is a role model. He is the best midfielder I've seen in the last 15 or 20 years."
Messi: "At La Masia, his name was mentioned a lot.
He's a teacher."
David Beckham: "He's always one of those people others talk about. Even playing at Real Madrid, the players always say to me 'what's he like'? They respect him as a footballer, and to have that respect from some of those players is great."
Gary Neville: "I wouldn't swap Paul Scholes for anybody. He is quite
simply the most complete footballer I have ever played with. He is the best."
Brian Kidd: "Paul Scholes had the best football brain I'd ever seen in a kid. Let's face it. Paul Scholes is in a class of its own."
Thierry Henry: "I can't understand why Scholes has never won the player of the year award. He should have won it long ago. Maybe it's because he doesn't seek the limelight like some of the other 'stars'."
Pep Guardiola: "He is the best midfielder of his generation. I would have loved to have played alongside him."
Eidur Gudjohnsen: "Scholes is one of the most complete footballers I've ever seen. His one-touch play is phenomenal. Whenever I have played against him, I never felt I could get close to him."
Luis Figo: "I'm star-struck when I see Paul Scholes because you never see him. On the pitch you can't catch him. Off the pitch he disappears."
Ronaldinho: "I want to pass like him. Who taught him how to do that?"
Alan Shearer: "If you ask footballers to pick out the player they most admire, so many of them will pick Paul Scholes.  His passing and shooting is of the highest level and he's the most consistent and naturally gifted player we've had for a long, long time."
Peter Schmeichel : "People say he is a great player, but you have to define what a great player is, For me, it is a player who has a bottom level that means his worst performance is not noticed.If he is having a bad game, a team-mate might feel Paul Scholes is not quite on his game, but a spectator wouldn't notice. Scholes, of all the players I have played with, has the highest bottom level. His reading of the game is unsurpassed.He has an eye for a pass, for what the play or the game needs at that precise moment, that I have never see n anyone else have. He controls and distributes the play and the game better than anyone I have ever seen."
The most down to earth player I've witnessed. No nonsense, no controversy, no chit chat. All this, apart from the bloody awesome talent. Had Scholes been playing in Italy or Spain, he would have been hailed as the best ever. I will miss those 50 yard effortless cross field passes or the screaming volleys into the top corner. Some years down the line when my kids come up to me after watching some Youtube videos raving about this Ginger Prince, I can tell them, "Oye Kiddo, I watched him live and you have no idea " \m/
Thanks for the memories PS18.