Pele: "I didn't create or train Mbappe"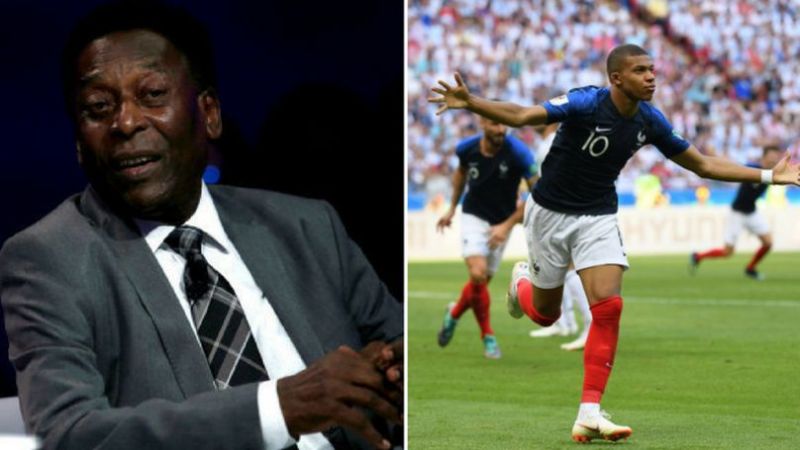 What's the story?
Edson Arantes do Nascimento, also known as Pelé, has spoken on his relationship with French superstar Kylian Mbappe and denied having any role in the Frenchman's extraordinary rise to stardom and his achievements in a recent exclusive interview with beIN SPORTS USA.
The former Monaco ace, who is just 19 years old, has been dubbed as the best teenager since Pele. Both of them maintain a cordial relationship with each other and regularly post about one another on Twitter.
That's why many people wonder whether the three time World Cup winner with Brazil has been helping Mbappe improve his game on the pitch, but Pele simply refused to take any credit for it and claimed that he is more closely related to Neymar than him.
In case you didn't know...
Pele and Kylian Mbappe are the only teenagers in history to have scored in a World Cup final match, wiith the Seleção icon scoring as a 17-year old in 1958 and Mbappe finding the back of the net in Les Bleus' 4-2 victory over Croatia this summer.
Pele, who scored 619 goals in 638 competitive games for Santos, was voted as the FIFA player of the century, alongside Argentine great Diego Maradona.
The heart of the matter...
In an exclusive interview with beIN SPORTS, Brazil legend Pele spoke on a range of topics including Neymar's Santos career, his relationship with Kylian Mbappe, and Ballon d'Or.
When asked about the similarities between him and Neymar, Pele found it difficult to answer the question, but pointed out one major difference between them, saying that he always wanted to play in Brazil, while his fellow Brazilian was attracted to European football. He said:
"So, the main difference is that: I decided to stay, he decided to leave."
On Mbappe, he said that he was surprised by the exponential growth of the player, who was still playing sporadically in the Ligue 1 three to four years ago, adding that he and Mbappe are good friends, but stressed that he hasn't trained him. He continued:
"I just want to clarify, I didn't create or train Mbappe. A lot of people have been saying that that's the case. However, I would understand people saying that for Neymar."
He finally said that Luka Modric, is an excellent player and deserved to win the Ballon d'Or.
What's next?
Neymar and Mbappe scored and assisted one goal each in PSG's emphatic 4-1 away victory at Red Star Belgrade to secure the top spot in their group in the UEFA Champions League.
PSG, who are unbeaten so far in Ligue 1, head to Dijon this weekend for their league fixture against Dijon FC.