Player Ratings: Manchester United v Real Madrid
3.74K //
06 Mar 2013, 10:28 IST
It is almost impossible to believe that a night which should have been remembered for the artistry of the galaxy of stars that were on show for the sporting spectacle at Old Trafford last night is actually being marred by an unjust refereeing decision. Cuneyt Cakir (the Turkish referee) is a household name right now!
United were cruising until 56 mins with a goal in front and De Gea not having a single shot to save, when Nani was unjustly sent off by the referee, after an honest attempt to control a high ball that caught Arbeloa. The consternation inside Old Trafford was palpable but the decision was irreversible.
United were clearly rattled with the decision and lost two quick goals to leave themselves with a mountain to climb. It eventually finished 1-2 in favor of Real Madrid and thereby sending them through to the quarter finals of the Champions League.
Here is how the players played their part in an otherwise forgettable night of football: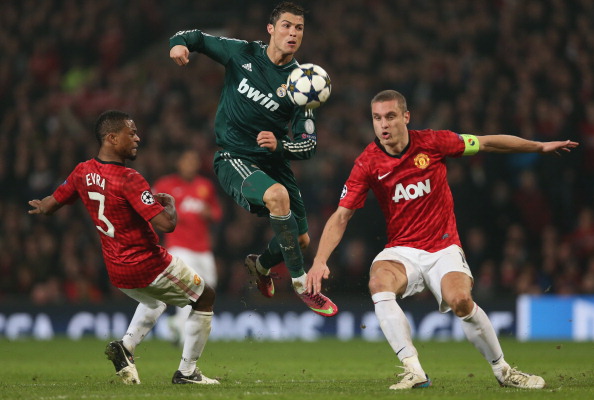 Manchester United
David De Gea – 7/10
He couldn't really do anything with the two goals that Real Madrid scored – one a scorcher from Luka Modric and another a tap in from Ronaldo. But barring that, he hardly had anything to do in the game. He held his lines quite well, was brave on corner kicks and free kicks and his handling and ball distribution were spot on.
Patrice Evra – 6/10
Had trouble early on to match the pace and trickery of Di Maria, which earned him a yellow card. Improved after Di Maria had to be substituted after pulling a hamstring, which allowed him to join Nani in the attack from United's left wing. But he was at fault for the second Madrid goal when he couldn't stop Higuain sliding a cross across United's six yard box for Ronaldo to tap it in.

Rio Ferdinand – 8/10
Solid in defense and used all his experience to negate any threat that could have been caused by Higuain or Ronaldo. His positional sense and reading of the game were spot on.

Nemanja Vidic – 7/10
Was very unlucky on the night not to have scored at least a goal. Hit the post in the first half from a terrific header off the corner and later on in the dying seconds of the match, drew a fantastic save from Madrid's keeper from another bullet header. Was solid throughout in defense in clearing his lines, but still could have done better in closing down Modric before he took that shot from 20 yards out that cannoned off the post and in.

Rafael – 6/10
Carried on from his second half showing in the first leg at the Bernabeu and negated almost every threat that Madrid posed from United's right wing. However, he couldn't track Ronaldo coming in from behind to tap Higuain's low cross for Madrid's second goal.

Nani – 7/10
He was a constant thorn with his pace for Madrid's defenders while drifting in behind Arbeloa on United's left wing. Did well in holding up a defender and putting in a dangerous cross that deflected off Ramos' feet and into the back of the net for United's goal. He was unjustly sent off by the referee in the 56th minute when he was trying to control a high ball and collided with Arbeloa.

Michael Carrick – 9/10
A lynchpin in United's engine room, he was almost perfect with his interceptions and passing the ball out of defense. Did his job well in keeping Di Maria and Ozil quiet on the night. Was unlucky not to have scored in the second half with a header that was brilliantly saved by Madrid's keeper.

Ryan Giggs – 9/10
He was playing his 1000th senior game at the age of 39, but still looked like every bit a teenager. All of United's attacking play came through Giggs and he showed tremendous energy while running box to box and keeping a check on every Madrid attack. A delightful ball from outside of his left foot for Van Persie was a treat to watch. Played the full ninety minutes with purpose.

Tom Cleverley – 7/10
Did his job quite well in tracking the runs made by Ozil or Khedira and breaking any counter attacking play started by Madrid. Tracked back well on quite a few occasion to help Evra when he was left out of position. Held up the ball quite well and distributed it to the forwards with every opportunity. Score 7/10
Danny Welbeck – 8/10
Started off from where he left the first leg at Bernabeu. An absolutely scintillating performance from the United striker. Was employed in a slightly deeper role behind Van Persie to keep a check on Alonso and break ahead when in possession. His work rate, pace and energy caused Madrid quite a few problems. But, he can still improve a lot on his finishing qualities and should have converted a chance early on in the first half when a Van Persie shot deflected from the keeper and came in his path.

Robin Van Persie – 5/10
A rather average performance from Van Persie, who could have done a lot better on a couple of chances he received during the match. A left foot volley from a delighful cross by Giggs was not properly taken in the first half and he followed it with a few scuffed shots in the second half. Couldn't really affect the match as much as he and the manager would have liked.

Substitutes
Wayne Rooney – 5/10
He was a surprise omission from the starting line up, but came on in the second half for Tom Cleverley. Couldn't really gather the pace of the match and therefore couldn't affect it much. Should have done better with a chance he got in the six yard box when the ball fell kindly to him and he scuffed his shot well over the bar.
Ashley Young – N/A
Came on for Welbeck late in the match and couldn't produce anything noticeable.
Antonio Valencia – N/A
Came on even later in the match to try and put in some crosses from United's right wing. But couldn't pick up the pace of the game and consequently couldn't affect it much.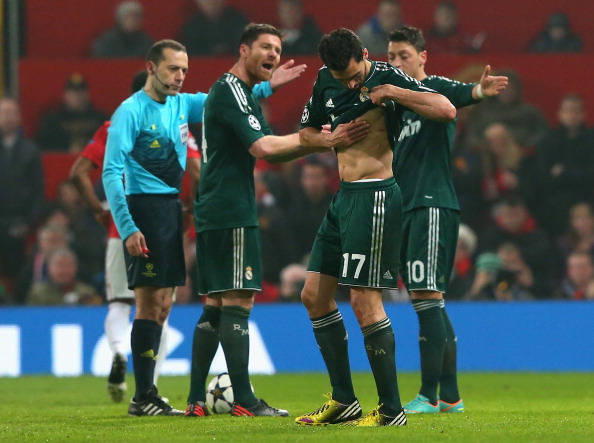 Real Madrid
Diego Lopez – 8/10
If it was De Gea's night in the first leg, then Diego Lopez made his name in the second leg. He was probably Real Madrid's man of the match. Made a number of stunning saves to keep Madrid in the match, none better than a couple of reflex saves in the second half from Carrick's and Vidic's header. Although, he could have done better with Van Persie's shot in first half, which he deflected in front of his six yard box to the feet of Welbeck. But, he recovered well in time and closed him down well to block the resulting shot.

Fabio Coentrao – 5/10
Did wonderfully well in heading a Nani cross during the first half which prevented a free header from Giggs coming in behind him. Was more or less anonymous in the attack due to the threat posed by Giggs.
Sergio Ramos – 6.5/10
Solid defensive display from the Real Madrid captain who always had an inch on Robin Van Persie. Was unlucky to have conceded an own goal, to which he could have done nothing. Although, he could have done better in marking Vidic on corner kicks, who always seemed to have the edge over Ramos on aerial balls.

Raphael Varane – 8/10
Fast establishing himself as one of the most talented and defensively adept youngster in Europe, he put in another confident and composed performance which included some great tackles, and provided a perfect cover for Arbeloa, whenever he was outrun by Nani. He seems to have taken Pepe's position for good now.

Alvaro Arbeloa – 4/10
Had a tough time in dealing with the double threat of Evra and Nani on the right flank. Was caught out of position several times in the first half and was duly helped by teammate Varane. Was almost anonymous during Madrid's attack.

Cristiano Ronaldo – 6/10
The fixture just had only one name written all over it. Cristiano Ronaldo returned to Old Trafford for the first time since leaving United in 2009 and received a rapturous ovation from home fans before the match. During the match, United's tactics worked perfectly in stopping the supply to Ronaldo by stifling Alonso, Ozil and Di Maria. Ronaldo was almost anonymous till he scored the second goal for Madrid after the sending off of Nani. An unusually faded performance according to his standards.

Xabi Alonso – 6/10
Couldn't dictate the play as much as he would have liked due to the presence of Welbeck and Cleverley around him. It was a plan well worked by United in stopping Madrid's supply line. Got some time and space only after the sending off.

Angel Di Maria – 5/10
Caused few early problems to Evra from Madrid's right flank with his pace, but unfortunately had to leave after just 35 minutes because of a pulled hamstring. Couldn't really affect the match as much as he did in the first leg at the Bernabeu.

Sami Khedira – 5/10
A useful physical presence in the middle of the park, diligently keeping and distributing possession. Nothing extraordinary on the night for the German though, who was constantly tracked by Cleverley and Welbeck. Score 5/10
Mesut Ozil – 5/10
Seemed below his best on the night while playing behind Ronaldo and Higuain. Was well tracked by Carrick, who constantly anticipated the passes towards him and made vital interceptions. Played out wide right after the introduction of Modric in the second half.

Gonzalo Higuain – 6/10
Got an early sight of United's goal which he scuffed wide. Was kept quiet by Ferdinand and Vidic until the sending off. After that, produced a wonderful low cross across United's six yard box, which was put into the net by Ronaldo for Madrid's second goal.

Substitutions
Kaka – 5/10
Came in as a forced substitute after Di Maria pulled his hamstring during the first half. Had a shot saved by De Gea which deflected off the post in the second half. Apart from that, didn't do anything extraordinary to catch the eye.

Luka Modric – 9/10
Came in after the Nani sending off and made all the difference. Continued from where he left against Barcelona at the weekend and capped it off with a strike perfect enough to win any tie. His creativity from the midfield and the opening goal knocked the stuffing out of United, who were already rattled by the horrendous decision from the referee.

Pepe – N/A
Came on late in the match in place of Mesut Ozil to work as a defensive shield. Didn't do much to affect the game. Score N/A
Unfortunately, this was a game which will always be remembered for the wrong reasons. Players from the losing side collecting more average scores than the players from the winning side tells the whole story of the match. Football, Bloody hell!