POLL: Can West Bromwich Albion they keep it up?
591 //
05 Dec 2012, 09:10 IST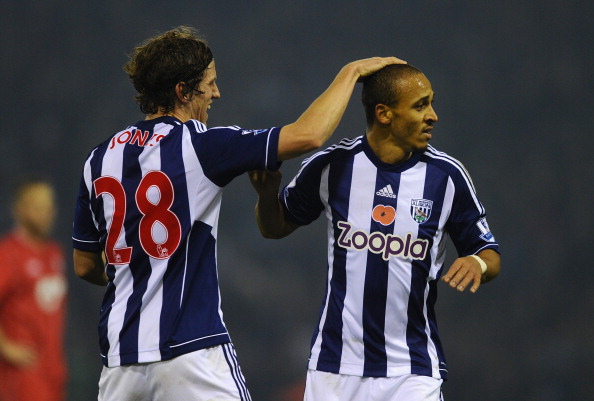 For years, West Brom were known as the Premier League's "boing boing club" with reference to the fact that they always seemed to get relegated and then swiftly get promoted. They only managed to end this unwanted track record with a respectable 11th place finish in the 2010-11 season; a season which started with Roberto Di Matteo in charge, but finished with Roy Hodgson as manager. In Roy Hodgson's one and only full season in charge of the Baggies, the 2011-12 season, his side made a small improvement, finishing 10th.
However, under the guidance of new manager Steve Clarke, West Brom have made vast and highly significant improvements. One of the best elements of West Brom's team last season was their defence. The centre backs Olsson and McCauley meant West Brom were always tough to beat, while Youssouf Mulumbu grafted in midfield. But Clarke has looked at these solid areas, and improved them in the process. There is more width, more attacking options and more shape to the West Brom side.
The results speak for themselves in some ways. They have beaten Liverpool, Chelsea, Southampton and Everton to name a few. The win over Liverpool was probably the most impressive of these victories as they demolished the Reds 3-0 on the season's opening day. Offensively, they possess many threats with all the players providing something slightly different. Peter Odemwingie is a typical goal scorer, always on the end of things, Shane Long uses his energy and pace to stretch defences, on-loan striker Romelu Lukaku uses his brute strength to outmuscle defenders, and Swedish striker Markus Rosenberg offers yet another goal scoring threat.
Just like last season, there is a heavy reliance on the attacking midfielders such as James Morrison, Graham Dorrans and Chris Brunt. In short, based on the evidence of the past five months, Steve Clarke has made West Brom better in most ways- slightly better in some ways, considerably better in others.
So to answer the question in the title, how far can West Brom go?
Well, if they continue with their high fitness levels and tactical shape, they could well do what Newcastle did last season and force a surprise Europa League place. However, in the past two games, cracks have appeared. Teams have begun exposing West Brom spacious defence and as the Baggies have started attacking teams more, therefore meaning West Brom's centre backs have to track back more, something they are not really used to.
However, Steve Clarke has shown a lot of tactical brilliance to give West Brom fans plenty of optimism for the season ahead.