Pretty football? Pretty useless football!: Barca's tiki-taka woes
Disclaimer: The views expressed in the article are those of the author and do no necessarily reflect the views of Sportskeeda.
As revering chants of Mou-ri-nhio, Mou-ri-nhio rang out around a packed Santiago Bernabeu on Saturday night, the man who was the target of that adulation sat confined in the Real Madrid technical area with a smug look on his face which almost seemed to suggest, "are you watching, Perez and Iker?" A second string Los Blancos outfit did what many Mourinho teams of the past have done – find a way to win against any opposition.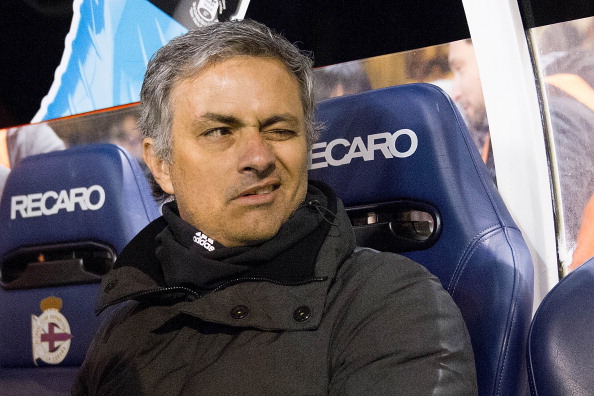 This time the opponents were the hated enemy, Barcelona. While the result was immaterial (Barca are still 13 points ahead of the capital club with just 11 games to go), a second successive defeat at the hands of their arch enemy and a third in four matches was a crushing blow to the collective morale of a side hailed by many as the greatest ever. Whether they are is a question best left for a rainy day but what is of significance to note is the complete implosion of character shown towards the end by many of Barca's supposed superheroes; a trait they've often blamed as undeserving gamesmanship on Real.
Victor Valdes charged out of the goal-line after the final whistle to protest what he thought was a penalty in the dying seconds of the game and promptly got sent off for dissent. The notorious Sergio Busquets was up to his off-the-ball hacking and body checks again, as were Gerard Pique and Javier Mascherano. Countless times Barca players surrounded the referee (who, it has to be said, had an exemplary game), trying to put pressure on him to get Real players booked or for getting decisions in their favour. Almost every team on the planet does this but please, the next time it is done against Barcelona, I urge the Barca players, coaches and fans alike to not even think of taking the moral high ground and pretend to always be the victims when that is clearly not the case.
As recently as last week, Barcelona's feisty right back Dani Alves was quoted by FIFA.com as saying that 'excuses are for losers.' After their recent dip in form, players, current and past, management staff and a whole host of Barca-adoring so-called football pundits have pointed fingers at everything from Tito Vilanova's health issues, injuries to Xavi and Iniesta, a dip in form of the incomparable Lionel Messi and even a congested fixture list as reasons (read excuses) for their plight. If Alves were to be taken at face value, who are the losers now?
Before going any further, let me make it clear that this is not a fan tirade against Barcelona. However, considering the monumental hype surrounding the side, its youth system and players and the unwillingness of many 'experts' to call a spade a spade, this article is made necessary to try and balance things out a bit. Indeed, the commentary during the Copa del Ray second-leg was nothing short of criminal for how one-sided it was in the home side's favour even when they were being overrun by a rampant Real. For when Barca wins and Real loses, it is because of the genius of the former but when results are turned, it is only because 'Barcelona played bad' or Real 'upset the tempo of the game' and never because Real played extremely well!
Which is exactly what Mourinho's men have been doing in the recent past in the Clasicos. Sure, the Portuguese took a few games to figure out how to get past Barca. But ever since the day Cristiano Ronaldo headed in the winner in the 2010-11 Copa del Ray final, Real have largely had the better of Barcelona in head-to-head encounters.
These last two wins were particularly impressive considering they looked in total control throughout the game. Barcelona had most of the possession but could hardly ever translate that into meaningful forays or shots. They went about their pretty passing but considering it was mostly in the middle of the field and hardly ever in the opposition third, it was, for all practical purposes, pretty useless passing. Sticking to your ethos and playing a certain style is very commendable, but at the end of the day the game is all about putting the ball in the back of the net and not about how many passes you're able to string together.
Of course, all this does not go to suggest that Barcelona are suffering some severe breakdown. They are still a shoe-in for the La Liga title and given the quality of their side, it would be no surprise if they overturn a 2-0 deficit against AC Milan and go on to eventually claim the Champions League title at Wembley.
But what Mourinho has done so dramatically in the space of four days is demystify Barcelona. Teams will now go in to games against Messi and co with a new-found belief that they can win. They have a model in front of them as to how to keep Messi quiet, how to render Iniesta ineffective, how to shackle Xavi's influence and how to score goals against a defence which leaves themselves wide open to counter attacks time and again.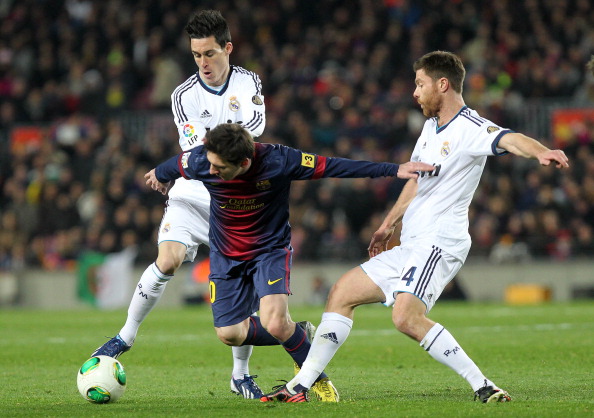 Also, what Mourinho and his men have achieved is show Vilanova and his management team that they really do need a Plan B. If a team comprising of Alvaro Morata, Jose Callejon, Luka Modric (all of whom were extremely effective), an out of form Kaka and the rest, in place of key regulars like Xabi Alonso, Alvaro Arbeloa, Gonzalo Higuain, Mesut Ozil, Sami Khedira and of course Ronaldo, could dominate (again in terms of effectiveness and chances created rather than possession) Barca the way they did, it clearly shows that something has indeed gone wrong.
Despite their famed tiki-taka build up, much like they found out against Chelsea (but did not learn from) last year in the Champions League, they do not have an alternate way to goal. That is where a Zlatan Ibrahimovic may have done them good. That is where a classy winger can change their fortunes around instead of over-reliance on full backs Alves and Jordi Alba.
For unlike Ronaldo, Messi cannot win games single handedly when the build-up is not tailored to his needs. As was rightly pointed out by analyst Guillem Balague, Messi against Milan and in the two Clasicos has looked like the Messi of Argentina; almost non existent at times. With Xavi and Iniesta not as effective as they normally are and with David Villa not yet back to his best, Messi's contributions become far too little and far too spaced out. The run and finish for the equaliser on Saturday was probably the only reminder of the Messi we're used to seeing and it was telling that it happened the one time Barca played the game Messi wants them to play – dragging out defenders to leave him space to exploit and then playing an early ball, giving him ample time to finish before being mobbed by defenders.
Messi and Barcelona will benefit if the side tones down just a little bit on their 'only one way to play the game' attitude. Footballing history shows us this is not the case. If Brazilian samba flair under Pele, Zico and co was successful, German defensive solidity and workmanlike approach has also been equally effective. If the great Dutch sides of yore perfected Total Football, Chelsea of last year perfected Total Negative Football. There is no harm in having a second option.