Quarterly Report – Tottenham Hotspurs: The Underachievers of North London
628 //
24 Nov 2012, 20:45 IST
The Lilywhites of North London, Tottenham Hotspurs have always attracted supporters with their passionate and entertaining football throughout the world. But entertaining football is not synonymous with winning football and Spurs have proved that again and again every season under Harry Redknapp.
AVB is a technically strong manager who has changed the Spurs gameplay. While the gameplay itself looks boring, the winning mentality is surely there.
Coming into this season, they appointed Andres Villas-Boas as their new manager in hopes of shedding the 'Underachievers' tag. AVB is a shrewd manager well known for his highly technical inclination to the game, making him the complete opposite of Harry Redknapp.
The pre-season summer witnessed the transfer of Modric, the man who controlled the Spurs midfield. Spurs brought in Moussa Dembele, Clint Dempsey and Gilfy Sigurdsson to strengthen their midfield. AVB sold Rafael van der Vaart in an effort to reshape the club according to his plans.
The season started off with mixed signs for them after they lost 1 and drew 2 games on the trot. Soon they got their season really going with a bright spell capped by their historic win over Manchester United in Old Trafford. Lately though, they have regressed into their indifferent form keeping them glued at the 8th position on the table. Similar has been the story of their Europa League campaign.
So, why have they been in such on and off form lately?
Let's have a look at some very important factors that have shaped their season.
One Man Dembele
Dembele is the key man for Andres Villas-Boas' system to work for Spurs.
The stats tell a very straightforward story regarding Dembele's influence on the fortunes of Spurs. In all four games where Dembele has started for Tottenham so far this season, the side have been victors, including an incredible 3-2 defeat of Manchester United at Old Trafford. In games where he hasn't featured, or entered the fray late, Spurs have won 1, drawn 2, and lost 5.
Pass Accuracy

Passes per Game

Dribbles per Game

Dispossessed per Game

Long Balls per Game

Key Pass per Game

Dembele

88%

50.4

2.2

0.8

4.8

1.6

Modric

87%

70.4

1.75

2.4

7.6

2.7
% Ground 50-50s Won

Tackle Success %

Min per Tackle

Min per Interception

Dribbled Past per Game

Dembele

68%

84.21%

21

40

0.4

Modric

49%

71.43%

57

39

0.9
The two tables above show the perfect embodiment of AVB's philosophy which suits Dembele perfectly. While Modric was more creative than Dembele, the Belgian trumps over Modric physically, evident from his defensive stats.
Dembele has been injured since the end of October and that is exactly the period where they hit their slump in form. This would be a worrying prospect for AVB as no team should be dependent on one player too much.
 Injury Crisis
Scott Parker's injury depleted the Spurs midfield severely. His return would surely give quality options to AVB in midfield.
Other than Dembele, Spurs face a string of injuries including Assou-Ekotto, Kaboul and most importantly, Scott Parker. Without Parker, Spurs do not have a box-to-box midfield engine. Thankfully for them, the defence is coming back into shape with players returning to train again.
AVB's Defensive Mentality
Having a boring approach is fine and all, especially when winning is the aim but AVB's tactics sometime borderline on the worrying side. The biggest worry for Spurs is his tendency to take off an attacking player for a defensive one to try and close out games. More often than not, this plan appears to backfire.
Norwich: After taking the lead, Huddlestone comes on for Defoe and Norwich equalizes within 3 minutes.
Chelsea: Livermore in place of Hudd and Spurs concede within 2 mimutes.
Same story with Reading and Southampton.
Though this tactic isn't bad at all, it does not suit Spurs. The best defence is a good offense, and surrendering the initiative is not how Spurs play.
The Modern Formation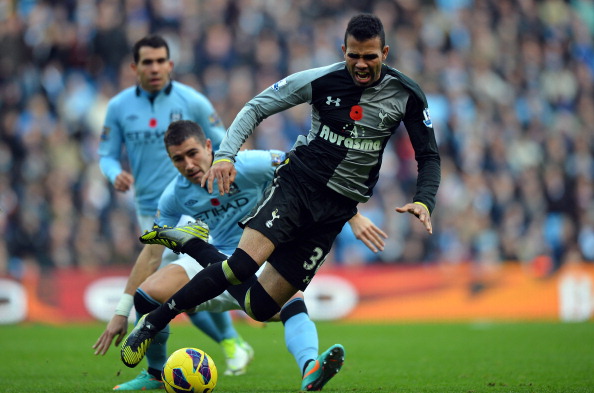 Much like every other manager in Europe, AVB  has put in a 4-2-3-1 formation in place of Spurs' regular 4-4-1-1. While on paper such a formation is the norm of modern day football, reality presents a stark picture. A narrow 4-2-3-1 requires a very good midfield with good inside wingers to pass the ball in.
Aaron Lennon is an outside winger who likes to dribble away into the wings. Though he has been in great form, he does not fit into the 4-2-3-1 employed by AVB.
Initially Dempsey and Sigurdsson were in contention to play the CAM but their horrible form has led to a lot of experiments in that position. Again, this formation requires inside wingers, the type that Lennon definitely is not. Tottenham need to make a change because what they're doing either isn't working well enough.
What Lies Ahead
For Tottenham, their future remains unclear with players not having fit into their roles yet. If it comes to selecting between between Dempsey and Sigurdsson, the Viking should get the nod ahead. In midfield, Sandro has shown a lot of improvement and should be played alongside Dembele. The major choice remains at the striker's position. Defoe has been in red hot form this season but he does not fit well into the system used by AVB. Adebayor although showing flashes of brilliance, showed a negative side to him when he got a red card against Arsenal early in the match.
Taking everything into consideration they have a hard road ahead of them with a lot of experimenting to be done. One thing is certain though, their fate would be entirely decided by AVB.