It is difficult to argue against Diego Simeone's status as the greatest coach in Atletico Madrid's history. The exuberant Argentinean manager has held his own against some of the best Real Madrid and Barcelona teams in modern history.
In an era of short-term fixes and quick coaching changes, Atletico Madrid and Simeone have gone bucked the trend. With Simeone in his 11th season at the club, the previous decade was a productive one for the Rojiblancos.
The club has won eight trophies under his tutelage, including two La Liga titles, two Europa League crowns, two UEFA Super Cups, a Copa del Rey and a Spanish Super Cup.
---
Has Diego Simeone hit his ceiling at Atletico Madrid?
With 331 wins from 560 games as head coach, Diego Simeone's Atletico Madrid tenure has been synonymous with defensive resilience and solidity. However, the reigning La Liga champions seem to be on a downward spiral so far this season. The Rojiblancos are currently fifth in the league, 15 points behind leaders Real Madrid.
More worryingly, they have already conceded 33 league goals, the most of any team in the top half of the league table. In comparison, Atletico had conceded just 25 times en route to the league crown last season. That has led fans and pundits to wonder if Simeone has hit his ceiling with the Rojiblancos.
With doubts around his future at the club growing louder, we take a look at the five best players the combative manager has worked with:
Honourable mentions: Gabi, Koke, Filipe Luis, Juanfran, Miranda
---
#5 Radamel Falcao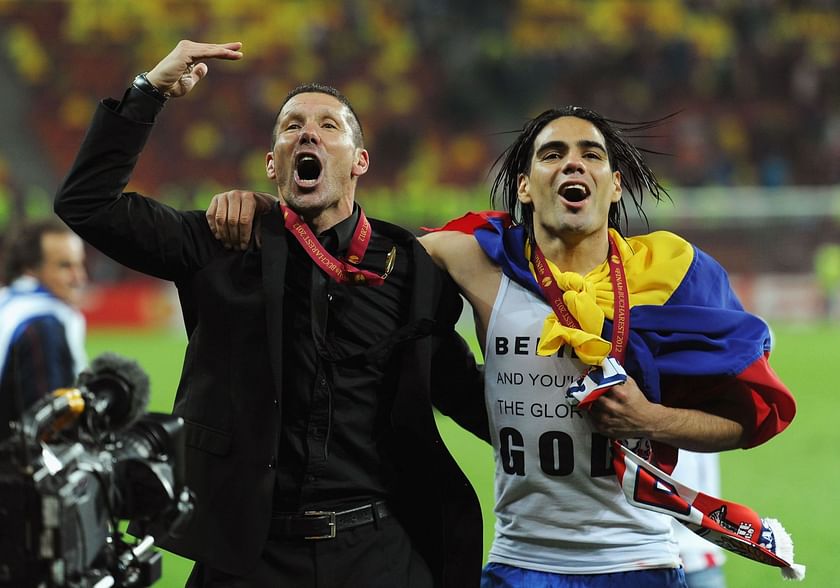 Radamel Falcao's arrival in Madrid coincided with Diego Simeone's appointment as manager in 2011-12.
Signed from Porto for £36 million, El Tigre joined the Rojiblancos on the back of a blistering 2010-11 season with Porto, where he scored 17 goals in their triumphant Europa League campaign.
The Colombian spent only two seasons at the club, but during that time, he established himself as arguably the most deadly striker in the world.
Falcao netted 70 times for Simeone's side in just 91 games. He won a Europa League trophy, a Copa del Rey and a UEFA Super Cup in his two years at the club, marking the arrival of Atletico among the continent's elite.
---
#4 Jan Oblak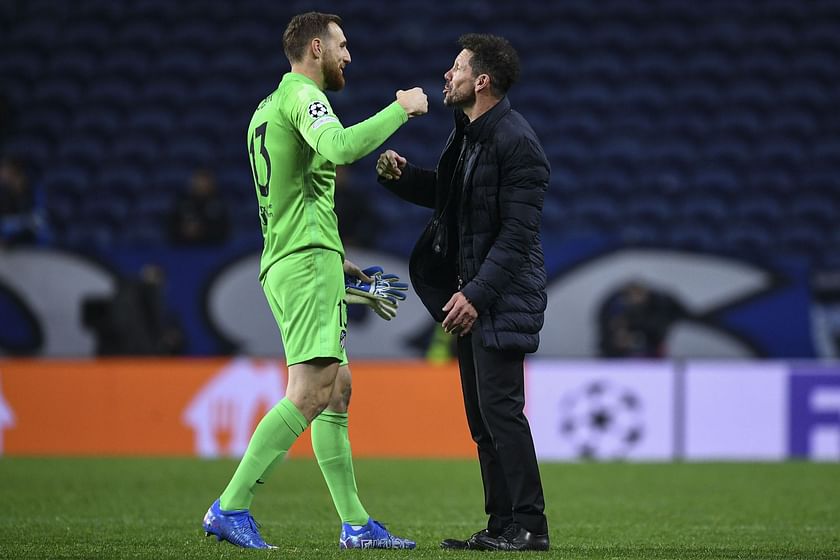 Jan Oblak joined Atletico Madrid in 2014-15 on a £14.5 million transfer from Benfica. Aided by the Rojiblancos' impenetrable defence, the Slovenian goalkeeper has gone on to establish himself as one of the best custodians in world football.
After a quiet debut season, Oblak was astounding in the 2014-15 campaign, keeping 24 clean sheets in 38 league games while conceding just 18 times. Atletico Madrid finished third in La Liga and won the Europa League that season.
With 129 clean sheets and just 179 goals conceded in 252 games for the club, Oblak has been instrumental in Atletico's recent success. His time in Madrid has yielded four trophies, including a La Liga title, a Europa League crown, a Spanish Super Cup and a UEFA Super Cup.
#3 Diego Costa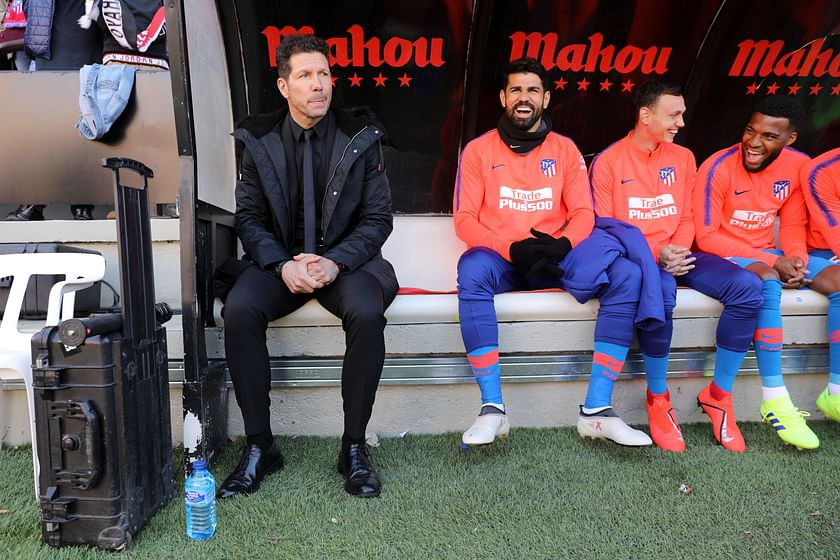 Diego Simeone and Diego Costa were a match made in heaven. The Brazil-born Spanish international was the perfect striker for the Argentinean manager's defence-minded approach.
The strong, hardworking and brutal Costa's physicality and constant harrowing of opposition centre-backs provided Atletico Madrid a solid outlet to hold the ball up and build counterattacks.
While his numbers didn't pop off the charts (83 goals and 36 assists in 216 games across two spells at the club), Costa's work rate off the ball and in deep positions was invaluable to Diego Simeone's side.
Currently a free agent, the striker has played a part in seven of the club's eight trophies under Simeone. His trophy haul consists of two La Liga titles, a Europa League crown, a Copa del Rey triumph and three UEFA Super Cups.
---
#2 Antoine Griezmann
Despite his tumultuous relationship with Rojiblancos fans, Antoine Griezmann arguably had the highest peak of any Atletico Madrid player under Diego Simeone so far. However, his highly publicised £108 million transfer to Barcelona left a bitter taste in the mouth of the club's supporters, despite his eventual return last summer, albeit on loan.
Signed from Real Sociedad for £48.5 million in 2014-15, the Frenchman quickly captured the hearts of Atletico fans by netting 22 league goals in his debut season. His displays culminated in third-place finishes in the 2016 and 2018 Ballon d'Or votes. Those remain the only instances where one of Simeone's players finished on the Ballon d'Or podium.
Griezmann has 141 goals and 53 assists from 276 appearances for the club. He is the second-highest goalscorer in their history, and is primed to surpass Luis Aragones' tally of 151 goals shortly.
The Frenchman has won a Europa League trophy, a Spanish Super Cup and a UEFA Super Cup, in addition to being named Atletico Madrid's Player of the Year in 2015-16. Griezmann is likely to go down in history as the club's all-time record scorer and one of its brightest stars.
---
#1 Diego Godin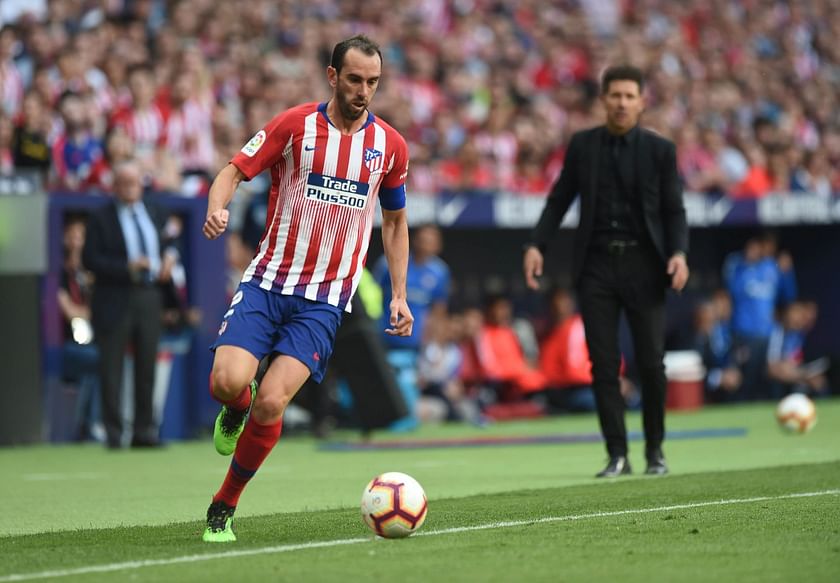 As Atletico Madrid's most capped player, Koke would ideally walk onto any list of the club's best talents. However, as far as Diego Simeone's management is concerned, Uruguayan centre-back Diego Godin scaled higher peaks under the Argentine coach.
The defender made 389 appearances for the club, of which 359 came under Simeone. Tough in the tackle, excellent at winning aerial duels and blessed with a sharp reading of the game, Godin, with his aggressive yet clever approach, was the foundation of a quintessential Diego Simeone Atletico Madrid team.
Godin was handed the captain's armband by Simeone, and played a crucial role as the Rojiblancos reached two Champions League finals, only to fall short against Real Madrid on both occasions. At his peak, Godin was one of the most in-demand players in the world, and was hailed as arguably one of the best centre-backs in Europe.
Godin and Simeone won a La Liga crown, two Europa League trophies, a Copa del Rey, a Spanish Super Cup and two UEFA Super Cups together. He departed the club in 2019 after nine successful seasons in Madrid.
Poll : Will Diego Simeone leave Atletico Madrid at the end of the 2021-22 season?
58 votes