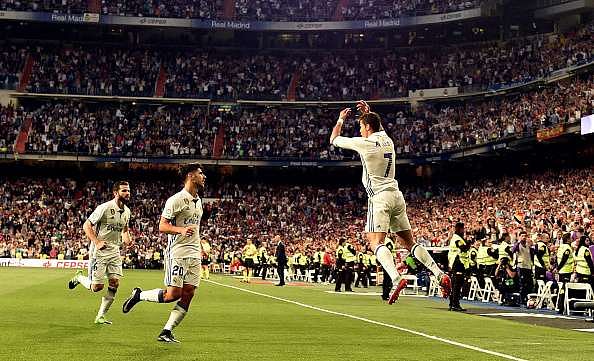 After an entertaining match at the Santiago Bernabeu, Real Madridstill holds all the aces as La Liga enters its climax. Nacho Fernandez's cheeky freekick, Cristiano Ronaldo's sublime brace and Toni Kroos' insouciant outside-of-the-boot finish cancelled out a very good Steven Jovetic goal as Madrid continued on their inexorable march to greatness this season. Zinedine Zidane's men looked nervous with the score at 2-1 entering the hour mark but Madrid powered through the final half-hour and the match ended a rout in favour of the home side
---
1. Nacho Fernandez's quick thinking deserves a salute
When the effervescent Marco Asensio was brought down by a gaggle of Sevillanos just outside their penalty box, the defence, the goalkeeper, the Bernabeu and indeed the entire world prepared for that trademark Cristiano Ronaldo free-kick routine. Instead, what happened took everyone by surprise – Nacho Fernandez, lurking in the area, noticed that the ref had blown his whistle and pointed his arm in the direction of the Sevilla goal, the actions that indicate the freekick may be taken. and while Sergio Rico was busy arranging his wall he simply walked upto where Asensio had placed the ball and stroke it into the unguarded net.
While the entirety of Seville's visiting party erupted in righteous indignation, Nacho and company wheeled off in celebration of what is a perfectly legal goal. There's something wonderful about witnessing such utter auadacity, and indeed cheekiness, at the very top level.
Some way to create a record, too
2. Stevan Jovetic's individual quality almost masks Sevilla's flaws
The Montegrin was incredible leading the line for Sevilla, with neither Sergio Ramos nor Raphael Varane able to keep up with his intelligent off-the-ball movement and smart use of the ball. His goal four minutes into the second half was just reward for a first half display that included two shots that bounced off the woodwork (a curler that hit the junction of the post and the crossbar and a delightful chip that beat Navas all ends up but bounced off the bar) and one that was saved by Navas after one of those clever one-twos he kept working with the players buzzing around him.
While Michael Krohn-Dehli was impressive on his return after a long injury lay-off and Jovetic's attacking mates Joaquin Correa and Vitolo flitted between good play and obscurity, the ten men behind Jovetic were simply not good enough. With Monchi off to Rome (and the altogether different problem of handling Francesco Totti) Sevilla are in a spot of bother and there's no way to mask that.
3. Cristiano Ronaldo is a phenomenon, and Marco Asensio should be Madrid's future
The man's scored 401 goals in just 390 games. For Real Madrid. If not's one of the craziest records in football... I do not know what is. The phenomenon that is Cristiano Ronaldo continues to build on his legend day-in and day-out... but it wasn't his goal-scoring antics that impressed most today. In the first half with Alvaro Morata playing up front Ronaldo was the perfect winger, cutting in and out off either flank, beating defenders at will, and in general rolling back the years to bring out his inner winger. In the second half, he moved further towards the centre and ended the game as the centre-forward once again showcasing his incredible footballing intelligence and ability to adapt to anything this demanding environment throws at him. The finish for his second, of his left foot (he does not have a weak foot, does he?) and Madrid's third goal was simply extraordinary.
He now has 366 goals in Spain and England making him equal top scorer in Europe's in the top 5 leagues alongside the great Jimmy Greaves
Meanwhile, at the other end of the superstar spectrum is Marco Asensio. It's not always easy starting out at a club like Real Madrid (at the big stage, hence, ignoring his Mallorca beginnings) what with the names, and accompanying egoes, in the squad and the constant association of the club with anybody who is anybody in world football. The young Spaniard, though, has revelled in this cauldron of pressure
Oh, A word in praise of Zinedine Zidane who has managed the superstar to perfection so far this season as well as handling, and using, Marco Asensio brilliantly.
4. Jorge Sampaoli and "Bielsalisima" found out yet again in the long run
The last time Sevilla faced off against Real Madrid, they were genuine title contenders who were giving Barcelona and Real Madrid a run for their money. When they rolled up into the Bernabeu yesterday for their return leg, they were fighting to mantain their fourth spot.
While Jorge Sampaoli and his "guru" Marcelo Bielsa have been lauded as revolutonaries and heroes, and rightly so, for introducing an all-new philosophy into the ever-expanding schools of thought that football embraces. Their football. primarily based on shock-and-awe is utterly unstoppable in short doses, but they have a major issue when it comes to going the whole distance. Their teams fade away by the time the "crunch" part of the season comes into its own – and when the very best teams up their game, they most often tend to dip.
That's what happened to Sevilla this season, their season taking a nosedive in the months of March, April and May and allowing what appeared to be a promising three-horse race descend into a scrap between the usual suspects. Sampaoli now looks like he'll be heading to Argentina's national team where Lionel Messi is in dire need of a man who knows some tactics which means that he may not get the opportunity to prove he can build a side capable of sustainable success built around the values of Bielsalisima anytime soon. Damn shame too.
5. Real Madrid are better than Barcelona this season because of one striking aspect: Squad Depth
Every time Zinedine Zidane has had to depend on his "squad members" they've delivered for him. The Frenchman keeps insisting that he has no "B" team and Messrs. Asensio, Morata, Vazquez, Kovacic, James, Nacho, and Isco have proved their manager time and time again. At the other end of the spectrum Luis Enrique has not been able to depend on his so called "B" team... with Messrs. Turan, Alcacer, Gomes, Digne and Denis Suarez disappointing more often than not. This has enabled Zidane to amster the art of consistency, the one trait crucial to the success of a team over a long, gruelling, season.
Look at it this way, whenever any of the aforementioned Madrid players have come into the first team, the club have been able to maintair their level of performance. Everytime one of Barca's B team comes into the first XI, though, their overall performance has dipped considerably.
Despite having the favourable head-to-head record against Madrid, it is this one quality, this one aspect, that has Los Blancos looking all set for a historic league and European double while it appears for all the world that La Blaugrana will have to console themeselves with a shot at the Copa del Rey.