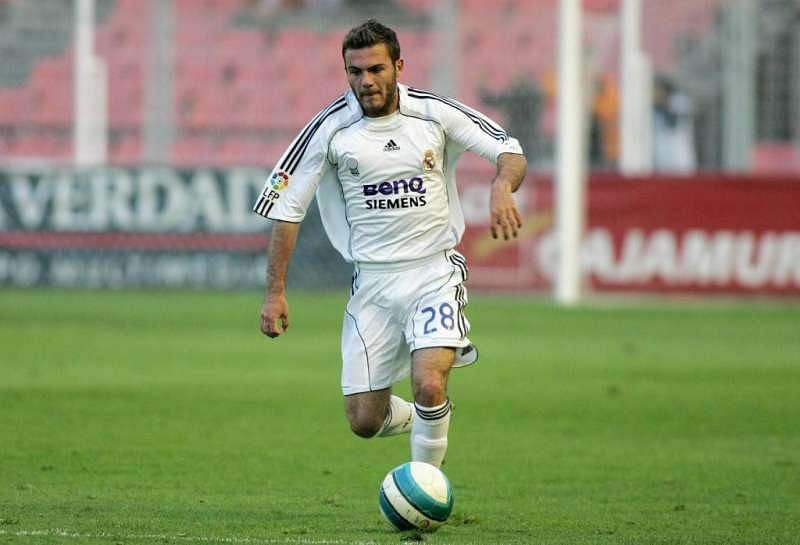 Real Madrid have had some amazing stars come out of their youth academy, La Fabrica. While it is not as renowned as La Masia, there have been some truly world class footballers like Raul, Casillas, Guti and Alvaro Morata who have all graduated from the 'factory'.
However, Los Blancos have lost out on some incredible homegrown talent over the years. Some players after being let go by Real Madrid made their fortunes in another league while some of them even went on to become club superstars for arch rivals Barcelona and Atletico Madrid.
Without much ado, let us look at 8 superstar Real Madrid academy graduates you probably did not know of:
#8 Javi Garcia
Zenit St. Petersburg star Javi Garcia honed his skills at the Real Madrid academy, but the defensive midfielder was let go by the All Whites in 2009 after making 15 appearances for Real Madrid in La Liga.
The Spaniard soon made a name for himself as one of the game's best enforcers in Portuguese side Benfica before Manchester City secured his signing in 2012. Garcia enjoyed successful spells at both Benfica and Manchester City where he won the League titles at both places.
Currently playing for Zenit, the 30-year-old is an integral member of the Russian giants and he has even won the Russian Premier League along with the Russian Super Cup at his present club. One of the few players to win a League title in 4 different countries (Real Madrid, Benfica, Manchester City and Zenit), Garcia is one of the most successful Real Madrid academy graduates in recent times.
#7 Santiago Canizares
Having made more than 400 appearances for Spanish side Valencia, Santiago Canizares is a true Los Che legend. However, not many people remember that he was Real Madrid's goalkeeper before the emergence of club legend and another Real Madrid academy graduate Iker Casillas.
Football fans of this generation have no idea about Canizares' impact in Spanish football, One of the best goalkeepers of his generation, the La Fabrica academy graduate represented Spain in three World Cups and three European Championships.
Canizares is one of the few players to win a La Liga with two different teams. The Spaniard won 4 La Liga titles in his illustrious career, with 2 of them coming during his time at Real Madrid and 2 others coming during his spell at Valencia.
During his 4 year spell at Madrid, Canizares represented the club 51 times and even managed to win the Champions League title in 1997/98. Here is a video showing some of Canizares' best saves:
#6 Borja Valero
Born and raised in Madrid, 32-year-old Spanish midfielder Borja Valero is another famous La Fabrica graduate who made his name elsewhere. Best known for his time at Villarreal, Valero is currently pulling the strings for Serie A side Fiorentina.
Known for his excellent reading of the game, accurate through balls and defence-splitting passes, Valero made only 2 senior appearances for the Real Madrid senior squad, interestingly making his debut after coming on for Javi Garcia in 2006.
Known for his passing skills, range and vision, Valero was deemed not good enough to cut it in Real Madrid's first team. While Valero might have struggled to make much of an impact at his childhood club, he is currently one of the most integral members of Fiorentina.
#5 Juanfran
One of the best right-backs in world football at the moment, Juanfran has been a fixture in this extremely impressive Atletico Madrid squad under Diego Simeone. A Real Madrid youth graduate, Juanfran even made 6 senior appearances for the first team squad in 2004 and 2005.
After leaving Los Blancos, Juanfran made a name for himself as one of Spain's best right-backs with some impressive performances for Espanyol and Osasuna before securing a move to Real Madrid's cross-town rivals Atletico Madrid in 2010.
Although Juanfran missed a crucial penalty in the Champions League final against Real Madrid, his time at Atletico Madrid has generally been a very successful one. During his time with the Rojiblancos, Juanfran has won the La Liga title, Europa League, Copa del Rey and the UEFA Super Cup. The 32-year-old will be determined to go one step better this year and claim the Champions League title for Atletico Madrid this year.
#4 Juan Mata
Manchester United star Juan Mata is one of the most successful Real Madrid academy graduates of all time. Winner of a World Cup, Euro Championships, Champions League, Copa del Rey, Europa League and 2 FA Cups, Juan Mata was deemed not good enough for the Real Madrid first team squad in 2006.
After playing the 2006-07 season for Real Madrid Castilla, Mata joined Valencia in 2008 where he made a name for himself as one of the game's premier playmakers. After 4 extremely successful years with the Los Che, where he formed a deadly partnership with David Villa, Mata soon secured a big money move to Chelsea.
One of Chelsea's most loved players, Mata arguably played some of his finest football and was voted the club's best player on 2 successive occasions. However, the arrival of Jose Mourinho saw his opportunities reduce and he soon made a move to Manchester United where he is ironically once again playing under the Portuguese manager. Still only 28, Mata is definitely one of the most gifted and talented Real Madrid academy graduates to emerge in the last 15 years.
#3 Saul Niguez
One of the brightest young talents in world football, Saul Niguez has been earmarked to achieve great things in the near future. A versatile player, Saul is capable of playing in multiple positions such as winger, defensive midfielder and even as a playmaker with equal aplomb.
Wanted by all the top clubs across Europe, Saul Could have grown up to be a Real Madrid legend has the Los Blancos paid more attention to him when he was in their youth academy from 2006-2008. One of the key reasons in leaving Real Madrid was the bullying he faced on a regular basis. Regarding his time in Madrid's youth academy, Saul said:
"A lot of things happened off the field. The sporting side went well but some things happened which shouldn't happen to a kid of 11, 12 years of age. I had my boots stolen, my food, I was punished for something I didn't do and I wasn't allowed at the training ground in Valdebebas for two weeks."
Currently one of the best players in the Atletico Madrid squad, Saul has very much found solace in the values Atletico Madrid epitomise:"Atleti is not just about the club crest, an emblem - it's all about the club's values: a way of living life. Humility, hard work, sacrifice, unity, the importance and strength of the team."
Real Madrid will really regret not paying closer attention to this wonderfully talented 22-year-old.
#2 Esteban Cambiasso
Winner of more than 23 official titles in his illustrious career, Esteban Cambiasso is one of the most well-respected footballers of this generation. A technically gifted defensive midfielder, Cambiasso is best remembered for his time at Inter Milan, although he had spells at River Plate, Leicester City and Real Madrid themselves.
Part of the Real Madrid youth team from 1996-98, Cambiasso was soon deemed not good enough and sold to South American giants Independiente. He later joined Argentine superclub River Plate where a string of impressive performances drew the attention of Real Madrid once again.
After a two-year spell at Madrid, the elegant Argentine was sold to Inter Milan where he won almost every club trophy possible. A true Inter legend along with Javier Zanetti, Cambiasso then joined Leicester City where he played a crucial role in saving the Foxes from relegation.
Currently playing for Olympiakos, Cambiasso is certainly one of the greatest Argentine footballers of this generation.
#1 Samuel Eto'o
One of the key members in Barcelona's dominance over Real Madrid in the mid-2000s, Samuel Eto'o was actually considered a flop during his spell at the Real Madrid youth academy. One of the best strikers to ever play the game, the Cameroon international spent close to 4 years with Los Blancos, but he was not given enough opportunities and he joined Mallorca in 2000.
After impressing at Mallorca with his incredible goalscoring skills, Eto'o secured a transfer to Barcelona where he immediately inspired Barcelona to a League title. Eto'o got into some trouble with the Madrid fans for the inappropriate chant , "Madrid, cabrón, saluda al campeón" (English for, "Madrid, b*****ds, salute the champions").
In an earlier interview with FCInter news, Eto'o revealed why he left Real Madrid:
"When I was 16 and I was in the cantera (reserve team), nobody respected me. My comrades did not even greet me.
"They treated me like I was the last to arrive, despite the many goals I scored. The only people who have always believed in me were Fabio Capello and Italo Galbiati, who gave me the opportunity to train with the first team.
"I have always done well. The only explanation is that perhaps the black men in that club were not loved."
Had Madrid perhaps given Eto'o the respect he deserved, the history of Spanish football might have well been extremely different. Currently playing for Turkish side Antalyaspor, the former Inter Milan and Barcelona man is definitely one of the biggest and best Real Madrid academy graduates who made his name away from the Santiago Bernabeu.