Real Madrid vs Mallorca: Analysis and Player Ratings
1.40K //
18 Mar 2013, 01:30 IST
Real Madrid came from behind to emerge as 5-2 winners against Mallorca in an exhilarating encounter at the Santiago Bernabeu. Real Madrid looked utterly disjointed and displayed a lack of fluency across the pitch in the first half, while the visitors deserved credit for maintaining their positive start to the game, and in the 6th minute got their reward with a goal.
However, it was an easy encounter for Real Madrid, despite going down twice. Gonzalo Higuain's brace helped Real Madrid march past the relegation-threatened Mallorca, with Mourinho's men trimming Barcelona's lead to 10 points with the win.
Let's get into the Player Ratings
Real Madrid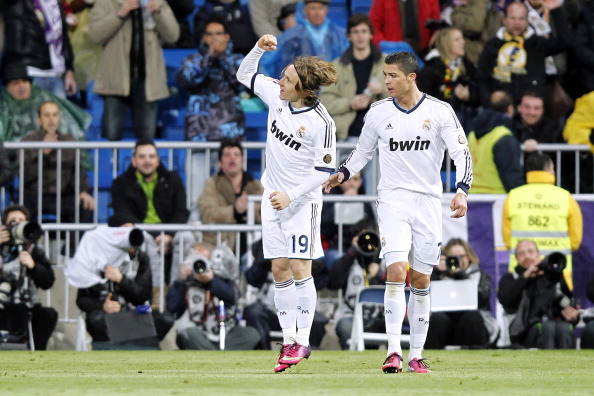 Diego Lopez – 6/10
He had a fairly decent game, and shouldn't be accused for the two goals conceded. He made a fantastic save against Victor at the near post.
Pepe – 6/10
He was assigned as a defensive midfielder in the first half and he was seen very offensive. And he was the one who set up the first goal for Higuain. Pepe looked like had his shooting boots on as he tried two long range efforts, none of them worried the Mallorca keeper. He went back to the central defender role in the second half after the substitution of Arbeloa.
Raphael Varane – 6/10
Had a decent game. Made a few tackles and couldn't live up to the huge expectations on him, as a whole.
Sergio Ramos – 5/10
He was very careless with his passing, and lost possession a few times, allowing Mallorca to attack. In the second half, he was far more comfortable.
Alvaro Arbeloa – 4/10
He was very poor. He was responsible for both Mallorca goals.
Fabio Coentrao – 5/10
He was very good offensively for Real Madrid, but he couldn't perform well in defense in the first half. He was struggling while defending crosses from set pieces.
Kaká – 5.5/10
Had a quality game. He made some key passes in the first half and was very sharp at the start of the second. Mourinho however substituted him and brought on Alonso, showing the conservative nature of the Real manager.
Luka Modric – 9/10
He was the busiest player on the field, popping up everywhere, passing accurately, shifting flanks and scoring a stunning goal to get Real Madrid ahead. He was the second best player in the match.
Cristiano Ronaldo – 8/10
It wasn't his day for sure, as he hit the bar in the first half and couldn't finish from close range in the second. He however scored a goal from a fantastic header, and linked up with Mesut Ozil very well.
Gonzalo Higuaín – 9.5/10
Without any doubt, he was the best player on the field, as he didn't hesitate to get into scoring positions and joined Madrid's attacks very well. Scored two goals, but deserved a hat-trick for his stellar performance.
Alvaro Morata – 5/10
Was very average in the first half. He couldn't perform, and was taken off at half-time.
Substitutions
Mesut Ozil – 8/10
When he came on, Real Madrid were trailing 1-2. However, he changed the whole course of the game, assisting two goals and helping the hosts win. He was spectacular following his introduction, as he linked up with Ronaldo while Real Madrid attacked. He was proved to be the decisive change at the half-time.
Xabi Alonso – 6/10
Xabi Alonso came on when there was not much for him to do, as Real Madrid were leading comfortably.
Karim Benzema – 6/10
Benzema scored his 9th goal of the season with an easy goal from close range, thanks to Higuain.
Mallorca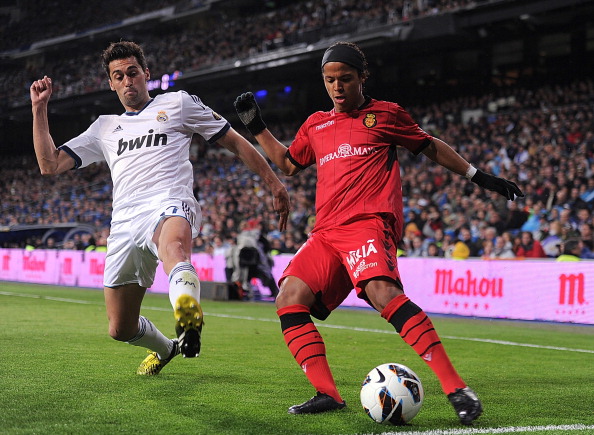 Dudú Aouate – 7.5/10
If he wasn't in top form throughout the game, then Mallorca couldve conceded a lot more goals.
Nunes – 5/10
Did pretty well to hold up the Real Madrid attack in the first half, but couldn't do anything in second half.
Alan Hutton 5/10
Played pretty well defensively, and showed glimpses of his attacking capability with a decent header.
Bigas – 5/10
Played a solid game, and made some important interceptions. He was the one who flicked the ball to Alfaro for the second goal.
Kevin – 5/10
Held up his end well in the first half, but was later beaten several times by the likes of Mesut Ozil and Karim Benzema.
Tomás Pina – 7/10
Made a few fantastic tackles, and was very effective in the first half, but his performance faded in second-half.
Fernando Tissone – 6/10
Did pretty well in the first half, but couldn't cope with the string of Real Madrid attacks.
Emilio Nsue López – 7/10
He was the one who scored the first for Mallorca with a fantastic header, but did nothing impressive other than that.
Giovani dos Santos – 8/10
He was responsible for both the Mallorca goals. He troubled the Real Madrid defense and did pretty well in the first half, but almost disappeared in the second half.
Alfaro – 7.5/10
He scored the second goal for Mallorca, and did pretty well with the possession he had. He threatened the Real Madrid defense even in the second half.
Ví­ctor – 6/10
Had an average game. He was very disappointing in the second half.
Statistics
| | | |
| --- | --- | --- |
| |                  Real Madrid |                     Mallorca |
|  Goals | 5 |  2 |
|  Shots |  Total Shots: 24 | On Target: 13 |  Total Shots : 15 | On Target : 6 |
|  Fouls | 9 | 11 |
|  Possession | 67% | 33% |
|  Passes | 563 | 278 |
|  Passes Completed | 507 | 90% Accuracy | 202 | 73% Accuracy |
|  Successful Crosses | 8 out of 31 crosses |  4 out of 12 crosses |
|  Interceptions | 16 | 17 |
|  Tackles |  Total : 21 | Successful : 10 | Total : 19 | successful : 13 |