There is hardly any football club in this world that tolerates failure less than Real Madrid. Ironically, it's the same obsession with success that has blinded the Bernabéu hierarchy to the actual crisis that the club is currently plagued with.
Pre-season tournaments such as the International Champions Cup are meant to help players gear-up for the upcoming season. The International Champions Cup can be thought of as a mock test that is supposed to prepare a student for the final exam.
For Real Madrid however, the final exam starts barely two-three weeks post the friendly tournament. Given the performance Los Blancos put up in their first pre-season fixture against Bayern Munich, it would be a major understatement to say that Zinedine Zidane has a mountain to climb in order to make this Real Madrid team challenge for major titles.
Problems aplenty
In the match that concluded yesterday, their were times when Los Blancos looked as if they didn't want to defend and they could have conceded more. To be fair to Real, they weren't half-bad going forward. They hit the post once. Karim Benzema could have had a hat-trick of goals had it not been for chances that were spurned by margins of centimeters.
The only positive that can be drawn from yesterday's match while looking from a Real Madrid perspective is that even at 3-0 down, they were just as ferocious in attack as they were at 0-0, if not more. In the dying minutes of the match, Rodrygo Goes justified his price tag with a peach of a free-kick that curled into the top-right corner of the goal.
Zidane needs to figure out the defense and he needs to do it fast. The Whites cannot defend like that if they are to challenge Barcelona for the La Liga.
Writing's on the wall
Paul Pogba is not the need of the hour right now. If anything, he might add some creativity to the midfield, but that's not going to address Madrid's defensive woes.
Of the three goals that Real Madrid conceded yesterday, there was only one goal that was actually down to some individual quality in the form of Robert Lewandowski. Corentin Tolisso and Serge Gnabry, the other scorers, were allowed acres of space barely 10 yards from the goal by a Real Madrid defense that almost looked as if it didn't know what it had to do inside the box.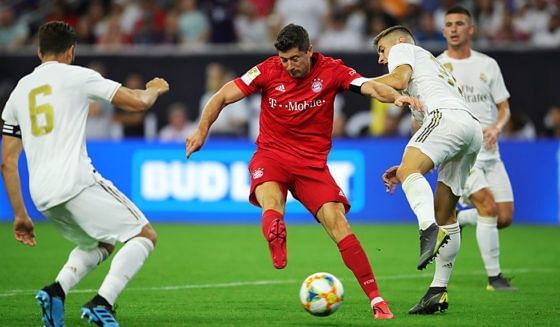 To cut things short, Real Madrid need to fix there defense. Simply buying a center-back like Éder Militão and a left-back like Ferland Mendy is not going to work. There has to be a concrete strategy in place to utilize the new signings in order to strengthen the defense to its maximum potential. Zidane might be missing the point if he thinks new personnel is the only solution to the defensive woes.
What he actually needs is a concerted plan to make his players play together as a cohesive unit at the back and that was sadly lacking against Bayern even though it was just a pre-season contest.
Unless that is done before the season actually kicks-off, Real Madrid might find themselves spending an additional 300 million Euros in the next Summer transfer window.
Paul Merson predicts Man City vs Liverpool and other Premier League GW 29 fixtures! Click here