Real Madrid will not give up: Vilanova
713 //
26 Nov 2012, 15:25 IST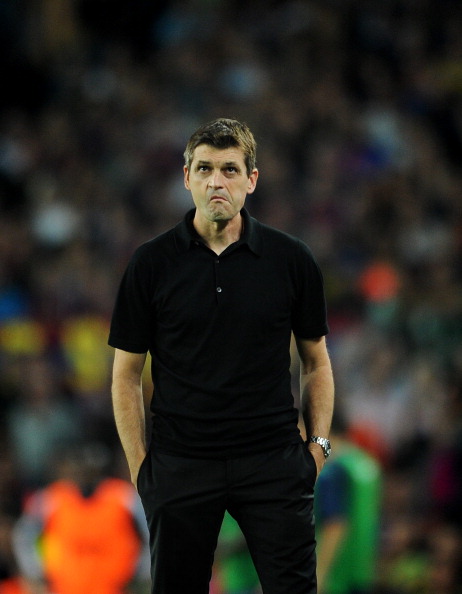 Madrid, Nov 26 (IANS): FC Barcelona coach Tito Vilanova said he is still taking nothing for granted despite his side's 4?0 win away to Levante.
The game Sunday had promised to be tough for Barca against a rival that kicked off the match fourth in the La Liga and which had made Real Madrid suffer in the same ground two weeks earlier, reports Xinhua.
It had looked as if Barca were going to suffer as well in a tight first half which ended 0?0, before the magic of Andres Iniesta, who gave three assists and scored a goal of his own, saw Barca score four goals in 18 devastating second half minutes.
Leo Messi scored twice and Cesc Fabregas netted another in a result which keeps Barca three points ahead of Atletico Madrid and takes them 11 clear of Real Madrid, who lost away to Betis Saturday.
Real Madrid look to be out of the title race, but with 25 matches still remaining, Vilanova refused to accept they had no options of recovery.
"Not long ago we had an 11 point lead over Madrid and we ended up suffering in order to win the title. I never thought we would get to this stage of the season with such a big lead, but if there is one thing that characterizes Real Madrid, it is that they fight to the end," said Vilanova, who pointed out Real were not Barca's only title rivals.
"We also have Atletico just three points behind us and that is not just luck," added the Barca coach.
Real and Atletico go head to head next Saturday in the Santiago Bernabeu Stadium, but Vilanov preferred not to comment on the game, preferring instead to look back over his side's victory.
"The first half saw Levante come out and attack with danger and they were very fast. They have dangerous attacking players, but scoring so early in the second half allowed us to relax," he said, before praising Iniesta, the architect of the win.
"I ask for him to have freedom on the pitch and he is clever enough to use it. When he has to open the pitch up, he does so and he also knows when to move in the middle," said Vilanova.