Return to form of warrior Arturo Vidal could be key to Champions League Bernabeu battle
1.57K //
13 May 2015, 22:04 IST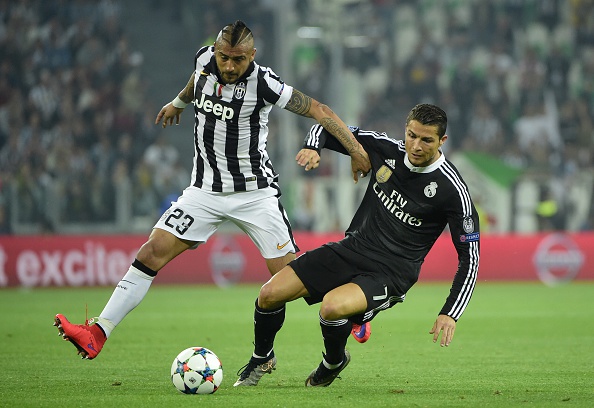 Arturo Vidal insists he has no regrets. If he had the chance to turn back time, he wouldn't change a thing. This time last year, the Juventus midfielder damaged the meniscus in his right knee against Fiorentina. Rather than go under the knife immediately, he delayed surgery for a month. "My decision was made out of love for Juventus," Vidal told La Gazzetta dello Sport. "I couldn't abandon my team before the semi-final of the Europa League against Benfica." The final would be held at the Juventus Stadium in Turin. Vidal was prepared to play through the pain barrier to ensure Juventus had a chance to become the first team to win the competition in front of their own supporters since Feyenoord in 2002.
Alas, they were disappointingly knocked out. An operation was finally organised in Barcelona for the following week. The word Vidal uses when reflecting upon the end of last season from a personal point of view is "cursed." The sacrifice Vidal had made for his club meant he had a race against time to be ready for his country. The World Cup was less than six weeks away. Did the timing of his meniscectomy compromise his impact at the tournament? "Not only that," Vidal insisted. "By rehabbing so quickly I seriously risked hurting myself beyond repair." He could have swallowed his pride and pulled out of the Chile squad like Radamel Falcao had done with Colombia. Vidal, however, didn't want to let his country down.
Jorge Sampaoli was also reluctant to deprive himself of a player who had established himself as one of the best box to box midfielders in the game. "We wanted him with us because he is a leader," Sampaolo revealed to Tuttosport. "It was impossible to cut him. So we called him up with the intention of judging his fitness for ourselves and monitoring it step by step. In terms of his professionalism and willpower he is a monster, an extra-terrestrial. He trained for eight, sometimes even 10 hours a day."
Vidal played the final quarter of an hour of Chile's warm up game against Northern Ireland. It was less than a month since his surgery. He started against Australia and featured for an hour then almost completed 90 minutes in the 2-0 win over Spain that clinched qualification for the knock-out stages. Rested against the Netherlands, he was only spared extra-time in the Round of 16 tie with hosts Brazil, which Chile were unfortunate to lose following a penalty shoot-out. The 247 minutes he played were 247 minutes too many. A restless summer wasn't suddenly about to become relaxing either.
Despite Juventus' repeated denials, Vidal was the subject of intense transfer speculation linking him with Manchester United until the window shut. Even if he later claimed: "I was chilled and only thinking about my knee" and that he "never once asked my agent or Juventus if anything was happening" nor was an offer ever put to him. It must have been unsettling, particularly when questions were raised about whether he would be the same player after his injury. Those questions would persist well into this campaign.

Returning to pre-season late like the other World Cup participants among the squad, Vidal was unable to get a full one under his belt like in previous years. Beside the team's annual friendly against the youth team at Villar Perosa he could be seen sat on the bench, a towel hiding the ice on a still swollen knee. His display on the opening day against Chievo, when he hit the woodwork, suggested maybe Juventus fans shouldn't worry after all. Flashes of the old Vidal were discernible. He scored a brace in the 3-0 win over Cesena, set the team on the road to victory at home to Palermo and got the opener before setting up Andrea Pirlo for a memorable 93rd minute winner in the Turin derby.
On the whole though Vidal looked a shadow of himself. The professionalism Sampaoli hailed was scrutinised after his involvement in a fracas outside Turin's Loud nightclub at 5am the Friday before October's top of the table clash with Roma. Dropped from the starting line-up for the biggest game of the season and, according to La Stampa, fined €100k, his future was even up for discussion. Unthinkable hitherto in his Juventus career, the papers wondered if the club had made a mistake in not cashing in on him.
Watching Vidal, he seemed like a prisoner in his own body. It wasn't allowing him to do what it had before and the frustration was boiling over. Lucky not to be sent off on a few occasions, his desperation to be the man again culminated in him geeing up the crowd before taking a potentially crucial penalty against Olympiakos only to miss it. He blew another one against Cesena in February, an error that cost Juventus all three points. Out of sorts, Vidal found the criticism unjust. "At times I was playing in a disastrous condition," he admitted. "Only the medical staff and I know the truth. But when Juventus needed me I never held myself back. Never! I have always given 1000% regardless of the state I was in."
Vidal concedes that his knee and the subsequent pressures it brought on his hip flexors and other leg muscles affected his game "moltissimo" - a great deal. I can't deny it." But it's not the whole story. "Don't neglect to mention the change of coach [from Antonio Conte to Massimiliano Allegri]," he said. "We play differently than in the past. I've had to get used to that too. I didn't score more than seven in my first year in Italy and today I am on six [now seven]. Conte's system brought the best out of the midfielders. It was all about runs from deep and I often found myself in front of goal. Today there is a No.10 behind the strikers and so the midfielders have other jobs."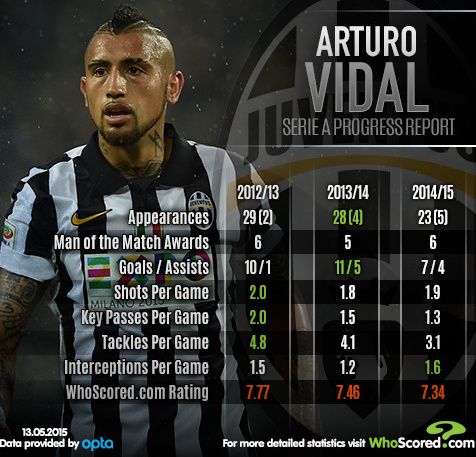 The No.10 has often been Vidal. Playing with his back to goal rather than with the play in front of him. Those late unchecked sprints into the box, which were so devastating, have been less of a feature of his game. He's better as an 8. Roberto Pereyra looks the more comfortable in the hole.
"That said, the role I am performing is perfect for my characteristics," he clarified. "I am right in the heart of the action and get more touches." Not everyone agrees. Allegri, as Vidal explained, "prefers to play at a slower rhythm and focuses a lot on technique." This has perhaps exposed some shortcomings in his game which weren't so apparent in the more intense, crash, bang, wallop style he played under Conte, a less artistic, more artisan approach that only served to reinforce the belief that he would be perfect for the Premier League.
Little by little, however, Vidal has rediscovered his verve. For a player beset by so many troubles this season, he has still delivered big moments: the coup de grace against Napoli at the San Paolo, a game highlighted as the key to their fourth straight Scudetto given how it ended a wobbly period in which Juventus couldn't kill games and dispirited a resurgent rival buoyed by success in the Italian Super Cup before Christmas. His header, the only goal against Sampdoria at the beginning of this month, also just happened to clinch the title. He has won 6 man of the match awards in Serie A from WhoScored, which is just one fewer tgan Carlos Tévez. Not bad for his worst campaign in Bianconero, eh?
The difference Allegri underlined after the Lazio game last month is that Vidal is no longer second to the ball, no longer chasing the game. The engine has stopped spluttering and started firing. Immense at the Westfalenstadion against Dortmund when he completed 6 tackles, 3 interceptions and won 3 of his 4 aerial duels, Vidal is living up to his Warrior nicknamed again. Last week against Real he covered more ground than any player [11.96km]. He could have scored in the opening minute and created two chances but it was his off the ball work that again caught the eye. Vidal won 3 tackles, made 3 interceptions, 6 clearances, 5 headed clearances and blocked a shot.
Claudio Marchisio once joked he sometimes feels like there are three Vidals on the pitch and one imagines he got that impression last Tuesday. His return to form - if still not his very best - is as welcome as Paul Pogba's comeback from injury. "If I had to go to war, I'd take Vidal with me," Conte insisted a couple of years back and Allegri can count on him for the Battle of the Bernabeu on Wednesday night.