Robin Van Persie: Vandication indeed!
1.20K //
07 Nov 2012, 13:17 IST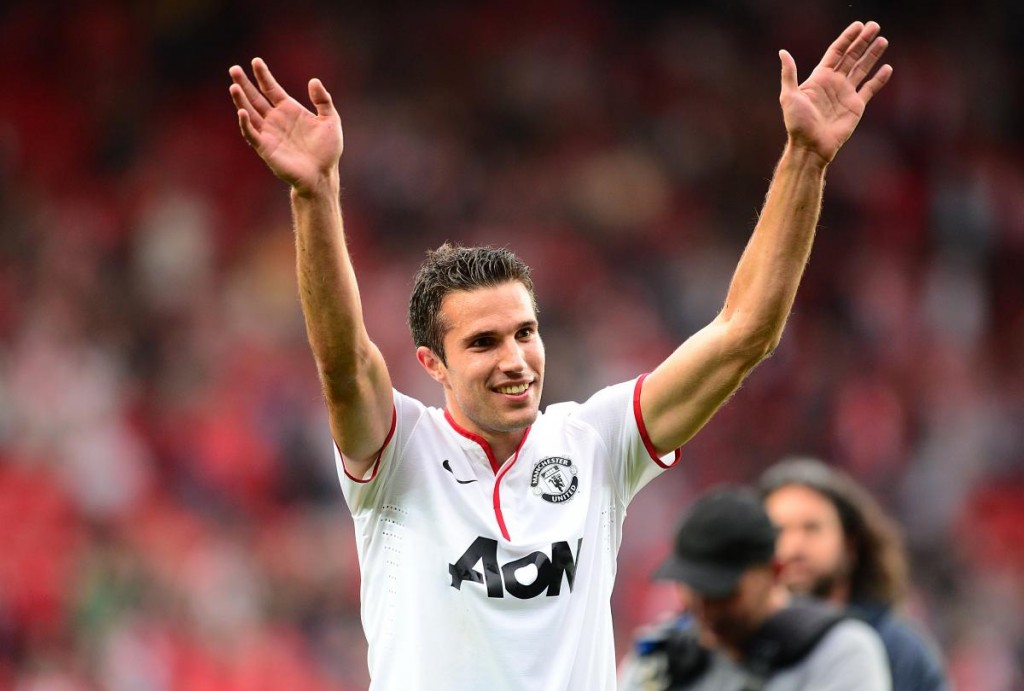 The last few minutes of the game: Nani is on the ball, ready to take another corner from the left wing.
His delivery all throughout the match had been woeful and the United faithful are ardently praying for some kind of a miracle. The match is the one between Southampton and United at the St Mary's stadium.
United have unceremoniously been made to work real hard, and were denied an ill-deserved lead when their newest recruit chose to be cheeky, trying the in-fashion Panenka spot-kick and making a fool of himself.
The whole saga about his much controversial move from London to Manchester had many fans fuming, and many pundits prying. He had had a very difficult summer, first with the dismal Dutch squad and then his sudden and unexpected demand for a transfer from Arsenal. His reasons were still not convincing enough for many quarters of the press and at this present moment, he was looking down the barrel. The possibility of a scathing one-liner decimating his miss, many a slanderous rants from the folks in London and quite possibly some idiotic troll on Facebook: he had all of these playing on his mind, and could easily have bogged down and succumbed to the imminent criticism and chiding.
However, this wasn't what he joined the Red Devils for. He had been on the far end of the tunnel too often in his career. As he joined his teammates for the corner, he looked over his shoulder. The players joining him didn't see the dismality or the inevitable melancholy of the situation. They didn't read the clock as 3 minutes left, but as 3 minutes that could still decide the match. They were tired, bruised and paining. But, they had a belief about them, an irrepressible confidence and an almost audacious disdain for the pressure. In every player he could see the philosophy of the club and their manager shining through. And it was among this group, that Van Persie made the transition and adopted the philosophy that is signature to the Theatre Of Dreams. As Nani floated the ball in, he shook off his marker and scored with a rare but a great header. As he raced towards the section of the crowd coronated in a spangle of Red, pumping his chest, kissing the badge and pointing to the biggest banner that was visible, he had risen from an almost tenebrous disaster to a celebratory hero. The Manchester United faithful for once had totally warmed up to their newest recruit, brushing aside the many encounters when he made United suffer suiting up for the Gunners. Now, he was one of their own, another transcendent superstar on verge of scripting a legacy that would place him on the same rostrum as the likes of the Cantona's and the Best's.
But, amidst all this hoopla Van Persie breathed a sigh of relief, maybe the biggest of his football career. He looked up, his eyes searching for his manager who had risked so much in bringing his talents to Old Trafford. The media and the fans had their daggers out, "Why invest 24 million on a 29-year old?", "He is too brittle and injury-prone", "He is getting older and with his knees will spend most of his time on the injury list." The press questioned the wits of the sibylline Scot, and most predictions had Van Persie spending more time with the medics than running with his arms raised to celebrate a goal.
All these scepticisms and acrimonious remarks were blown away as he watched the ball soar in. He had added the final cherry on the cake and ensured that the hypnologic 1000th game for Sir Alex ended in a tribute befitting his spangled time at the club. As he ran towards the United section of the crowd and was blanketed by a belligerent and animated sea of Red, he would steal a glance to the bench and notice the manager pumping his fists in joy, wearing a childish grin. And in the ever so rare sign of jubilation, he knew he had vindicated his trust, had stood true to his reputation and given the fans a new song to sing…VAN THE MAN indeed.
In the next few matches, Van Persie's performance shed all doubts that the league's experts and savants had, about his joining the Red Devils. 10 goals in 13 matches and if he continues his form, it may not be long before he eclipses his exploits of last season.
His manager regards his as someone in the same light as Cantona, just that he is expected to score more and not carry a temper like the charismatic and mesmerizing French maestro. But yes, he does share the Frenchman's knack of scoring the important goals, of being a leader with a resurgent spirit and irrepressible tenacity, conviction and certitude. Van Persie's performances in all the big matches have been of elephantine levels and he has ended on the scoring sheets in almost all of them, be it against Chelsea or the rather recent encounter against Arsenal.
And it was the last weekend's encounter that the masses had been waiting to see. It is not often that a player switches between two power houses in the same league, especially when the rivalry is as bitter as the one between United and Arsenal. The scene was set for a rather bellicose and cantankerous affair. The fans from London were sorely anguished, and were in no mood to be amicable or charitable towards their recently departed hero.
Yes, they do have a reason to complain and be disappointed. In the past 6 seasons, they bore witness to 12 of their best players seeking a move away from the club; 5 of them were captains. In a decade the team that had shaped up to be the most indomitable force in the Premiership, notching up the record unbeatable season and several other accolades, had disintegrated into a team that had to put up herculean efforts to just find a place in the Champions League.
The "Invincibles" as they were famously called, showcased a brand of football that was alien to the premiership, too beautiful to be vilified, too simple to be corrupt. The pundits raved about them; the fans couldn't stop prattling about them. It was not often that you have a team with such an ambrosial and paradisiacal assemblage, and the comparisons to the Barcelona team under Cryuff and the Los Blancos under Di Stefano and Puskas was imminent. The 2003-04 season saw them winning the league easily. Replacing such transcendent superstars was a humongous task, but Wenger chose to follow his philosophy of pushing up players from his youth academy and bringing in relatively unknown players from foreign leagues. His ability to gauge a young player's potential was unquestionable, as was proved by his signings of Henry, Viera etc.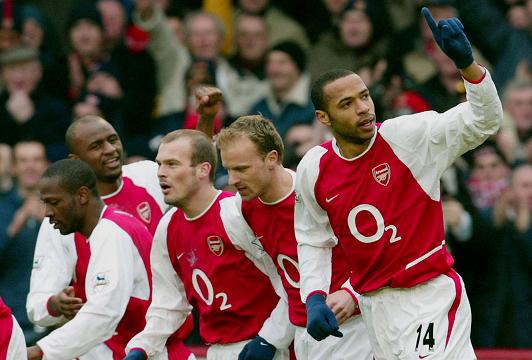 However, the Invincibles were not any ordinary squad and however hard Wenger tried, he would never be able to assort a team as good as that. The worst part is that even then Wenger refused to give up on his philosophy, still insisting to build his teams from scratch.
As a result, in the following decade, the team had to go through at least 3 waves of transition and rebuilding. Every time the team seemed to be heading towards a state where they could develop into a legitimate championship contender, the club sold a major player and the re-building started again. Fabregas, Nasri and Van Persie all assumed the mantle but never fulfilled the needs and vision of the Arsenal faithful. Fabregas left for the love of his boyhood club; Nasri because he wanted the money and Van Persie solely because he just didn't see his future with the club.
The Arsenal faithful could do with losing a player who just wanted to get back to his boyhood club, didn't fret over a player who left seeking a bigger pay package, but felt hard-done by the player who left because his vision for the club didn't match with the vision of the Arsenal management and their manager. They believed that they deserved better, considering the loyal backing and support they and the club management provided the player in his 8 injury-ridden years with the club.
Here's an interesting series:  12, 13, 17, 13, 24, 14, 19 and 37. For all those who didn't get the hint already, it is the number of premier league games that Van Persie featured for Arsenal in his 8 years for the club in chronological order. All these years the Arsenal fans stood by him, believing in his abilities; and when he did finally strike gold last term they felt their trust and belief had been vindicated. After the departure of Henry, the club again had a franchise superstar, and with the young and budding talents like Wilshire and Ramsey in the ranks they had started to dream again. Alas, Van Persie's exit means they have to do it all over again.
Maybe now one can understand the deep sense of hatred evident in their flagrant and profligate chants at Old Trafford. It was dirty and acrimonious, a tirade far more impertinent than Van Persie had ever envisaged. However, before one starts to get judgmental and disdainfully hack down Van Persie on the much hackneyed dogma of loyalty in football and the paradigm change brought about by the big money players, Van Persie deserves to be given an unbiased hearing.
Surprisingly, Van Persie's reasons are no different from that of the much distressed and chagrined Arsenal faithful. He had come into the league as a prodigiously talented 20-year old who was famed for his ill-tempered and undisciplined attitude to the game. But he was ready to shed all of his histrionics because he had a chance to play for a team he supported as a kid and alongside players he had idolized all his life. He had long cherished the dream to play football at the highest level, to win trophies and script a legacy similar to the Arsenal greats like Bergkamp and Henry.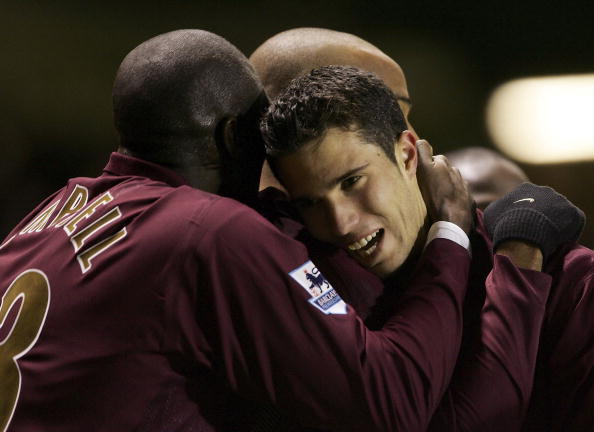 His next few years weren't any close to how he had envisaged it to be. The honeymoon didn't last long, as beyond the 2003-04 season the club failed to match up to the standards set by the likes of Manchester United and Chelsea. On a personal level, he failed to get a decent run of games struggling with injuries and niggles. And in these troubling times, the club kept on selling its best players, with its enigmatic manager choosing to stick with his patented philosophy of miraculously using some kind of a talion and thrusting to the fore another young replacement.
The final nail on the coffin was the year when Fabregas and Nasri would quit the club. The trio was envisioned to be the torchbearer for the next generation, but their departure from the club left Van Persie as the lone strider. They left in search of glory and trophies, but Van Persie still stuck on, hoping for a better future.
And it was during the last season that he played the best football of his life. He bailed the Gunners out time and again, miraculously leading them to the 3rd place in the league. But, he was too good a player to be playing for just a spot in the Champions League. Compounding his doubts were his disappointments with the Dutch squad in the EURO Championships.
He looked around at the examples of the likes of Torres who had moved to Chelsea and won the Champions League, and Ibrahimovic had done so all over his career and had 8 medals to his name. He saw Nasri win the league and Fabregas excel at Barcelona.
Yes, he did indeed owe a lot to the club, but somewhere in the midst of the painful disappointments the competitor in him called out for a fresher and a greater challenge. He didn't wish to end his career as the player who played his whole career at Arsenal but won just two medals. Loyalty in football is a treasured quality, but none so much treasured as the glory of winning championships.
The debaters would always say that with the huge amount of money involved, with the power bestowed by the Bosman Ruling, allegiance becomes a scarce resource in football. However, if we talk about the truly great player as embodiments of the spirit of loyalty who do we talk about? A Ryan Giggs, a Del Piero, a Tony Adams, a Paulo Maldini, a John Terry. A point to be noted is that all these players were playing for a team that was dominating their respective leagues; they had huge pay packets and most importantly were winning medals. A small exception to the same would be a Matt Le Tissier. If you discount this single example, you have players who were happy at their respective clubs, were winning and thus they never had a reason to leave. Would a John Terry spend his whole career playing for a club like Wigan or Norwich? Won't happen and most importantly shouldn't happen. It is just hypocritical that loyalty and allegiance are qualities limited to the big clubs only. Nobody cried for loyalty when Torres moved from Atletico to Liverpool. It was then a player who was seeking a fresh challenge, moving to a bigger league, seeking ambition and giving himself a chance to win championships. Why do the swords come out when the player used the same reasons for his move to Chelsea?
On a more objective level, we should understand that every football player graces the pitch for a very brief period of time, and has to make the most of every opportunity that comes his way. As with the cycle of life, he is not going to be there forever and some other player will for certain come and take his place. Thus like every ambitious person should, a football player has a right to seek the most fruitful opportunities that suit his ambitions. The motivation for every player may be different, but every player should get a right to make that choice and follow his heart.
"I always listen to the little boy inside of me in these situations – when you have to make the harder decisions in life. What does he want? That boy was screaming for Manchester United. From my side, and Arsenal as well, there are no hard feelings. There were certain elements which were vital to me that we had a different view. That is life. Nobody is angry at me and I'm not angry at them."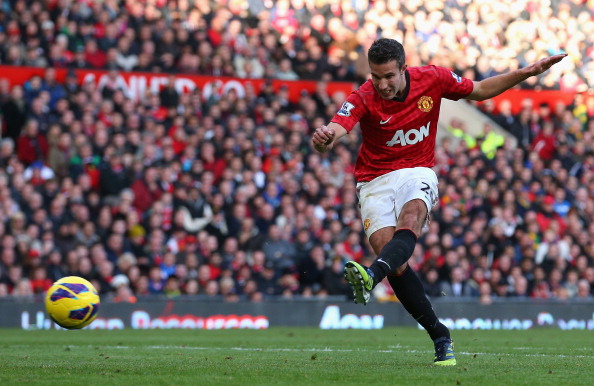 Van Persie would have actually wished to hang onto his words, as he went on to score against the Gunners with his first touch of the game. He chose not to celebrate the goal, putting his hands up in a rather apologetic subdued gesture, as if to say, "I am sorry it hurts you, but it is my job and this is what I am paid to do."
The Arsenal fans however, were in no mood to act charitable as they rained upon him tirades of contemptuous chants and slogans, enlisting many humbling incidents of Van Persie's stay at the club. However, Van Persie was too mature to be affected by such shenanigans. He wisely stated that he still is thankful to the club and the fans for their love and support and claimed to not having heard the chants and the slogans. Amidst all of this, he came out a better man than anybody would ever give him credit for.
As a United fan, I must admit that I had my reservations against Van Persie joining United, as I had always loathed him, and jeered many friends who supported Arsenal about his proneness to injuries. But, the new and improved Van Persie has indeed subdued any such revolting feelings, and now I have started to like him for the player he is.
As for my friends who support Arsenal, they keep on cribbing about how great Van Persie and Cazorla would have been together. Well, we all wish our favorite teams to play out of our fads and fantasies. United fans would tell you how great a forward line of Van Persie, Ronaldo and Rooney would have been. Sadly enough, football is a real sport and there are real people playing it. Thank God for fantasy leagues and computer games.