After a struggling start to the new season, Romelu Lukaku scored a brace in United's 2-0 win against Burnley at Turf Moor. Although the first goal was amazing, the second goal was much more special than that as it took him to level with one of the best strikers in the Premier League history - Didier Drogba.
At just 25 years of age, Lukaku is showing great improvement with every season. Last year, he managed to score 27 goals in all competitions, breaking his personal record of 26 goals in a single season. All those goals may not have taken him to the top of the scoring lists, but when we compare these numbers to the ones from the past, we can easily say that he is going to do wonders in the coming seasons.
Goals in their first season for Manchester United :
Wayne Rooney - 17
Cristiano Ronaldo - 6
Dimitar Berbatov - 14
Carlos Tevez - 19
Romelu Lukaku - 27
Many experts believe that the Belgian international is yet to hit his prime form after matching Drogba's goal tally. The Chelsea legend (Didier Drogba) netted his 104 goals in 254 matches, with a goals/match ratio of 0.41. Lukaku has reached the same number of goals in just 224 appearances (goals/match ratio of 0.46). Ex-Liverpool striker Stan Collymore has said that Lukaku can easily go on to become one of the bests in the history of the Premier League if, he continues to perform at this level.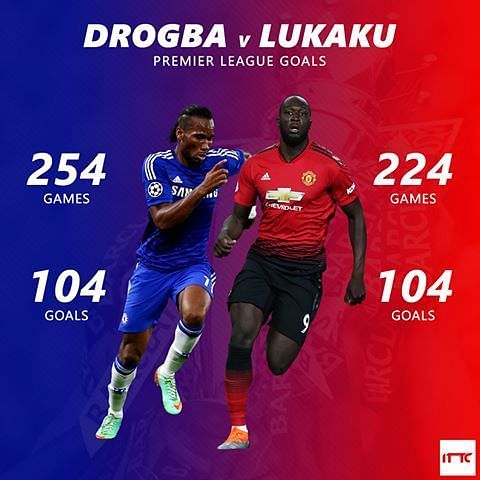 It has been a difficult start for Lukaku's Manchester United as they suffered a shocking 3-2 loss against Brighton, which was followed by a thrashing at Old Trafford at the hands of Tottenham. Lukaku was heavily criticised for his poor performance against Spurs, where he missed a couple of easy chances for the reds.
Even after all this, the United fans believe that their no.9 has found his goalscoring form after the brace against Burnley. However, the club stands at the 10th position in the league table after the first month of the season. This means that Lukaku has to score many more goals to help his team get back to where they belong.
After having a great world cup campaign with Belgium, where he scored 4 goals in 6 matches, Romelu Lukaku has a fresh new season to break many other records and prove his worth at Manchester United.