Rooney's goal is out of the world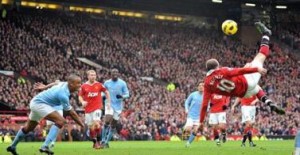 Manchester City made their supporters proud, make no moans about that. Roberto Mancini's side, it has to be admitted, gave a good account of their multi-million dollar value at one of the world's greatest fortresses, Old Trafford, unlucky not to win the 158th Manchester derby. Yet, City's bitter cross-town rivals United have some of the feisty and committed street footballers on their ranks who, when called upon, could produce goals that are worthy of winning famous derbies. Wayne Rooney, controversially linked with a move to the City of Manchester Stadium last October before signing a new contract, is one of those footballers who rise like a phoenix on derby days. The England forward had a difficult year to say the least, both on and off the pitch but yesterday's lunch time Manchester derby proved yet again why Sir Alex Ferguson still rates him as his best even though stylish Bulgarian goal poacher Dimitar Berbatov has been firing on all cylinders for the Red Devils this season. But men like Rooney will always be tailor-made for high stake clashes.
Eyebrows were raised when Berbatov was dropped to the bench and Rooney was asked to lead a one-man attack with support from Nani and the 'grand old man' of Manchester Ryan Giggs. United's attacking instincts were reduced and the men in blue from Eastlands were having a field day upfront with former Red Devil Carlos Tevez and David Silva mesmerizing opposition back four with soft and silky one touch football. City were unfortunate not to score atleast once. Wayne Rooney's overall performance was second-best to that of lively winger Nani who gave City all the problems and also scoring the first goal from a long Edwin Van Der Sar clearance that jumped off Joleon Lescott's back and fell into the path of the Portuguese who guided the ball past Joe Hart in the 41st minute. Still City remained the better side and Wayne Rooney continued to battle his way past the well drilled City defensive duo of Vincent Kompany and Micah Richards.
In the 64th minute the Citizens deservedly drew level with substitute Edin Dzeko's goal bound shot hit David Silva and flew past a stranded Van Der Sar. Roberto Mancini's side sensed blood and a three-pronged attack of Silva, Dzeko and Tevez pulverized the United defence with Shaun Wright Phillips marauding down the right. The Red Devils held on and Berbatov had to be introduced.
Yet, Wayne Rooney stole the headlines finally. Six goals against last season's thirty four speaks volumes of a striker's struggles on the pitch but the Merseyside lad produced a moment of sheer agility, timing and confidence to recall his instincts for goals. It was a Nani cross that produced such audacity from Rooney. Twelve minutes remaining on the clock and the England man jumped, twisted his body and stretched his right leg to produce one of the greatest overhead kicks of all times to break City hearts and take United closer to a record 19th league title. The player himself rated the goal as his greatest ever as it secured a fascinating derby win and destroy City's dreams of winning the Barclays Premier league title.
"I saw it come in the box and just thought why not?" said Rooney. "Thankfully it went in the top corner.
"Nine times out of 10 they go over the crossbar or wide," he told Sky Sports. "I didn't have time to think about what I wanted to do. I've not scored an overhead since school."
His post goal celebration provided a glimpse of how relieved the troubled striker was. Arms stretched out and looking skywards, he just let the Old Trafford faithful's chants of "Roooooo-ney, Roooooo-ney" bring back memories of the old days when every touch on the ball would be greeted by the same chants and Wayne Rooney could again enjoy his life at the Theatre of Dreams.