Rousing reception for Benitez: Was it justified?
725 //
05 Dec 2012, 19:19 IST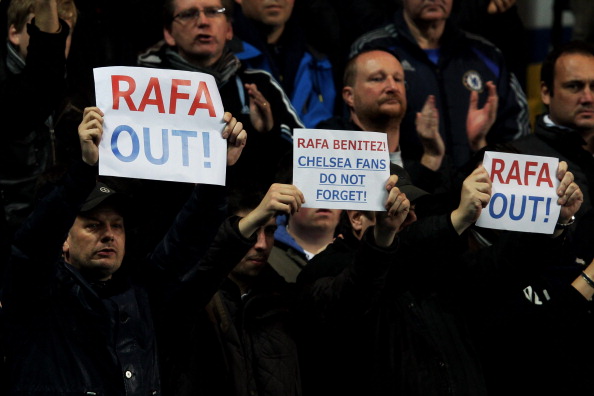 On a frosty night on 20th November, it was finally confirmed Chelsea owner Roman Abramovich was back to his antics. 6 months after winning the UEFA Champions League, beating two of European football's most formidable opponents, namely Barcelona and Bayern Munich in the semi finals and finals respectively, manager Roberto di Matteo was shown the door.
The very next day the club issued a statement saying that Rafael Benitez, ex Liverpool manager, was appointed as the 'interim' manager. The club seemed pretty proud to appoint Benitez, but I am not so sure the fan base were as proud as the club was, as they displayed public demonstrations. Even though he might have not had the most complimentary of conferences pointed towards Chelsea when he was the Liverpool boss, after becoming the new Chelsea manager he hurriedly apologized for it publicly. Maybe he was the best man for the job at that point of time with former Barcelona manager Pep Guardiola turning the job down.
Many might say that Benitez was responsible for many of Chelsea's losses in the knockout stages of the Champions League at his time at Liverpool; well it only shows what a good manager he is, doesn't it? Rather than taking the appointment of Benitez as a negative, I think the Chelsea faithful should be a little more mindful and take his attributes as well as accolades into consideration.
Demonstrating their dismay and anger with slogans reading "in Roberto we trust and Rafa we will never trust" is not doing the club any favours. The only effect the slogans are having is on the atmosphere on the club. The atmosphere has become as negative as ever. The old boys – Frank Lampard, Ashley Cole, John Terry, being natural leaders, should take it in their stride and give their new manager full backing publicly. It would give the atmosphere a lift to a large extent. Draws against Fulham and reigning champions Manchester City are obviously not doing Benitez any good. But the team now has a more stable back four, even with John Terry not 100% match fit. What the match did do was give Chelsea a much needed clean sheet after 8 Premier League games.
Benitez might finally bring back a part of the old Fernando Torres back. It's almost impossible to get the old Torres back due to his lack of pace, but he might instill a little confidence in him and bring him back to goal scoring ways with likes of Hazard, Oscar, Mata and Marin giving him assistance from the flanks and the centre of midfield. Finally Marco Marin, bought from Werder Bremen for close to 13 million euros and who had fallen out of Roberto di Matteo's favour, was finally given the nod for his Premier League debut against Fulham. Only time will tell whether Benitez will stay at the bridge, but one thing I can assure you is that it won't take too long to find out where Abramovich and football take us from here.