Seven trophyless years - The Fabregas effect
1.50K //
07 Dec 2012, 10:07 IST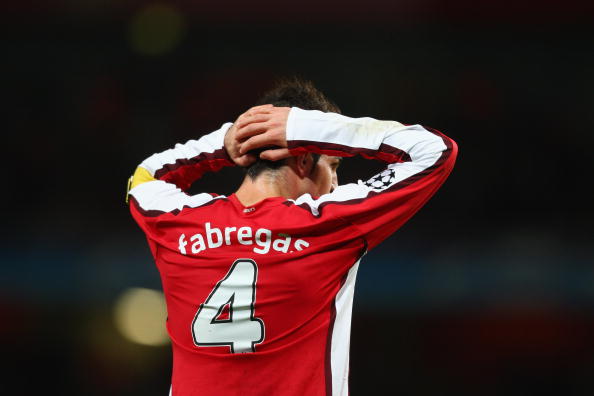 Arsenal's current trophy drought has been a much-documented and ridiculed affair, not only in England but pretty much everywhere. For a top club to go so long without silverware is unthinkable in today's success-driven football world.
This is not to say that there haven't been chances in these seven years; FA Cup finals, League Cup finals, Champions League finals and leading the EPL deep into the season- it's all been done, yet the drought remains. Many reasons have been put forward: lack of funds, Wenger's apparent stubbornness, and the board's lack of ambition being some of them.
But I believe the reason for this lean period is Cesc Fabregas.
We still love him, don't we? Even though he left us as many others have done, it was justified- he wanted to go back home. But his departure has affected us in the following ways:
Tactical
Until the Spaniard shot up the ranks, Wenger played a flexible 4-4-2. Fans following the club for at least 10 years will remember this lineup and the invincible season it brought. We were fluid, potent in attack and sharp in defense. People defend today's 4-3-2-1, saying it completes our beautiful passing game. I will argue by saying our football was never as beautiful as it was during the 03/04 season, the season which left the number 49 seared into our memories.
The 4-3-2-1 we play was built for Fabregas, and with only him in mind. His uncanny ability to create passes was nearly Bergkampesque. I would even rate him higher than Xavi, at the risk of sounding partial. We came closest to trophies when Cesc played at the top edge of our midfield triangle. His supply was outstanding, nearly always outperforming any other player in the league. With his departure, Wenger did not change the formation and tried to buy or play others in that position. Taking nothing away from Rosicky, Arteta and Cazorla who were tried as replacements, but none of them are good enough.
One player who I could envision as leading the triangle was Arshavin, but Fabregas' departure coincided with the Russian's loss of intent. After years of playing him on the wing, he had lost his edge. Though not an out-and-out creator like Cesc, he would have been a more potent threat, a better goal-scoring option. Cazorla seems like such a player but he is not Arsahvin. Whether the team adapts to his style, only time will tell.
Morale
With his departure coinciding with Nasri's, we were left with an entire midfield to rebuild. Wilshere's long term injury didn't help matters one bit. Arteta came in and provided much needed steel, yet the horrible start we endured had put our season beyond repair. Even now, imagine how much better any team sheet would sound with Fabregas' name in it. It has to be said that it would also be easy to convince potential forward targets to shut shop and come over to the Emirates.
Monetary
I'm still sore about this. 29 million plus add ons is actually pretty pathetic for a player of his quality. According to me, it was Wenger's worst ever transfer decision. Agreed, he wanted to leave and all but when an absolute tool like Modric ( no offence, he is brilliant but not Cesc) can go for 35 million, Fabregas should have gone for nothing less than 40. Maybe that money could have brought a bigger signing , a couple of decent quality ones and could have maybe helped salvage something from the disaster that last season was.

Captaincy
He was an inspiration, a figure everyone pivoted around. Replacing a good captain in Gallas (skills perennially in doubt though), he filled in big shoes beautifully.
Cesc was able to lift both the team and the fans whenever he played. RvP had a blinder last season, but he was no great Capitan. This fact was clouded over by the sheer multitude of goals he scored. Vermaelen is a good choice but some shaky performances have seeded doubt about whether the added pressure is getting to him. Arsenal is a dragon without a head – scary on paper, no fire anywhere.
The remedy I see to this is promoting Wilshere to captaincy as soon as possible. He is already our favorite Gunner and does not seem to want to leave the club any time now or in the futrue. What I saw in Cesc, I see in this guy too.
The death of the Professor
For me, Cesc was Wenger's crowning achievement. Having a player like that who could create, score and inspire the way he did, was brilliant for Arsene and losing him was probably devastating. Wenger seems to be out of ideas now. I'm not one of those Arsenal fans who are going, 'Wenger out', after every bad result but the fact that the man's mind is a shadow of what it once was is clear to see. Hence the team too looks out of ideas. Maybe a change is required.
There is a buy back clause in his contract – a very attractive one at that. I hope there comes a day when he is welcomed back to the club rather than called out of necessity.