Should Mancini be shown the door at the Etihad?
921 //
19 Nov 2012, 19:08 IST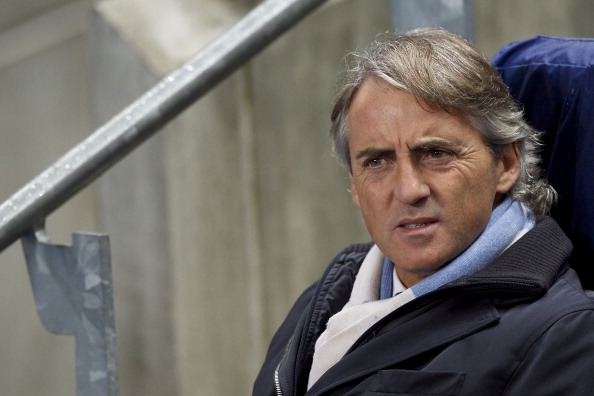 Manchester City today, are a club that has very clearly made its mark on English football and secured its spot as one of the best in the country, ever since its big-money takeover. Since that massive turning point in the club's fortunes, Manchester City Football Club has shown constant progress under two managers, Mark Hughes (2008-09) and Roberto Mancini (2010-present).
Roberto Mancini can easily be regarded as one of Manchester City's best ever managers, and someone who is very capable of taking the club to greater heights. Mancini right now is probably the best manager City has ever had after Joe Mercer (Second Division, First Division, Charity Shield, FA Cup, League Cup, European Cup Winners Cup), winning the Barclays Premier League, FA Cup and Community Shield following his appointment in 2009.
But several questions have been asked, and fingers pointed after City's recent string of disappointing performances and lacklustre showings in Europe's elite competition.  A lucky draw against Dortmund (1-1), a forgettable night at the Amsterdam Arena (1-3) and another frustrating loss at the Bernabau (2-3). City's title defence is also in question, as the team is said to be 'missing the edge' that it showed last season.
But should Mancini really be shown the door so early?
I strongly disagree. Manchester City have had their best seasons under Roberto Mancini ever since his appointment. The Italian has shown constant improvement in his team's finishing, beginning with his 2009 appointment when City finished fifth in the table, qualifying for the Europa League Play offs. City had finished 10th in the previous season. The temperamental Italian showed further progress, bringing in big names to the squad as well as improving their position year after year. City finished third the next year and won the FA Cup as well. 2011-2012 was a season to remember for the 'Citizens' after their 6-1 battering of rivals United at Old Trafford and winning the league in the most astounding of fashions in the dying seconds against QPR. The current season, currently sees City sitting pretty at the top, a point clear of their bitter rivals United. What has raised questions throughout is City's disappointing performances in the Champions League. City have been placed into the dreaded 'Group of Death' ever since they qualified for the Champions League, playing alongside Bayern Munich, Napoli, and Villareal last season, and Real Madrid, Borussia Dortmund, and Ajax this time around. Is it really right to blame Mancini for City's disappointing performances in only its second UCL appearance?
Sure enough, Mancini has one of the strongest squads in Europe, but that's what makes it even tougher in my opinion. With volatile names like Carlos Tevez and Mario Balotelli in the squad, Mancini has to ensure that the Premier League is always in City's grasp before moving into Europe. The squad has to be put together, the right combination has to be sorted out, and then only can City succeed in the UCL. All Mancini needs is a bit of time, support, faith and backing of his supporters as well as the club, and City will surely triumph in the BPL as well as the UCL. City are already seemingly out of their dilemmas after gaining the top spot in the league, and it's just a matter of time before they become a dominant force in Europe as well.