Should Mourinho Come Back To Inter?
1.01K //
22 Mar 2013, 23:40 IST
"Jose Mourinho"- when this two words Headed towards the ears of any Inter fan It creates a waves of emotions. Some this sorts of feeling occurred to the nerazzurri  lovers when a few days back Mourinho said that he will love to back in san siro where he spent 2 great years.
It is totally unknown to us whether he will join Inter in the next season or not but from football's aspect it needs a clear discussion
Mourinho joined Inter in 2008 and succeded Roberto Mancini. With a high expectations of the then tittle holders of Serie A Inter. He won Italian supercup and finished Top of the table. he failed to win champions leauge that year as Inter were knocked out By Manchester United 2-0 in Aggregate.
The very next season was like a dream for every Inter fan. Mourinho not only won Serie A but also lead Inter to win Champions Leauge by Beating Bayern in the finale and completed Inter's trebel.
After which he decided to join Spanish Giants Real Madrid where He is not having a very good time. Though Real won the La Liga last season but they are yet to make a Positive Impact in the Champions leauge and are 13 points off Leaders Barcelona
Now the question arises should Mourinho come back to Inter?
Here are a few points on this topic-
1) Mourinho's Records at Inter- After joining Inter Mourinho had a fantastic Match Records-
Serie A-
Matches-76  Wins-49 Draws-19 Losses-8 Winning%-64.47
Matches-9 Wins-8 Draws-0 Losses-1 Winning%-88.89
Uefa Champions Leaugue
Matches-21 Wins-10 Draws-6 Losses-5 Winning%- 47.62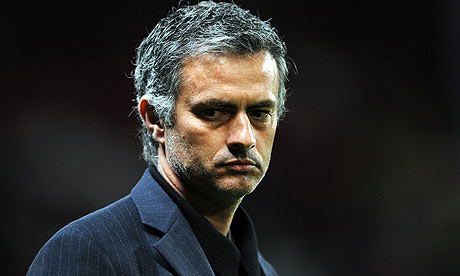 Trophies won-
Serie A- (2): 2008-2009, 2009-2010

Coppa Italia-(1):2009-2010
Italian Supercup-(1)-2008
Uefa Champions Leauge-(1):2009-2010
This stats are enough to stat that he was quite successful In Inter
2) Relationship with the players-  From the Chelsea time It is reported that he had several problems with The Players. And even In Now a days It is rumored that he already had some split with Cassilas Ramos etc.
Players don't remain constant in a team but The "SOUL" of a team will always remain same. It will never change. We cannot bet that If Mourinho joined Inter he will not have any troubles controlling players but It is expected that he will not have so.
Players at Inter always look him as there friend/philosopher and guide. After leaving Inter Materrazzi said on Mourinho-" I lost a friend".
The Pic of the crying of Mourinho with the Inter team after leaving them, Still touched to the core of our heart.
3) "The Special One" what means to the Inter fans-  Not only to the players but Mou also created a "special" place to the heart of every Inter lover. All around social Media there were no other words from the Nerrazzuri lovers except one- "Please Mou come Back."
They were burst ed out with agony when Mourinho confirmed Real move. It is reported that In Milan, the sale of all Food and Beverages fall down to nearly 8.15% when Mou joined Real officially.Not only that Millions of Inter lovers around the world were totally Dishearted with Mourinho's decision as he was quite successful.
Now Inter having Andrea Stramaccioni as there coach but he is not getting whole fan support. Some are seeing signs of Improvement in Inter and some are not. The support of fans to his also divided.
But when Mourinho Coached Inter He get Full Support from all Inter fans around the world. Which is expected that he will surely have in Future if he will choose to Rejoin FC. Internazionale.

Conclusion - Future will have It's words that will Mourinho join Inter or not but for the Time Being It is Rumors having its saying that He is all set to Leave Madrid in the Advent Of New season. Though he is reported to be a "Premier Leauge Lover" but will he have any club in the World where he will get the Support from History, Fans as well as The Players and Boards as he had get at Inter?
Well, Football Lovers around this universe will probably also not Know that.