Sir Bobby Charlton's United XI
3.25K //
28 Mar 2013, 19:01 IST
The Manchester United legend and one of the greatest midfielder the world has ever seen, Sir Robert "Bobby" Charlton is a member of  the "United Trinity" along with his former team mates George Best and Denis Law. Charlton, who is seen at Old Trafford during most Manchester United matches, has always been with Alex Ferguson to support the Red Devils. Bobby Charlton has his own personal favourites among the players in Manchester United.
Let us see which Manchester United players feature in Bobby Charlton's United XI.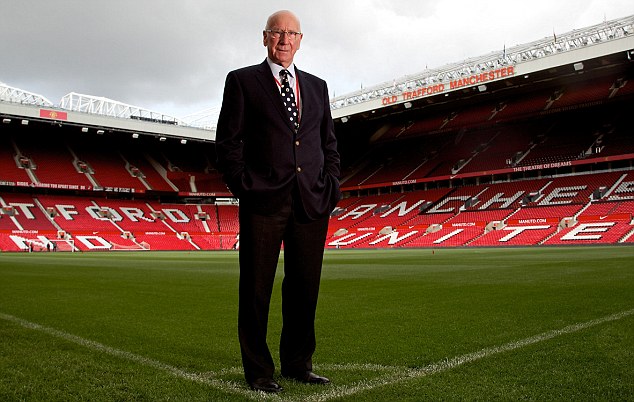 The fan's favorite and one of the greatest and most successful goalkeepers in the game of football is none other than Peter Schmeichel. He was brought to Manchester United in the year 1991 by Sir Alex Ferguson. He was part of the 1999 Manchester United team which won the Barclays Premier League, FA Cup and UEFA Champions League. With the Red Devils, Schmeichel won five Premier League titles, three FA Cups, one league title and one UEFA Champions Leauge. He captained the Red Devils in the 1999 UEFA Champions League final as Roy Keane was suspended. After 8 years with United, Schmeichel moved to Sporting CP. Sir Alex Ferguson took many years to replace Schmeichel and he still believes that he was never able to replace a goalkeeper like him.
Roger William Byrne was an exceptional English footballer who captained Manchester United F.C. This talented English captained the legendary side of "Busby Babes" He was not considered as one of the most gifted players in football. His aerial ability was average but his football intelligence allowed him to react to dangers swiftly. When 28, Byrne lost his life in the Munich air disaster. He is forever remembered by the Manchester United fans.
The present captain of Manchester United, Nemanja Vidic is an amazingly talented center-back. At the start of the 2010-11 season, Sir Alex Ferguson named Vidic as the captain of the mighty Red Devils. The Serbian footballer has been with the Red Devils since 2006 and has always been the fans' favourite. He is strong and powerful, good in the air and a weapon from set-pieces at the opposite end. Vidic has an aggressive and imposing style. He leads the back line perfectly to keep the opponents from scoring any goals. He is also considered as one of the best defenders in the world and is wanted by many top clubs. In his career at Manchester United, he has won four Premier League titles and is all set to win his fifth. He was also the part of the 2008 UEFA Champions League winning team.
"Nemanja was magnificent. It was the best performance you are likely to see from a natural centre-half. His reading of the game is excellent and he is as tough as nails. He was absolutely superb." Sir Alex Ferguson, after victory over Wigan in January 2009
The 34-year-old defender has earned the status of one of the most composed central defenders in the beautiful game of football. He is an excellent reader of the game and has great positional sense. He is calm, composed and a player who uses his good positional sense to make interceptions, thus preventing the opponents from scoring any goals. His partnership with Nemanja Vidic has proven to be one of the best centre-back partnerships Old Trafford has ever seen. He captained and led his team to the UEFA Champions League trophy in 2008 against Chelsea at Moscow.
'We've had some magnificent centre halves down the years,' says Sir Bobby. 'But these two form the most formidable pairing of all.' Sir Bobby Charlton comments on Nemanja Vidic and Rio Ferdinand's partnership
Anthony Peter Dunne was an Irish leftback who played for Manchester United for 13 long years (1960-73), making 530 appearances for the Red Army. He is also the seventh in the list of  most club appearances behind Ryan Giggs, Bobby Charlton, Foulkes, Scholes, Neville and Stepney. In his career at Manchester United, he won one FA Cup and two first division titles. After retiring from professional football, Dunne worked as an assistant manager at Bolton Wanderers.
"How am I going pass to another player, knowing he's not Duncan?" These were the famous words of Sir Bobby Charlton talking about his ex-teammate Duncan Edwards. Bobby Charlton also said that he had played with George Best, Denis Law and played against Pele but no one was as good as Duncan. Being one of the Busby babes, he was also one among the eight players whom Manchester United lost in Munich Disaster. He was the 'Flower of Manchester',  he went on to become the youngest player to play in the Football League First Division. 21st February 1958 was indeed a sad day for every English football fan, England lost a talent which was yet to blossom. Edwards made 151 appearances for Manchester United and netted 20 times.
No matter what happens, the mighty Red Devil fans will never forget him. He captained the Red Army for a longer time than any other player at United. He was known by the nickname 'Captain Marvel' for his amazing captaincy history. In his time at Manchester United, he won 2 Premier Leagues, 3 FA Cups and one UEFA Super Cup. He was also voted as the greatest player to ever play for Manchester United. No wonder he is a part of Sir Bobby Charlton's United XI.
His attacking instincts, passing abilities from midfield and his ferocious long-range shot will never be forgotten by any football fan across the world. In his 758 appearances for Manchester United, Bobby Charlton netted 249 goals. In his career, he won three Football League First Division, one FA Cup and one European Cup. He also won Ballon d'Or in the year 1966. His partnership with Denis Law and George Best was one of the best trios the footballing world had ever seen.
Popularly known as 'King Eric'  by the Manchester United fans, he was one among the key players who were involved in making Manchester United one of the best clubs in the world. The French footballer made 143 appearances for the English side and netted 64 times. He won four Premier League titles and two FA Cups with Manchester United. He wore the legendary no.7 jersey during his career at Manchester United.
Who does not remember Denis Law? The second most goal scorer after Sir Bobby Charlton, Denis Law scored 237 goals in 404 appearances. He was nicknamed  'The King' and spirit, style and flair made him the footballer of the generation. Law also played a major role in uplifting Manchester United after the tragic incident in Munich.
He lived up to his name – 'Best'. George Best was indeed the pride of Manchester. His speed, balance,vision and control over the ball made him a legend. No Manchester United fan will ever forget the amazing goals scored by George Best. In 470 appearances, he scored 179 times. George Best was the man behind the no.7. He paved a path for its legendary history. He is one of the best player Great Britain ever produced. Best was a nightmare for any defender. The opponents would often use rough tactics to stifle his ability, yet no one could stop him. He was one of the best attacking midfielder Manchester United and the footballing world will ever see.
Bob Bishop, who famously told Matt Busby on George Best: "Boss, I think I've found you a genius"
"If I'd been born ugly, you'd never have heard of Pelé." A famous quote by George Best