Spurs 0-1 Fulham: On A Roll
584 //
18 Mar 2013, 10:33 IST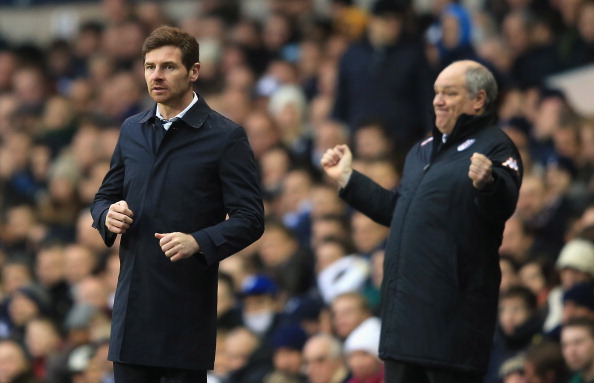 The stars aligned for the Whites to grab an upset at White Hart Lane today, and they pounced.
Dimitar Berbatov's tap-in on the counter provided all that Fulham needed, and the defense stepped up and did the rest to grab an enormous 3 points that will provide a much-needed boost in the table.
It was mistake-free football that allowed Fulham to take all the points, along with a few last-ditch saves by Mark Schwarzer, which have come at a time when the Australian is playing at top form.  Not only that, but they got a little help as well. Spurs exerted all they had for 2 hours against Inter in the Europa League, pulling it out and advancing on away goals, but using up all their energy in the process just 2 days ago.  Today, it was obvious that had an effect, even if AVB refused to admit it. First Jan Vertoghen pulled up lame in the first few minutes. Then Gareth Bale injured his ankle without contact. Neither was substituted, but neither contributed (until Bale's superb cross on the should-have-been equalizer). But it doesn't diminish what the defense and right wing accomplished today.
The good
Sascha Riether – I don't ever want to stop putting him in this section. Ever. He was fantastic again on the right side, which, as a whole, is shaping up to be extremely dangerous, especially on the counter (which is where we scored). His run down the right side was instrumental in the goal, and fed Berbatov perfectly (that's surprisingly easy to mess up) for his 5th assist of the season.  And, more importantly, he kept Gareth Bale in his back pocket. The only time he lost Bale, Schwarzer saved the day. Granted, Bale obviously wasn't 100%, but he stayed in, so obviously Villas Boas thought his star was healthy enough to make a difference, and to that Riether deserves all the credit.
Philippe Senderos – I've been incredibly critical of Senderos, and one game won't sway my overall opinion of him, but I have to give credit where it's due. Senderos didn't make his quota of one massive mistake a game, and instead, played rock-solid in the middle. He was particularly great on crosses, which actually isn't anything new. He's not the tallest or most imposing of center-backs like his partner, the captain, but he does enough in the air to put off attackers, as shown on a header by Adebayor off a corner in the second half.  The striker beat him handily in the air to the ball, but the header was way off, thanks to Senderos being glued to his hip.
Brede Hangeland – Hangeland has shown his age on more than one occasion this season, but today was also superb, next to Senderos. His only mistake was on the offensive end, when he had a wide open header off a cross that took a deflection straight to him, but he put it just wide. At the back, Hangeland was a cog in a fantastic defensive performance, adding 4 more interceptions to his pre-game total of 122 for the season.
The bad
1st half Berbatov: I was afraid in the first half that Dimitar was going to have one of THOSE games where he just stood there and sulked that he wasn't getting the ball. Thankfully, he turned it around and not only was active on the break, he was good in possession and actually helped out on the defensive end as well.
What this means
Fulham now move back into 10th, and have a game in hand on the 4 teams above them, as well as the 2 teams below them. The win also means they cut the monster gap between 10th and 9th down to just 4 points. The schedule doesn't get any easier, with April consisting of an improved QPR side, Arsenal, Everton, and a fixture with Chelsea still to be rescheduled, but that makes these 3 points even more important to possibly brace for a difficult stretch.
The next 3 matches (QPR, Newcastle, Villa) are a big opportunity to jump further up the table, now that the deficit from above has been reduced.