Spurs Preview and predicted lineups: North London is Red!
670 //
03 Mar 2013, 21:15 IST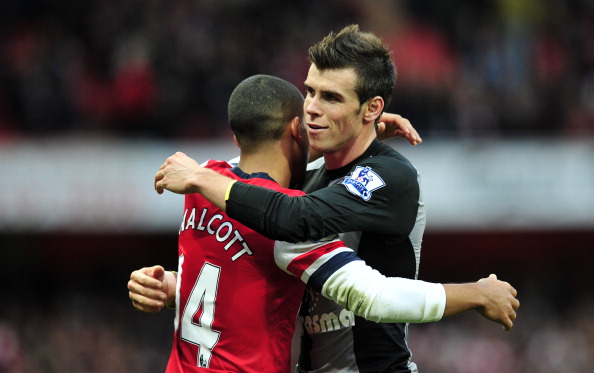 So, the biggest game of the season is here. Us vs them. The pride of North London is at stake, and never before have these two teams been so equally matched in terms of personnel.
Scary as it may seem, Spurs finally look to have assembled a squad that is probably as good, and in some eyes, better than Arsenal. Along with the in-form Gareth Bale, they now have players like Hugo Lloris, Jan Vertonghen, Lewis Holtby, Clint Dempsey and the likes.
But we are the Arsenal, and we are top dogs in North London. Heck, we are the finest lot London ever produced, and it is our duty again to show Spurs exactly where they belong. Just a small club down the road.
With all the 'Mind the Gap' t-shirts eventually being flushed down the drains, and Spurs fans having learnt the lesson that Arsenal are not to be mocked at, 4 points may seem a smaller gap, but the sides are closer in quality than ever before.
Andre-Villas Boas has clearly learnt his mistakes from his short reign at Chelsea, and gone about in earnest in fixing them at Spurs. Despite having lost Luka Modric and Rafael van der Vaart, they have replaced them with quality players like Moussa Dembele, Clint Dempsey and more recently, Lewis Holtby.
What's more impressive is that Spurs have managed to remain consistent throughout the season. Gareth Bale looks devastatingly dangerous at the moment, and despite all of the taunting about him by some Arsenal fans, I have to admit he is a world class player, from a completely footballing perspective. He has been massively influential for the club on the pitch.
But, stats are another thing, and Theo Walcott, another protege from the South Coast, has delivered his ammunition this season up front for the Gunners. Statistically, Walcott has marginally better stats than the Welshman.
But form and consistency go out of the window for games with such massive importance. Arsenal have to up their game, from what has been a disappointing few weeks at the club. The cup exit at the hands of Blackburn and the mauling meted out by Blackburn were followed by a painfully hard fought victory over Aston Villa.
The fans need something to feel good about, and nothing better than handing out a footballing lesson to Spurs. Arsene Wenger has already spoken about the need to not focus on only Gareth Bale.
We don't plan for anybody, It is always the same – focus on our strengths and forget about your opponent. There is nobody special that you least like to face. All players have different qualities. What is important when you are a manager is that you are focused, that hasn't changed over the last 15 years. You always make sure your team is at its best, prepares well and focuses on playing the football that we love. What is important before a game like that is just to focus on our game and forget all the rest.
The manager also spoke of how he sees Wilshere emerging in the mould of Fabregas in the centre of the park.
I believe it's part of his development to play a bit more advanced, In some games, he is more comfortable deeper. I believe he has a little dribble that can get him through in the final third and the finishing will come. He's a bit in a situation like (Cesc) Fabregas was for a while. He said to me 'but I cannot score goals'. Jack doesn't talk about it, but who doesn't want to score goals? He is more a team player than a goalscorer. He will never be a goalscorer, but he can be capable to score.
What is good to see that Wilshere, like Fabregas, has a solid engine. While Fabregas eventually developed into a more advanced position, Wilshere seems to be taking on the mantle of being a more box-to-box role in a limited midfield.
Elsewhere there have been rumours of an Arab consortium looking to take over the club with a whopping bid, despite the club quashing those rumours. Will be an interesting watch for sure, but more on that after the more important matters, such as the NLD.
Right, team news then. Bacary Sagna is definitely out for this one, while Kieran Gibbs remains sidelined. Abou Diaby is rated 50-50, but you wouldn't want to bet on him being fit on time. Clint Dempsey, Younes Kaboul and Sandro are out for the hosts, while Tom Huddlestone faces a late fitness test.
This is how I expect the teams to line up.
Spurs, for once, have an extremely fluid front line. The combination of Dembele, Holtby, Lennon, Bale and Greedybayor is one that has lots of pace and movement. Arsenal's defence will have their work cut out.
The man of the moment of course is Gareth Bale. Marking him will be Carl Jenkinson, and being an Arsenal fan through and through, he will know what these occasions are all about. Spurs will hope they remain with all 11 players on the pitch throughout, considering the stupidity that Greedybayor brings to his game.
Arsenal will rely on Olivier Giroud up front to hold up play, and allowing others into the game. Lukas Podolski vs Kyle Walker should be an extremely brilliant battle, while Scott Parker vs Jack Wilshere should be a potential cracker.
I expect Santi Cazorla to have plenty of space to roam about, and should he have so, we could see the best that the Spaniard has to offer. A major area of concern will be how Arsenal will be exposed to swift counters. Last season, when Spurs got their asses kicked, Arsene played a master stroke by playing an extra midfielder in the form of Yossi Benayoun, and it worked like a treat.
I wouldn't rule out more of the same, with either Aaron Ramsey or Francis Coquelin being injected into the centre. This would give Arteta some relief from what promises to be an end-to-end contest.
Enough of the tactical stuff. Time to wear those red and whites with pride. Time to close the 4 point gap between the two sides, and give those deluded bunch of fans a treatment of sorts. Time to show how superior a cannon is compared to a cockerel balancing on a basketball.
North London is Red!