Suarez' goal against Newcastle United shows his class
1.09K //
05 Nov 2012, 01:10 IST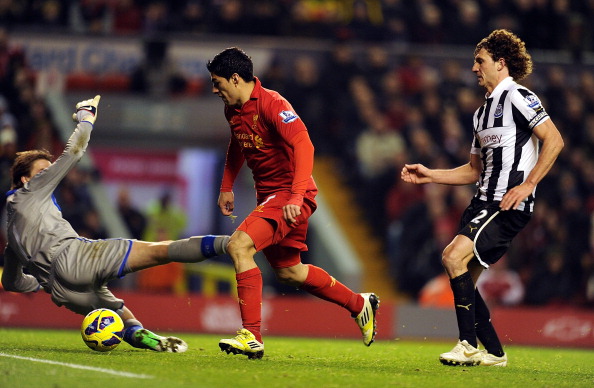 You may hate Luis Suarez for various reasons, but you are never going to hate the player for the charm he brings to the beautiful game of football. It is a visual treat, when he is in full flow. His goal against Newcastle United is testimonial to the stated fact. Suarez may be criticized for his on field antics, his diving, reaction against referees etc, but against Newcastle United, the player answered his critics with a brilliant goal. A long ball delivered by Enrique was wonderfully controlled by Suarez with his chest and his second touch took the ball past the Newcastle goalie, Krul and his third touch helped him put the ball in the back of the net.
It is not an easy task to take an aerial ball on the chest and control it so perfectly with a player in front and back as well. It had a touch of genius written all over it. Not many could have even thought of such an audacious attempt, but after all we are talking about Suarez, who has the knack of scoring goals from difficult angles, which takes the goalkeeper by surprise. With this goal, Suarez has shown his class once again.
The Newcastle defenders had a tough time against the Liverpool striker, who with his silky touches, twists and turns made life a living hell. One of their defenders, Coloccini was even shown a direct red card for his tackle on Suarez. It was bound to happen with Suarez' trickery getting the better of Newcastle defenders. The highlight of the game was not only his goal, but some of his other moves, which led to goal scoring chances, but it was not to be, so he had to take most of the chances. Hence one cannot call him selfish as well. There were several instances when he could have done better as well, but he let himself down with those chances.
Liverpool could have easily walked away with the game, if they had one more striker on the pitch or rather in their squad. Jonjo Shelvey came close to scoring thrice, but was found wanting. It is no rocket science – Liverpool needs a striker upfront who can finish the ball in the back of the net with ease. Come January 2012/2013 transfer window, Brendan Rodgers must bring in a striker who fits into the scheme of this Liverpool team – a penalty box striker. An additional striker in their squad would do wonders to the team.
But it is not going to be an easy search, with players not very eager to switch teams in the middle of the season and even if they do, they are going to cost mega bucks, which the Liverpool club cannot afford with the limited budget that's available to them. It has been rumoured that Liverpool are interested in the services of Demba Ba, Theo Walcott, Daniel Sturridge among a list of many. Don't expect Brendan Rodgers to sign an expensive player, if their prices increase in the inflated transfer market. He is not King Kenny.