survivors of UEFA
879 //
15 Mar 2013, 15:02 IST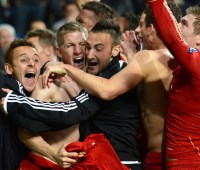 on Friday the draw for the quarter final of the UEFA champions league will be made.
eight small balls will be swirled around glass pots, each containing a name and for
the first time in 17 years  none of those name belongs to an English club…but that's anathor story for anathor day.there will be no more country protection and that means the dream final that
may neutrals are carving between barcelona and real madrid could become a two legged dogfight ,which in my humble opinion is far more desirable that a potential cat and mouse affair to wembley  at the end of may
looking at the eight,it's time to stir the tea leaves and figure out who will lift Europe's greatest  prize.
BARCELONA:After the destruction of Milan,Barca have to be firm favorites but there are problems that unless addressed will cause the four time winner to crash out. Messi can't save them every time.
REAL MADRID:Jose Mourinho appears to be in a mission to make himself a deity and the only way he can achieved this is by bringing home the trophy that means the most to a club that defines itself by European cups.
BAYERN MUNICH:There is a sense of de ja vu about the Germans
last year's shock loss to Chelsea still burns deeply and despite almost sending half of Germany to the emergency room against Arsenal, To bet against them is foolhardy.
BORRUSIA DORTMUND:This is a clib that are loving there sleeper tag.All the pressure from the rivals from the south,which is allowing dortmund to play with freedom that harks back to 97 when they stunned juventus to win it all
JUVENTUS:If dortmund are the sleepers,juvs are simply assassins .incredibly no one outside Italy rates them that highly,which is a massive mistake as this club is lot better and deeper than most think.If the draw is kind, Juventus could end up in London.
PSG: Money can buy you a lots of things including world class players but it won't buy you you a champions league title.Those have to be earned and it's a season too early for the french outfit who do boast quality but there still something missing I believe that's character.
GALATASARAY: If there is one match to savior for atmosphere the home leg of of Gala's tie will be a white- hot affair.The Turkish side have defied the odds maker on numerous occasions during this run however unless their fans can dig a trench around the 18 yard box it all ends here.

MALAGA: despite enough of field problems to fill a novel,Malaga keep finding a way to get it done on the field .They'll desperately hoping to avoid their countrymen but there are no easy ties left in the final fight.
who wins it all…… you decide