Swansea City have always been a small club floating around the lower leagues of English football and if you asked the most optimistic fan in 2002 what would happen to their club in the next decade they would not have predicted this, and Swansea fans aren't the most optimistic in any circumstances.
A well-run club is all that is needed for success, the Swans have shown. They have a passionate board who risked absolutely everything for the club to survive in the Football League, never mind battling in Europe, a top 8 finish in the Premier League and winning their first major English domestic cup. Success that has been recognised by no less than the majesty herself, and Huw Jenkins, Swansea-born, has been awarded an OBE for his efforts at the club at the Queen's birthday celebrations.
This project for even the Vice-chairmen who don't ever seem to be recognised, Leigh Dineen and Simon Morgan, has been a fantastic success. This club isn't an ordinary club. It has been blessed to have its fans at the top of the hierarchy, and the supporters trust all over the board. And, their appointments haven't been too shabby either.
With the likes of Roberto Martinez, Brendan Rodgers and now Garry Monk being handed the job, Huw Jenkins has really put his trust into inexperienced managers, but has backed them with subsequent transfer budgets and through the bad times didn't press any panic buttons.
The football that Roberto installed into the Swansea City mentally was quite frankly the best thing that has ever happened to the club, and that's what separated Swansea from all the other teams in League 1.
I remember the season before Roberto first took charge and we reached the play-off final. We lost on penalties. A blessing in disguise some may say. The Swans could've survived in the Championship quite comfortably, but it would be highly unlikely they'd be hitting the heights of today.
Two years after that play-off heartbreak the Swans were comfortable champions, beating teams such as Leeds and Nottingham Forest to the title. While Roberto was manager in League 1 it was very much; they score five we'll score six.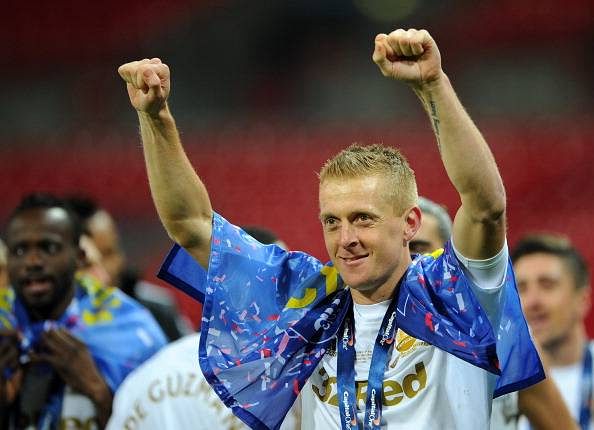 The stalwarts of Swansea
Throughout the whole journey Swansea have had a numerous variety of players who could and have been trusted with the armband such as Ashley Williams, Garry Monk, Leon Britton, Angel Rangel, Alan Tate, Lee Trundle and many more. These men are what Swansea is. They are the heartbeat of the team and there is no doubt in my mind that without these characters Swansea would be worse off than they are today.
A shout out to these Jacks was needed as they are the spirit and soul of the club. They will all be remembered in decades to come as legends of the club and I know that the Jack Army will never forget all these players for what they've done. From Garry Monk blocking the shot what would've put Reading on level terms in the play-off final to Leon Britton scoring a worldie against Forest in the semi-final of the play-offs to Lee Trundle scoring an absolute pearl against Carlisle in the LDV Vans Trophy final.
All these legends of the club will be remembered for our 'Golden Generation'. And, hopefully, the ones that are still playing will add more memories to their collection.
Some are saying that it's the end of an era at Swansea City as players such as Alan Tate have been released, Garry Monk is in charge of the club, amid reports of Leon Britton moving on.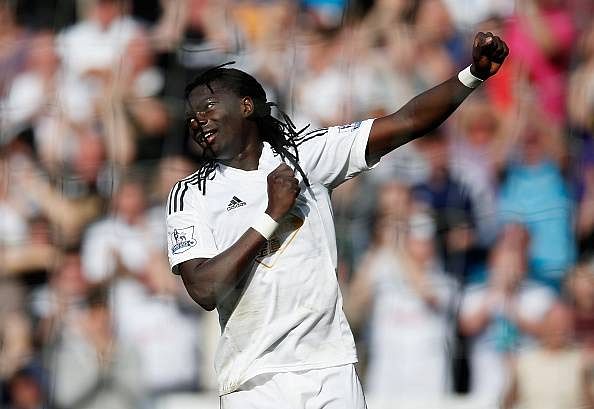 The new flock
There is change. But, what will never ever change at Swansea City is the passion, commitment and determination of every single player wearing that Swansea City badge.
Take Gomis for example, claimed he wanted to leave the football club because he wasn't getting first team football in January now he is and he couldn't be happier, he's committed and wants the club and city to do well. The thing with this club is that you can't play for them if you don't understand how the city works.
It's a small city and every person thrives on the success of the football club, but we wouldn't want it any other way. Lee Trundle is helping very much with bringing the community closer to this special club by becoming the ambassador and meeting all the kids around schools, attending presentation and much more. The spirit is what this club thrives on, not results. Though, results do help.
This is a special club, as I've stated a lot of times during this tribute, but I'm right in saying it. This club wouldn't be where it is today without the people from the city and who care about Swansea in charge, they wouldn't understand what it means. And now all I can say is, to the next ten years, I guarantee it will be a successful ten years.