Swansea City : The high-flying over achievers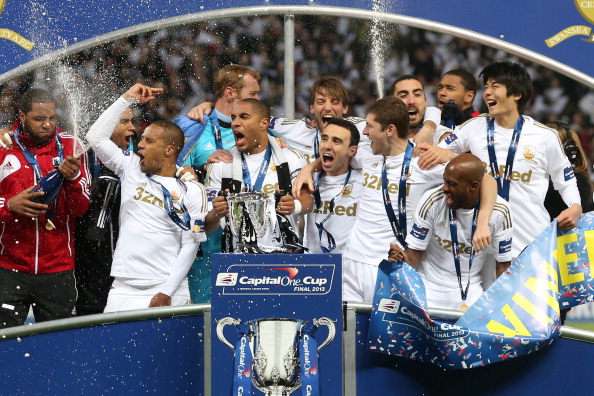 Swansea City, the newly crowned champions of the Capital One Cup, have been extraordinary this season under the watchful eye of Danish coach Michael Laudrup. But their history hasn't been as rosy as this season even under ex-manager Brendan Rodgers, who was pivotal in guiding them to the Premier League.
The team, known for an attractive style of attacking play, has been the talking point of many experts and fans alike. Their consistency across all sectors of the pitch make them a hard team to beat, as reiterated by the fact that they held current leaders Manchester United to a paltry 1-1 draw earlier on in the season. If you had told me that this particular Swansea outfit would able to match the mighty Red Devils 2 years ago, I might have just giggled; but that just goes to show you how wrong we all were. I admit I didn't see or think much of Swansea, but to imagine they could do something this extraordinary is an unprecedented achievement.
Michael Laudrup has received many plaudits for his efforts at Swansea and, more importantly, for shaping the future of this extremely talented and young squad. The Dane was considered one of the best of his generation as a footballer at Barcelona, Real Madrid, Ajax and so on, where he won many trophies for his efforts; he also was the captain of his country at one point, guiding them to many victories that ought to be remembered.
His tactical knowledge as a manager has been the driving force behind Swansea coming this far in the tournament, and that's saying something. His hands-on style of coaching obviously helps some of the younger players, and having been a player not so long ago helps him even further; along with this is the support of the fans and the board of directors, something that is eluding someone like, say, Rafa Benitez. And that should underline how important the crowd factor and owner support are to succeed at that level.
Along with the tactical brilliance came the ability to pick up players who have caught the eye of his scouts and, more importantly, have been overlooked by his better known compatriots SAF and Roberto Mancini, who were busy trying to get their hands on the big names. A couple of shrewd buys and a showcase of unparalleled business intelligence saw the arrival of Miguel Pérez Cuesta, or Michu, from Rayo Vallecano for a measly 2 million; Michu is touted to be the next big thing if handled properly and has been called the bargain buy of the season.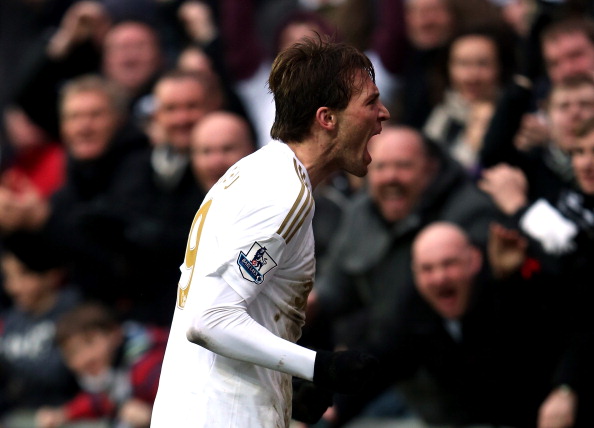 A couple of other buys this season also helped Laudrup in securing that elusive League Cup, the first major trophy in Swansea's 100 year history. Those were namely Jose Manuel Flores, Ki Sung and Pablo Hernandez, all of whom are performing brilliantly for The Swans. Given their small budget, they have been the team to watch this season, eclipsing even the big name clubs. 

Winning that trophy might just be the turning point for this talented side as they try to reverse their poor history over the years and Michael Laudrup along with his 'intelligent' buys remain pivotal to the cause; keeping Michu at Liberty Stadium next year has to be top priority as Danny Graham has left for pastures new.
Team Break up : Laudrup's brilliance
The defence : Swansea's defence this season has been brilliant, comprising of their influential captain and talisman Ashley Williams and Garry Monk; add to that the speed and Spanish flair of Chico Flores and Angel Rangel and the British physicality of Tate, and you get a strong and fast defence that's capable at creating many chances and building up play from the back. The versatility of using Ki Sung in the centre back position has been a testament to Laudrup, once again underlining his tactical prowess.
The Midfield: This is where it all starts happening for the Swans. Under Brendan Rodgers, they saw many classic performances from the midfield and that tradition has been kept alive by Laudrup, who has made just a few mods and tweaks to form a competitive and physical midfield that can break down attacks and build some of their own. Prominent players manning this ever important region are: Leon Britton, their No. 7 shirt bearer, Jonathan de Guzman, Wayne Routledge and Nathan Dyer. These guys have been magnificent, to say the least, and have contributed to the success of Michu and the others in front.
The Attack: Not much need be said about the attack; it's what has been making pundits and fans go crazy over the course of the season with the inclusion of a certain Spaniard Michu, who is used as a forward by Laudrup, thus putting fear into the minds of oppositions with even the most talented defenders.
Looking at the way things are going for the Swans, you can't help but imagine that they could actually finish this year's Premier League somewhere in the top 10; and with the league cup victory came the chance to compete in the Europa League next season. Who knows, we may well be in for a great show from one of the most talented teams to surface this season. Only time can tell what's in store for the young team; but rest assured, it's going to be a whirlwind season come June.