Talking Points: Real Madrid 2-1 Barcelona
2.23K //
03 Mar 2013, 00:33 IST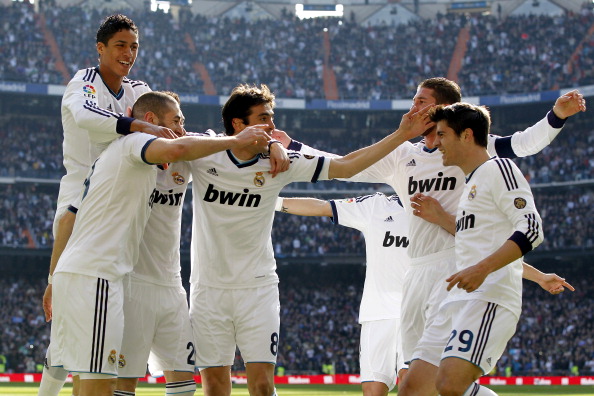 The match started in the sun, not a normal time for a classic, but in the sun some stars shone bright and some new ones were born. It may have been Mourinho's last Clasico, but he has done the double, home and away over Barcelona in a single week. A tempestuous love affair of a match, it saw some new tactics by The Special one and  Messi equalizing to a Benzema opener, but captain for the day Ramos headed in the winner. Here are the talking points from the match.
Performance of fringe Madrid players - The day in all honesty belonged to the squad players for the Los Blancos. Morata had his best game in a Madrid shirt. He supplied a delightful ball to Benzema for a tap-in in the sixth minute and spent the rest tracking Alves tirelessly up and down the flanks. Deceptively quick and very good in the air (won the ball against Pique atleast 6 times), he was along with Pepe the target man for goal kicks. He missed a free header and could not finish off a brilliant move which incidentally began with a ball by Pepe that would have made Xavi proud, but on both occasions his inexperience showed. Modric was undoubtedly the man of the match for the day. He today truly showed why he has the reputation he has, supplementing attacks, covering up, harassing Barca in possession and even popping on the wings from time to time. He supplied the assist for Ramos' goal. Kaka had a decent game, while Callejon spent the whole day tracking Alba, and first Villa then Sanchez.
Mouinho's tactics, antics and team – It was expected that Mourinho would change the team a bit. Xabi, Khedira, Ronaldo and Higuain did not start and Essien was at right back, where he had an unglamorous and solid game. His masterstroke though was putting Pepe as the midfield enforcer, with Varane and Ramos as centrebacks. Pepe gave a great performance. He intercepted loads of balls and constantly harangued Iniesta and Messi, won almost all tackles and even put in a couple of delightful balls. For the first time, I saw flashes of the Mourinho of Chelsea and Inter this season. He got up atleast a couple of dozen times during the match to argue and motivate and organize. He was like a man possessed when he scowled at Alves after he tackled Ronaldo.
Ronaldo - He only came on after 59 minutes but became the focal point again. Ronaldo had three free kicks, and one can't help but feel amazed at his skill on them. The first one was a pile driver which swung and dipped at ferocious speed, the save by Valdes was a lucky, albeit good one. The next was a delightful variation where tried to place it, and placed it too well; so well that it hit the junction of the crossbar and the post. The third was from a side, which was swerving in perfectly for a header and a less aware keeper would have conceded a goal directly from it. Apart from it, he made a couple of amazing runs; as usual watching the man run is a treat to the eyes.
Barcelona don't have a plan B - Pass, pass, pass, pass, pass! Mindless and directionless passing is becoming Barca's trademark in the last 5 games. Except for a 10 minute period at the start of the second half, Barca could not get out of second gear, and even though they had all the possession in the world, the goal they scored seemed almost against the run of play. Simply, they never threatened.
Barca's Crosses - Dani Alves and Jordi Alba are brilliant going forward, but covering up, are they good enough? If they are, where do they go? Today, Alves was not active enough to block Morata's cross, Alba has had similar shortcomings. The term full back has back at the end of it and these crusaders often forget to come back. Also, their marking is suspect once crosses come through. Pique was at fault for Ramos' header, as he has been too often for a player of his reputation this season.
Madrid youth trumps Barca youth - Now this may ignite fires, but let me explain. La Masia is great and supplies world class players, I agree. But Castilla isn't doing badly itself. Not counting old graduates like Iniesta, Messi and Cesc, and only comparing the performances of Thiago and Adriano against that of Morata and Callejon, it is all but obvious to see who emerged triumphant.
Box office ending - This year, the Clasicos had gone on peacefully but it was not to end that way. A penalty, which if given would have been soft but a penalty nevertheless, was not given. Iniesta, one of the calmest guys I've seen, lost it completely and got a yellow for his protest. Best part though was Valdes running up to protest and receiving a yellow and then a straight red for his antics.
Mourinho succeeded again. He rested his team and won the match. In England though, Kagawa got a hattrick and Rooney reminded the world of his ability. I cant wait for Tuesday night.