There is no perfect average height in football. Each position and each role requires a certain height for a player to succeed while the rest merely adapt as coaches ignore their weaknesses and focus on their strengths.
For example, it certainly helps if a goalkeeper is more than six feet tall with a wingspan to rival an albatross. But if you're looking for a fast winger then you're better off going with a shorter player who can run faster than their taller counterparts. After all, you don't see many wingers who are over six feet tall running up and down the flanks.
So when a coach picks his squad for a game, the type of role he wants each player to play will decide what kind of player he eventually picks. He could go with a shorter, mobile striker if he plays on the counter-attack while Plan B could involve a taller, physical striker who is good in the air and hold-up play.
Every position and every role demands a different kind of player. But there isn't exactly a correlation between the average height of the squad and how successful that team is. Physical aspects only help to a certain extent. Better coaching, tactics, and game strategy do the rest.
Tallest teams in Europe
It comes as no surprise that a Scandinavian team has the tallest team in Europe. Countries in that region of northern Europe figure at the top of the list of countries with the tallest average height in the world.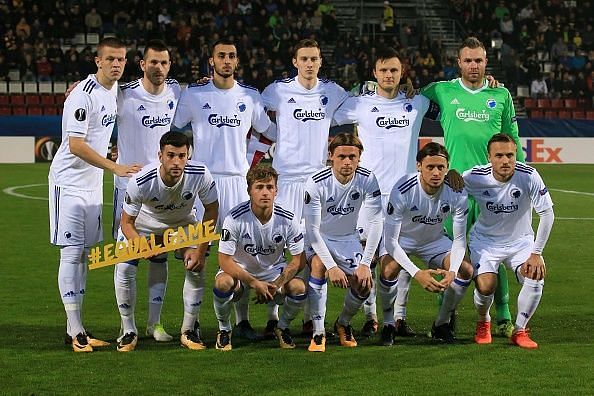 FC Copenhagen (also known as Kobenhavn) from Denmark have the tallest team in Europe at the moment. As many as 16 players in the squad stand over six feet tall and it is a sight to behold when they stand side-by-side with their opponents before a game.
The average height of the squad is 186.21 cm (approximately between 6'1" and 6'2"). Their goalkeeper Robin Olsen is the tallest player in the squad at 198 cm (nearly 6'6"). Their centre-backs are all between 189 and 191 cm tall (between 6'2" and 6'3").
The Danish side have won the last two league titles but are currently fifth in the table this season - seven points off the top.
Among the more popular teams in Europe, Bundesliga side FC Schalke are third with an average height of 186.15 cm while Premier League side West Bromwich Albion are seventh at 185.81 cm. Tony Pulis is famous for building physical sides that are good in the air and they are quite a handful in set pieces.
In all, more than 50 teams have an average height of over 6 feet (182.88 cm).
Shortest teams in Europe
At the other end of the spectrum, you have teams that love to keep the ball on the ground and rarely use the aerial route. Such teams require shorter players with a lower centre of gravity, allowing them to quickly dribble past players and almost all players are more comfortable passing the ball.
Bulgarian side PFC Ludogorets Razgrad are currently the shortest team in Europe with an average height of only 176.98 cm (approximately between 5'9" and 5'10"). They may literally look up at their opponents but they are the defending champions, having won the last six league titles.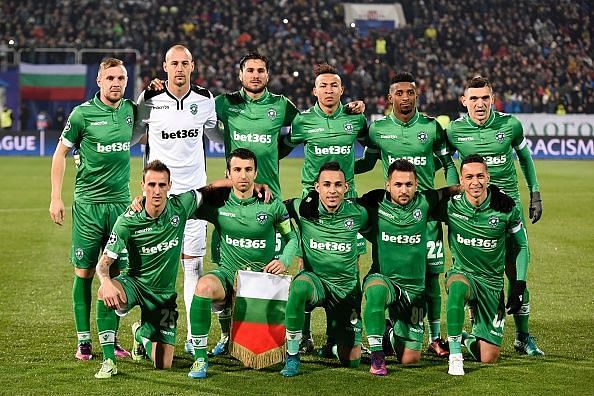 Only six players from the Ludogorets squad stand over six feet tall. Their shortest player is left-back Natanael who stands 166 cm tall (just over 5'5") while his teammates Wanderson and Juninho Quixada are just a centimetre or two taller than him.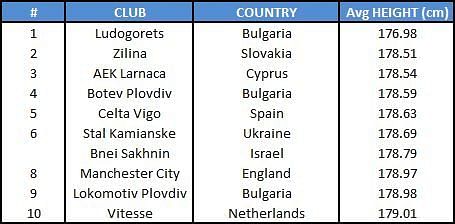 Among the more popular clubs on the list are La Liga side Celta Vigo at 178.63 cm (5'10") and Premier League "giants" Manchester City at 178.97 cm (just over 5'10").
A look at City's squad would make you think they'd struggle in a physical league such as England's Premier League but Pep Guardiola has managed to make it work with City playing some of the most technical football that combines skill, dexterity and pace to become the highest goalscoring team in Europe's top five leagues this season.
So you see, a taller team does not always translate to more success.
Data courtesy of CIES Football Observatory