The enigma of Jose Enrique: Full-Back or winger?
1.04K //
16 Nov 2012, 00:35 IST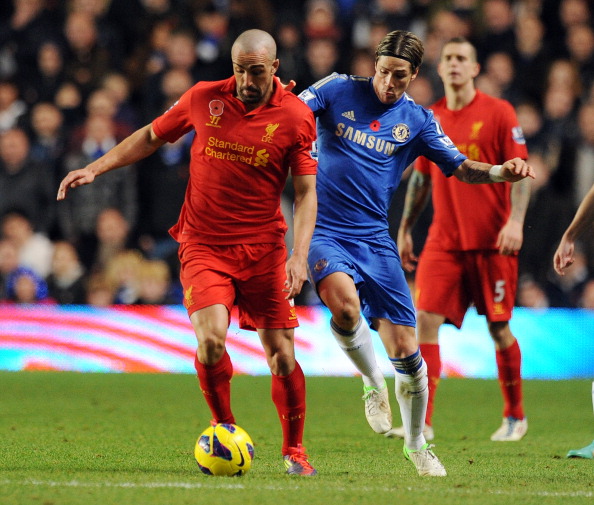 Ever since Jose Enrique was brought by former manager Kenny Dalglish at the start of last season, he was always a shoo-in for the side, being one of the first names on the team sheet.
His talent, work-rate, and the threat that he provided from a full-back role served to drive the Reds forward in an attacking sense, helping to eventually create many of the small number of goals that the Reds scored last season. His form was impeccable in the first half of the season, and it only seemed natural that he would form an excellent left-wing combination with Stewart Downing, something that never took off.
Enrique was supposed to be John Arne Riise's long-awaited replacement at Anfield.
Initially that did seem plausible, as Enrique and Craig Bellamy were the only signings from the summer of 2011 that could hold their head high by the time the New Year rolled around. For some arcane reason, Enrique would begin to lose the plot, and many Reds would point to the FA Cup victory over Manchester United in January as the start of his demise, as an extremely poor individual error directly lead to a United equaliser from Park Ji-Sung.
By the end of the season, he was in-and-out of the side, failing to make the starting 11 in the FA Cup semi-final against Everton, and when played against Chelsea in the final, his form lacked any sort of redeeming qualities, being haplessly beaten by Ramires for Chelsea's opener at Wembley.
This season, the ever-ruthless Brendan Rodgers has sparsely used the Spaniard, preferring the likes of Martin Kelly and Glen Johnson, and it was Johnson's injury that led to Enrique regaining a starting berth against Everton, something he hasn't relinquished since.
After returning to the side at the Goodison, Enrique has continually proved his status as something of an enigma.
Just like fellow full-back Johnson, Enrique is noted for his attacking capabilities, which are excellent. He set up Suarez's first goal against Everton, only for his poor timing to lead to Everton's equaliser, as he should have blocked off or stopped Steven Naismith.
Enrique had a mixed game against Everton and Newcastle too, with many critics having a field day mocking his defensive qualities.
His timing is atrocious; he doesn't track back fast enough, and seems to struggle against quicker opponents. Luckily for Enrique, he managed to dig deep and provide a gutsy performance against Chelsea, being named the official Man of the Match.
While playing in the 3-5-2 formation Enrique's attacking threat was almost completely nullified by opposite number Cesar Azpilicueta, who man-marked him better than anyone had to date.
At the same time, he used his immense frame to keep the likes of Mata and Oscar in check, negating the influence of Chelsea's holy trinity. It was his most accomplished defensive performance in a long time, something that truly surprised everybody, including his manager.
Chelsea's attack from the right seemed non-existent as he successfully tracked down Oscar, leading to the Brazilian being the least influential of Chelsea's midfield axis.
After the formation was reverted to 4-2-3-1, Enrique was switched to a left-wing role, while Johnson was moved to the left of defence. Free of his defensive duties, Enrique was given the license to roam forward freely and he did so with aplomb. Enrique has always been noted for his bombarding runs forward, with his excellent dribbling attributes enabling him to get into dangerous positions up the field.
At Stamford Bridge it was no different, as Liverpool were finally able to penetrate the Chelsea defence, Enrique proved to be one of the better attacking outlets, and was engaged in a relentless battle with Azpilicueta. Enrique also had a great chance to win the game for Liverpool at the death, only to fluff the opportunity by unleashing a weak shot at the Chelsea goal. While many sought to commend Enrique for his role in stifling the attack, you have to wonder, is he being wasted at left-back?
Should he be played up as a winger?
Yes, he was impeccable against Chelsea, but that is the first time he's put in a praiseworthy defensive shift in a long time. Enrique was never the greatest defender, doing a solid job most of the time, the bare minimum of a defender's work. He loves going forward, and does a better job of it than many of the midfielders that the Reds have at their disposal.
Playing further up the field can also help him shield the weaker aspects of his game that are individual errors, over-dribbling, and tending to lose the ball very easily. As a defender, when such mistakes happen, as they are bound to, it offers other teams an easy window to attack which pacy players such as Theo Walcott and Ashley Young can easily pounce on to make Enrique pay.
If such errors occur when there are a lot of players behind Enrique, damage control is a far easier job and he doesn't have to worry about his face being plastered all over the newspapers the next morning, with everybody singling him out for criticism.
When Liverpool defeated the BSC Young Boys 5-3 in the Europa League in September, Enrique was directly responsible for two of the opposition's three goals, only to be spared due Shelvey's heroics and the fact that it was, well, the Europa League.
Enrique's passing attributes are nothing to write home about, coming in at just about 76.4%, but that again can be attributed to the fact that he takes the ball much further up the pitch than most of his team-mates, hence is dispossessed more easily. Suarez and Borini too have a 76.4% and 76.7% passing percentage respectively, while Sterling possesses a much higher success rate of 84.2%.
It's his ability to pick out a pass that is exemplary, averaging 1.5 key passes per game in the Premier League, a tally bettered only by Steven Gerrard, Suarez and Sterling. Playing in a left-wing role, it would enable Enrique to pick out passes with ease, and could set up more chances than he currently does for the likes of Suarez and Sterling. Suso is currently starting many matches for Liverpool as a part of the attacking trio, and has yet to make a sustained impact, despite his undeniable potential.
Suso is a player who likes to trick the defender and pass the ball along, while supporting the strikers. He prefers playing centrally and his style is likened to that of his illustrious countrymen Andres Iniesta, Juan Mata and David Silva. Playing him on the wing wouldn't be a great move, as he doesn't offer any noticeable width. Enrique would, statistically, be a far better choice than Suso on the wing, evidenced by the Chelsea game, as Suso played off Suarez and was able to run at the Chelsea defence.
The emerging Wisdom could play on the right, Johnson on the left and Enrique on the left-wing. On paper it does sound pretty perfect, and it is something that Rodgers should definitely consider. He's a big man, can run surprisingly fast, and is excellent with the ball at his feet. He also doesn't have to worry about winning aerial battles too much in a wide role, another surprising weakness of the Spaniard.
At £7 million he has proven to be an solid purchase, despite the loss of form last season. He is still only 26 years old, and can be an integral part of Liverpool for quite some time.
While it is pretty certain that Rodgers will not completely reinvent him as a winger, we could see him play there more often than not. This week's game against Wigan is a must-win and a perfect chance to test out Enrique in the wing role against a weaker team.
statistics courtesy of whoscored.com
Published with permission from The Liverpool Word. The original article can be found here.